Pride events planned for June
MIDDLEBURY — MiddPride is back.
For the second year in a row, MiddPride, a project of the Teen Center, this month is hosting events geared toward queer and trans youth. The organization has planned a series of at least nine events throughout the month of June to celebrate and create community for LGBTQIA+ folks in Middlebury. 
From book clubs to benefit bakes to the June 25 Pride Festival and Parade itself, MiddPride is pulling out all the stops to ensure that queer and trans youth in Middlebury feel celebrated and supported this month. 
Every Friday in June, the Teen Center is hosting a Banned Book Club in collaboration with Ms. Ray's Reading Room. They will be reading and discussing, "Gender Queer" by Maia Kobabe, over dinner provided by the Teen Center during each session. "Gender Queer" is a graphic memoir illustrating Kobabe's life journey and experience with gender expression and identity. Queer and trans Middlebury teens have the opportunity to delve into the nuances of gender identity that this book highlights.
On June 14, the Teen Center was the site of a gender affirming clothing swap.
The Middlebury restaurant American Flatbread will host a June 21 benefit in support of MiddPride. Everyone is invited to the restaurant in the Marble Works between 5 and 9 p.m. that Wednesday to take part. For every medium pie the restaurant sells it will donate $2 to MiddPride and for large pies it will donate $3. All the proceeds will fund next year's pride events. 
MiddPride will also host some events in preparation for the Pride Parade and Festival at the Town Green on June 25. On June 20, the Teen Center will reserve time from 2-4 p.m. for people to come together and prepare any speeches they want to give and to make signs to be held up at the parade. And the morning of the parade, Ilsley Public Library will host the Pride Parade Pre-Party, 11:30 a.m.-12:30 p.m. Ilsley will provide anything and everything one might need to express their pride during that day's festivities. There will be poster-making, hair chalk, face paint, etc. 
Then, the main event — The Second Annual Middlebury Pride Festival — invites people to the Middlebury town green for an afternoon of fun. The parade, which begins at 1 p.m., will march from College Park (where the old town offices used to be) up Main Street to the Town Green led by Grand Marshal Nicolas Leslie and local youth; all are welcome to join in. Then, look for a Drag Queen Story Hour on the green between 2:30 and 3:30 p.m. It will be led by Drag Queens Emoji Nightmare and Miss Beth. The family-friendly festival on the green, which lasts until 5 p.m., will also feature games, vendors, live music and more.
Indoor and outdoor quiet areas will be available, including a masked, accessible, indoor rest space provided by Gather on Merchants Row. Activities for children will include a bounce house, a preschool play area, kid-friendly crafts, and games. A drag queen story hour will include a craft and special guest Lieutenant Governor David Zuckerman.
Finally, to cap off the month's events will be Queerphobia's a Drag Afterparty with local band Almendros playing. This event will be taking place the evening of June 25 from 8-10 p.m. at Town Hall Theater. Non-alcoholic drinks and snacks will be provided. Attendees hoping for an adult beverage can pick one up at Foodaroo in the Marble Works before coming to THT.
All events are free to attend, but donations are welcome and can be made on the middpride.org website. This year's MiddPride has been funded by a grant from UVM Health Network–Porter Medical Center, in partnership with the Vermont Department of Public Health.
MiddPride invites LBGTQIA+ people and allies of all ages in and around Middlebury to come together and be in community and celebration.
For full information on MiddPride programming head online to middpride.org/events.
More News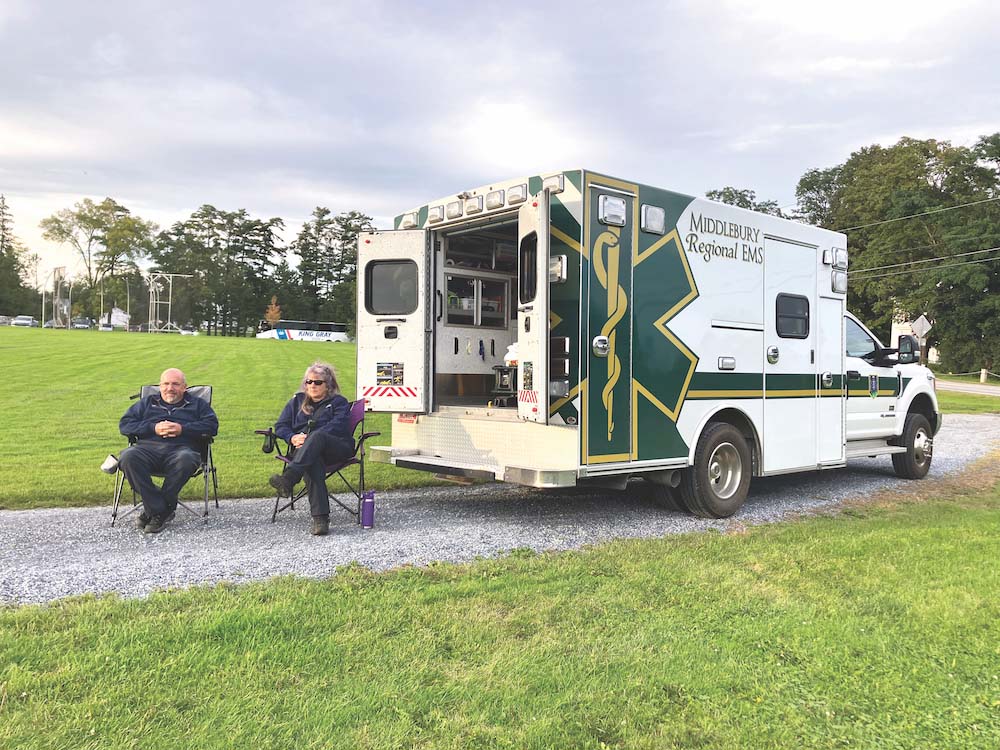 Middlebury Regional Emergency Medical Services wants to eliminate its annual Town Meeting … (read more)
Middlebury police are investigating the death of a Middlebury College junior and say the p … (read more)
In the course of her almost 101 years on Earth, Vergennes resident Margaret Clifford, bett … (read more)