Migrant Justice's Milk With Dignity campaign rallies on
Migrant Justice (MJ) is a farmworker-led organization leading the charge in advocating for dignified living and working conditions for immigrant farmworkers. MJ pushes for fair housing conditions, shift lengths and wages, on-the-job safety, and more, on dairy farms across the Northeast. They also advocate for fair immigration policies at the state and federal levels. MJ's campaigns emphasize that immigrant dairy workers are the backbone of Vermont's long-time dairy industry and they deserve to be treated with dignity.
MJ's primary campaign, Milk with Dignity (MD,) is a movement of farmworkers and allies calling on big dairy purchasers to hold the farms they contract with accountable for their labor practices. MD tackles labor abuse in the dairy industry at a systemic level, rather than the grueling task of "putting out fires" one issue at a time. This particular campaign is modeled after the highly effective Coalition of Immokalee Workers' Fair Food Program in Florida, which operates under a chain of accountability for farmworkers, farmers, purchasers and a third-party standards council. 
In 2017, after three years of negotiation, Ben and Jerry's signed on to the Milk with Dignity agreement making them the first company to join the program. After seeing the positive impact MD has had on the lives of farmworkers in the Ben and Jerry's supply chain, Migrant Justice turned its focus to Hannaford supermarkets, one of the largest buyers of Vermont milk. The most recent iteration of MJ's organizing efforts asks Hannaford to take accountability for abuses and poor conditions in their dairy supply chain as well. Since 2019, MJ has been met with silence and dismissal from the corporation despite innumerable rallies at Hannaford supermarkets across the region, including at the Hannaford headquarters in Maine. 
Hannaford continues to claim their supply chains are free of labor abuse despite countless claims from workers on farms supplying Hannaford's store-brand milk. On one farm that Hannaford purchases milk from, "workers milk cows for up to 13 hours without breaks for food. Six workers are lodged in a cramped housing unit, sharing three beds between them. The complaint — made through the official "ethics" line Hannaford set up for its suppliers following the launch of the Milk with Dignity campaign — went unanswered."
Despite the silence, MJ has again committed themselves to "the long road ahead" and put MD into high gear, calling on Hannaford for the fifth year in a row. In the spring of 2023, MJ's team of organizers went on an organizing tour with over 50 stops across seven states, building movement solidarity and excitement. If you missed one of their tour stops, Migrant Justice regularly holds rallies at Hannaford stores around Vermont. Check out their website and social media accounts to stay connected and stand in solidarity with farmworkers to "bring about a 'new day for human rights.'"
More News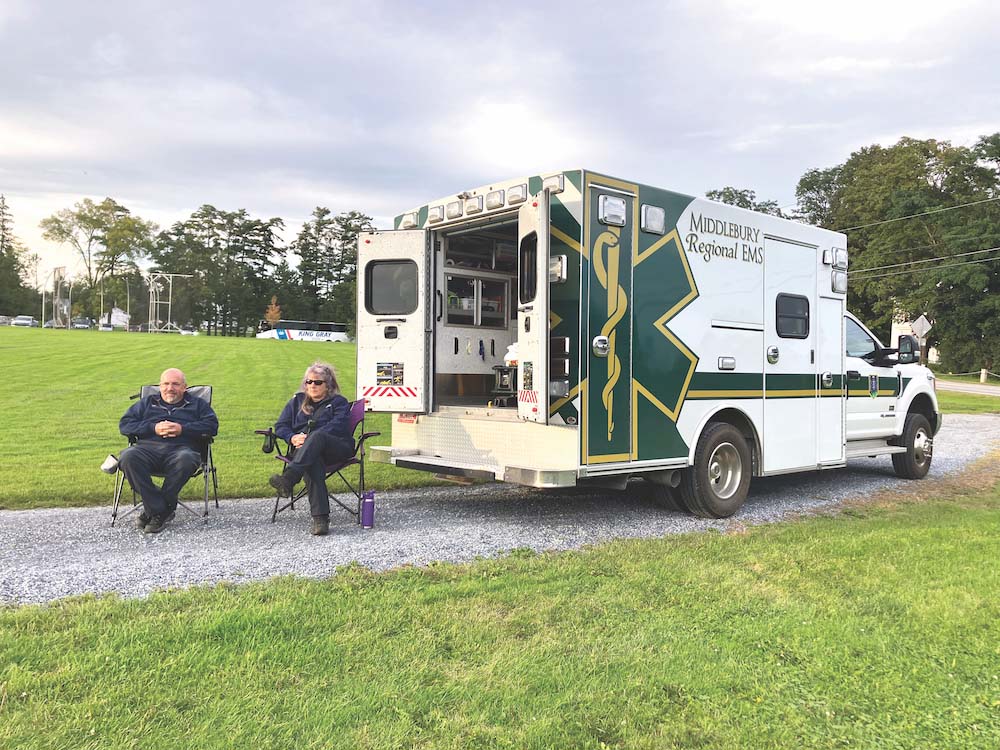 Middlebury Regional Emergency Medical Services wants to eliminate its annual Town Meeting … (read more)
Middlebury police are investigating the death of a Middlebury College junior and say the p … (read more)
Vergennes resident Margaret Clifford offers nearly a century of recollections, from losing … (read more)