Panther men's basketball team continues to roll
MIDDLEBURY — The Middlebury College men's basketball team earned two home wins vs. NESCAC teams this past weekend and then went on the road to knock off unbeaten Keene State, which was ranked No. 4 in NCAA Division III. 
The Panthers have a 14-2 record, a No. 11 ranking, and a 3-1 NESCAC mark good for a second-place tie with Williams and Connecticut behind Wesleyan (3-0). Midd will play yet another road game — their schedule includes only seven at home — at No. 6 Williams (15-1) this Saturday.
Coach Jeff Brown said after Saturday's home win over Colby, the mental toughness that his Panther team has shown in faring so well on the road has been one of its hallmarks. 
Brown said it has proven difficult to get non-league opponents to come to Vermont to play a team that has proven to be a tough foe, leaving him to schedule mostly away games.
"This is our fourth of seven home games all season, and that was really a concern of mine going in," Brown said on Saturday. "But our guys have really weathered that (challenge)."
They've done so, he said, by playing good defense and controlling the boards — seniors Alex Sobel (an NCAA D-III player of the year candidate) and David Brennan are combining for more than 21 rebounds a game.
"We've been good on the defensive end all year, and we're an elite rebounding team," Brown said. "It gives us more possessions on the nights the ball isn't going in the basket as much as we would like."
Guards Sam Stevens, a junior, and Noah Osher, a sophomore, often join those two in sharing the scoring load. But Panthers also go nine or 10 deep. This past weekend the team got valuable minutes and contributions from freshman guard Evan Flaks, senior guard Nash Goldman, and freshman center Jackson McKersie, among others.
Brown said all the subs play valuable roles, which allows the team to maintain its defensive intensity.
"It's really important with the league games, and playing two games in less than 24 hours, that you get some contributions off the bench and not have to play guys 35, 36 minutes consistently," he said.
It also doesn't hurt to have Sobel on the roster — he's averaging 20.4 points, 11.9 rebounds, 3.1 assists and 4.4 blocks a game. 
"There's not a game we go into that I don't feel that he's the most talented player on the court," Brown said.  
FRIDAY GAME
This past Friday, balanced scoring and a big first half sent the Panthers past visiting Bowdoin, 80-60. The game was notable because Sobel's 12 points gave him 1,003 for his career.  
The Panthers led by 14-13 early on before outscoring the Polar Bears by 34-13 over the next 13 minutes to take a 48-26 lead into the locker room. At one point in the second half they led the Polar Bears by 26 (71-45).
Fourteen Panthers scored, led by Stevens (14), Sobel (12), Osher (10), and Jaden Bobbett and Goldman (nine apiece). Sobel's eight rebounds and six assists led Middlebury, and Stevens nabbed six boards. 
The Panthers outrebounded Bowdoin, 42-25, and held to Polar Bears to 42% shooting from the floor. James McGowan and Alex Halpern led the 6-10 Polar Bears with 11 points apiece.
SATURDAY VS. COLBY
On Saturday, the Panthers controlled the boards, saw five players score at least eight points, and led wire-to-wire in a 72-63 victory over Colby (12-5, 0-4 NESCAC). 
Middlebury opened the game on a 10-2 run, with all of the points coming inside from Brennan and Sobel. 
Five points from leading scorer Max Poulton helped Colby cut the lead to 14-9, but that was as close as the Mules came in the first half, which ended with the Panthers up, 36-28. 
Brown subbed freely as the Panther bench held its own. Before the game was over, the Panther subs contributed 17 points, eight rebounds and four assists.  
The teams traded hoops early in the second half. At 14:11, the Panthers went up by 46-35 on Sobel's second dunk of the game. Eventually they stretched the lead to 14, at 62-48, on threes from Flaks and Goldman, four points from Sobel, a Bobbett drive, and five points from Stevens, who heated up in the second half. 
Former Rutland High standout Noah Tyson sparked a late Mule rally with two threes, two free throws and a putback at 1:49 that pulled Colby within five at 66-61. 
Stevens and Mule Will King exchanged hoops, and Colby was still within five at 0:40, 68-63. But two free throws apiece from Osher and Flaks sealed the win. 
Leading the Panthers in points were Sobel (15), Stevens (14), Osher (13), and Brennan (11). Goldman chipped in eight. Sobel tied his career high with seven blocks. Brennan (10 rebounds) and Sobel (eight rebounds) helped the Panthers earn advantages of 37-25 on the boards and 15-4 in second-chance points. Tyson led Colby with 14 points, King had 12, and Poulton added 11.
KEENE CLIPPED
On Monday, the Panthers won at Keene (15-1) by rallying from a four-point deficit with 1:55 to go.
After Keene took an 82-78 lead with less than two minutes to go, the Panthers shut the Owls down the rest of the way. At the other end, Middlebury got a Brennan dunk at 1:34, set up by Sobel, and then a Stevens free throw at 0:58. 
Stevens missed his second free throw, but Brennan grabbed the rebound, giving Osher a chance to sink a three-pointer at 0:40, assisted by Flaks, that made it 84-82.
Sobel then blocked two potentially game-tying Owl layups in the final nine seconds. Flaks got the rebound after the second block and sank two free throws to clinch the win.
The Panthers led by 46-42 at the break. The teams traded the lead in the second half, and the game was tied at 72-72 before Keene took its 82-78 lead. 
Sobel tossed in a career-best 31 points and recorded 16 rebounds, six assists and five blocks. He and Brennan (11 points, 13 rebounds) helped the Panthers to a 41-32 rebounding advantage. Flaks went four-for-four on three-pointers and scored a career-high 16, and Stevens (13 points) and Osher (10) also reached double figures.
Major contributors for the Owls were Octavio Brito (25 points, six rebounds), Jeff Hunter (18 points, eight boards) and Nate Siow (18 points, five boards).
Brown said after Saturday's win he'd like to see the Panthers "just become a little more consistent shooting the ball" down the home stretch. Regardless, he's confident in their prospects.
"I'm hopeful that our best basketball is ahead of us," he said. "And any coach wants to be playing their best towards mid-February, when you're into the conference tournament, and maybe other postseason opportunities."
More News
The Middlebury College football team scored first the outlasted visiting Bowdoin on Saturd … (read more)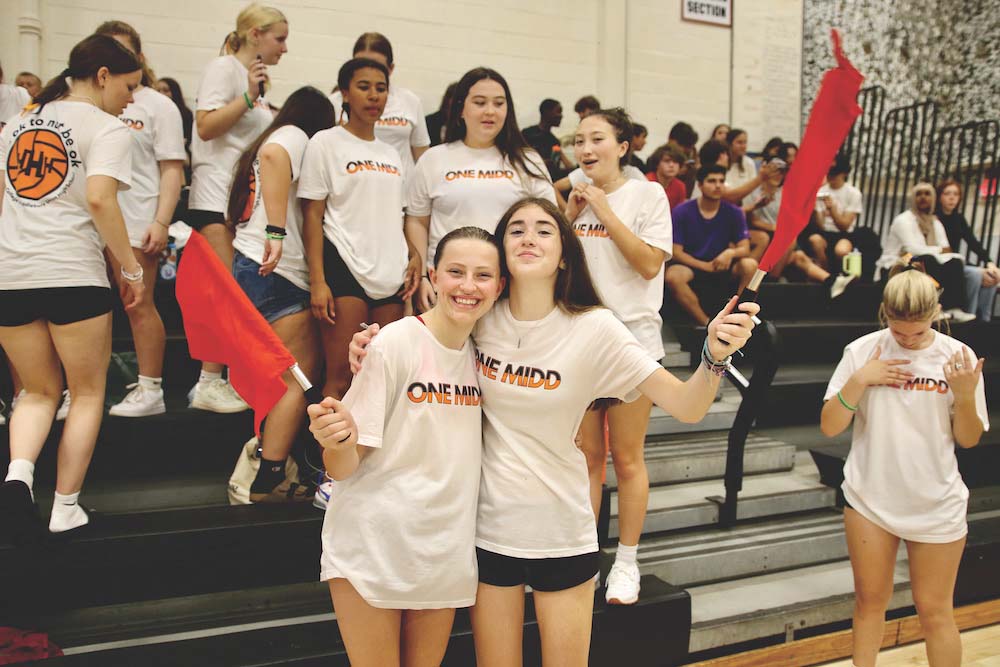 Considering the Middlebury Union High School volleyball team's decidedly successful record … (read more)
In a hard-fought girls' soccer match on this past Saturday, Middlebury outlasted Vergennes … (read more)