Ritter, seniors win in home football finale
MIDDLEBURY — The Middlebury College football seniors and Coach Bob Ritter, who is stepping down after 22 years, made the most of their final home game on Saturday, when the Panthers cruised to a 48-34 victory over Hamilton.
The 7-1 Panthers clinched at least a second-place finish in NESCAC, and could finish in a first-place tie with 8-0 Trinity. On this coming Saturday Trinity hosts 6-2 Wesleyan, while the Panthers visit Tufts (5-3). 
As much as the Panthers focus on the tasks at hand, the fact the final home game for the seniors and their coach leader was in the back of their minds, acknowledged senior captain Greg Livingston, a receiver who on Saturday caught seven of quarterback Cole Kennon's passes. Kennon shredded Hamilton for 29 completions in 42 attempts for six touchdowns and 431 yards.
Livingston stuck with the team mantra at first. 
"We take it one week at a time, and Coach Ritter does a great job of getting us prepared for the team we're playing that week," Livingston said. "We're on to Tufts now."
But doesn't it mean a little more to have won this particular game?
"I'm so glad we were able to get the win the last time he and the rest of the seniors were playing on this field and end our time on this field victorious," Livingston said. "But I know Coach Rit, and he's focused on next week."
Still, Ritter doesn't receive hugs from the college president after every game (though he did this week). More of his former players and fellow Class of 1982 graduates than usual were also at Alumni Stadium to shake his hand and pose for pictures with him. 
Ritter said he couldn't help but flash back to the years of playing for and then coaching at his alma mater, and the fact that the next game would be his last.
"It is really bittersweet, which is why I try not to think about it, honestly," Ritter said. "It kind of gets you thinking too much. So it's a weird feeling I'm trying not to have. I'm just thinking about the next game."
In Saturday's game, the Panthers took charge early. After a pass breakup by Middlebury linebacker Kwesi Adu-Diawuo on fourth-and-five at the Panther 37, Middlebury quickly moved 63 yards in six plays, including a 37-yard toss from Kennon to Livingston down the left sideline to the Hamilton 9. Senior back LeeCharles McNeil punched it in from the two, and it was 7-0.
The Panthers stymied the next two Hamilton possessions with a Rocco Stola interception and a Liam High sack. Late in the first quarter, Kennon launched a 42-yard touchdown pass to Donovan Wood down the left sideline, and it was 14-0.
A short punt and a Hamilton penalty set up the Panthers on the Hamilton 34 early in the second quarter. Four plays later Kennon scrambled to his right and threw on the run to Patrick Jamin for a 17-yard TD at 11:13, and it was 21-0. 
Hamilton and QB Matt Banbury got untracked on their next possession, marching 75 yards with the help of two Panther penalties. Banbury ran four times for 24 yards and completed a 14-yard pass on fourth-and-five from the Middlebury 15 to Colin Kelter. Banbury snuck in for the score on the next play, and it was 21-7 at 7:26. 
Two possessions later the Panthers took advantage of a short field: A short Continental punt and a penalty on the play put the Panthers on the Hamilton 41. 
A 20-yard pass to Jamin soon moved the ball to the 10, from there Kennon hit Wood on the 5, and he dodged a tackler and dove into the end zone, and it was 28-7 at the half. 
Banbury heated up in the second half, finishing 27 of 42 for 291 yards and three touchdowns. But the Panther lead never felt threatened, even after the Continentals moved 75 yards to make it 28-14 to open the second half. Banbury completed four passes on the drive and scored on a 1-yard keeper. 
But Adam Harrington returned the kickoff 25 yards to the Panther 40, and it was quickly 35-14. Kennon launched a 43-yard pass to Livingston and then found Cole Crider down the middle for a 17-yard TD.  
Hamilton scored with 1:38 left in the third quarter when Banbury, as he was hit, flicked a nine-yard TD pass to Joseph Campanella. But the Panthers then moved 69 yards and scoring on a seven-yard pass from Kennon to Jamin to make it 41-21 early in the final period. 
The Continentals then fumbled the kickoff, and Stola recovered at the Continental 4-yard line. From there Kennon tossed a TD pass to Jamin, and it was 48-21. 
The Continentals scored on a drives capped by a 9-yard Banbury pass to Ezra Lombardi and an 11-yard pass to Lucas Perez-Segnini. 
Stola and Finn Muldoon led the Panthers with nine tackles each, and Tomas Kenary had two sacks, a pass breakup and two quarterback hurries. Seven Panthers caught Kennon passes. Wood led with eight catches for 131 yards, and Jamin (126 yards) and Livingston (118) added seven each.
Livingston said it is fun to play in the Panthers' wide-open attack. 
"We're incredibly lucky to have a lot of talented players on our team, and Cole is a great quarterback. He makes a lot of plays and puts the ball in a good spot for us," he said.
The team has found different ways to win, with game-clinching interceptions and stirring comebacks in close, low-scoring games as well as blowouts like Saturday's.
Livingston gave his views on what has made this year's season successful.
"I've never been on a team that is so close, that cares about each other and cares about the game. The energy, effort, intensity, it's just really special."
Ritter's last words after the game were about Tufts, who he said like Hamilton has an excellent quarterback, but also boasts a "big, physical defense."
"It's going to be a battle. We're going to have to play our best," he said. "1-0. That's all we're thinking about."
Livingston's last words after Saturday's game focused on his coach. 
"He's been very humble about it, but we know it's a special day. Coach Ritter has been the best. He is Middlebury football, every bit of him," he said. "I feel so lucky to have been able to play for him."
More News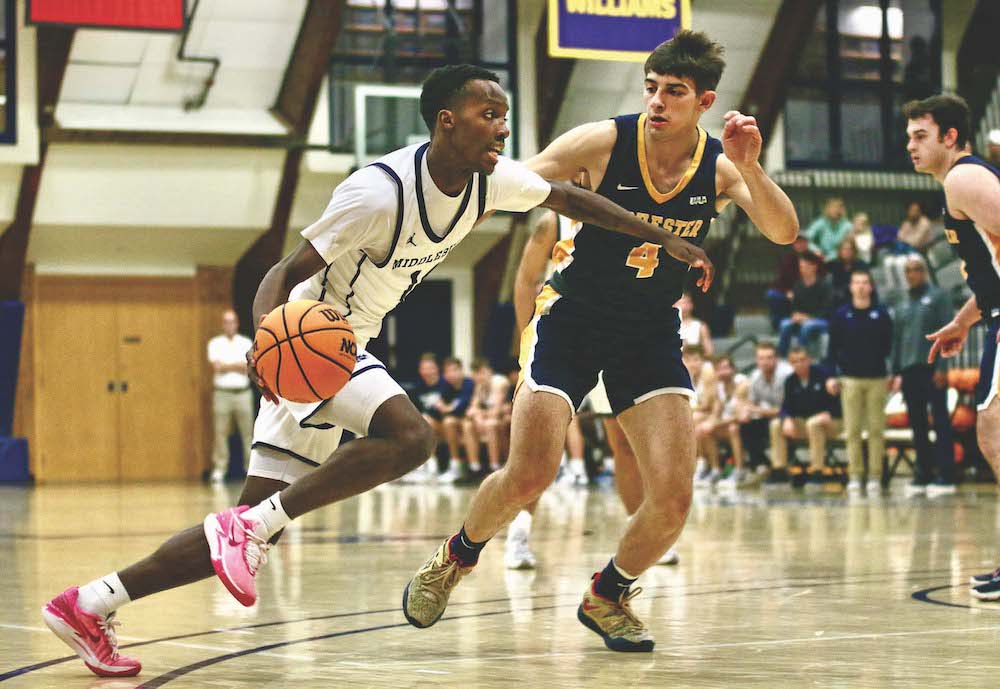 The Middlebury College men's basketball team dropped a pair of home games to teams in the … (read more)
The Middlebury College women's basketball team split a pair of games this past weekend at … (read more)
The Middlebury College women's hockey team lost one game and settled for a tie in another … (read more)