Karl Lindholm: Be careful of pickleball — it's addictive!
Seriously? 
What serious person — athlete, ex-athlete or non-athlete — is going to play a sport called "pickle-ball," such a silly name. 
The answer is just about everyone who tries it, regardless of age, previous athletic experience, or gender. Every time I read a reference to "pickleball," the next words are "the fastest growing sport in America."
And that's undoubtedly true. There are about 5 million pickleball players in the country and that number is indeed growing fast. According to the Sports and Fitness Industry Association, pickleball participation jumped nearly 40% from 2019-2021, clearly benefitting during the pandemic from the fact that it could be played outdoors in relative safety. The SIFA reports that 40% of pickleball players now are under 35, so it's no longer a game just for "seniors." 
Curious about the sport's presence in Addison County, I wandered over to the two outdoor pickleball courts at the Middlebury Rec Park recently just to watch casually and get a sense of the sport. 
At the breaks in action, I was greeted warmly by those playing — and was proselytized fiercely! Not prepared for such evangelical fervor, I demurred and backpedaled. "I'm too old," I said.
"Younger than I am," scoffed a woman player who asked my age, and turned to her playing companions: "How many of you are older than this guy." A number of hands went up. 
"I have replacement knees!" I pleaded. 
"Two knees, a hip, and a shoulder for me," a man coming off the court informed me and agreed to show me his scars. 
"I'm too busy!"
"Too busy for an hour of competitive exercise with good company, and the most fun you've ever had?" another pickleball fanatico offered. "Here," she said, "I have an extra paddle. Do take it and come back tomorrow."
I beat a hasty retreat to my car, thinking to myself, "This isn't a sport . . . it's a cult!"
Wanting to know more, I met at Haymaker for coffee with two local sports gadabouts of my acquaintance who I know are pickleballers: Woody Jackson (who paints cows and other things) and Bill Kingston (only the winningest tennis coach in America: true, look it up).
"I have played tennis in college at Middlebury, squash, paddle tennis, and ping pong," Woody explained, "and pickleball is the most fun, while also a good workout, using skills from all those sports.
"I was attracted to it when I heard the laughter and good cheer happening on the courts at the rec park. That was five or six years ago — so I went over to see what the fuss was about. Rosie Lovshin lent me a paddle and the next thing I knew I was hooked."
Bill offered, "Pickleball is enough exercise to make me think I am staying fit, while not being overly taxing and injury prone — and it appeals to my competitive juices. I also like the social aspect: I make friends with people of all ages I would not otherwise meet.
"On one day, in separate games, I lost in mixed doubles to a woman in her 80s and won against a pair of young men in their 20s. 
Both Woody and Bill told me I had to talk to Mark Gibson of Bristol, whom they call the "Pied Piper" of pickleball in Addison County — and indeed he does wax enthusiastic. Mark describes himself as an "addict" and plays as often as he can, nearly every day.
"I'm a programmer," he told me. "I'm at my computer all day. Pickleball pulls me out. I gotta be there. It's always a joy. I love the competitive nuances of the game."
I also spoke with Rosie Lovshin about how she got into the game, in 2016. "I was retiring, looking for things to do. I had no idea it was going to grab me so. It's just such great fun, and easy to pick up. I was playing five times a week but I'm on the DL now (disabled list) with Achilles tendonitis."
Rosie acknowledged those who supported pickleball in Addison County early on: Terri Arnold, former Middlebury recreation director; Betsey Almeter of Bristol, who helped organize pickleball play; and Mike Korkuc, who offered clinics and taught folks to play this new game.   
What then is it — this sport, pickleball? 
It's been described many ways but is essentially a combination of tennis, badminton and ping pong and is played with a modified yellow wiffleball (smaller than a softball, bigger than a baseball) on a court about the size of a badminton court (but not exactly) with a net about the height of a tennis net. The wiffle ball mitigates against truly high velocity shots.
Points begin with a serve (underhand) and most points are played close to the net, but no volleys are allowed in the "kitchen," a seven-foot area closest to the net. Points are often quite extended back and forths, the action is very fast paced. Games are played to 11 points, gotta win by two. 
You can always tell when a pickleball is being played nearby by the distinctive POCK POCK POCK of ball hitting paddle. 
Pickleball has an origin story. It was invented by the Pritchards, Joel and Joan, in 1965 in Bainbridge Island, Washington, as a way to placate a bored teen-ager. When he was told by his parents of the good old days when imaginative kids made up games to play, the 13-year-old in essence said, "Yeah, prove it."
So Joel, the Naismith of pickleball, went to the paved backyard badminton court, lowered the net, grabbed a wiffleball and a couple of ping pong paddles . . . and it all went from there.
The "pickle" in pickleball belongs to Joan, a crew enthusiast in college, who named the game after "pickle boats," which in rowing competitions have leftovers or non-starters competing in them, a prophetic nod perhaps to the diversity and inclusivity of pickleball.
Now, for you all, non-starters and leftovers too, who might be interested in pickleball, be advised!
It's known to be addictive. 
Karl Lindholm can be contacted at [email protected].
More News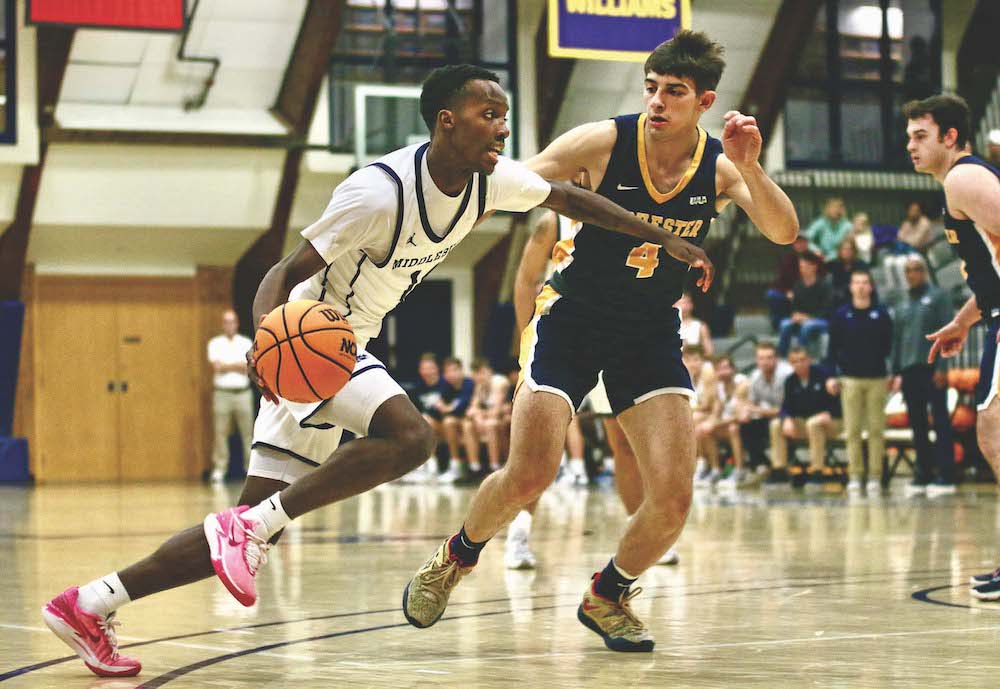 The Middlebury College men's basketball team dropped a pair of home games to teams in the … (read more)
The Middlebury College women's basketball team split a pair of games this past weekend at … (read more)
The Middlebury College women's hockey team lost one game and settled for a tie in another … (read more)