Sheriff declines to step down after his arrest
MIDDLEBURY — Addison County Sheriff Peter Newton on Tuesday pleaded not guilty in Vermont Superior Court in Burlington to two felony sexual assault charges, following a months-long investigation into allegations of abuse reported by a woman with whom he was in a relationship.
While Newton's conditions of release preclude him from engaging in law enforcement, Newton told media assembled at the courthouse that he would continue to carry out the administrative functions of sheriff. He's rebuffed multiple calls for his resignation, including from Addison County High Bailiff Dave Silberman, who's limited authority includes serving in the sheriff's stead if that person is in custody.
Newton's release on $100,000 bond includes that he stay away from the alleged victim in the case.
Newton had already announced he wouldn't seek re-election to a second four-year term as sheriff. His top assistant, Deputy Sgt. Michael Elmore, is slated to face off in an Aug. 9 GOP primary against former Addison County Sheriff's Department Deputy (and former county High Bailiff) Ron Holmes.
Vermont State Police arrested Newton Tuesday morning while he was conducting contractor work at a construction job site in Middlebury, on charges of sexual assault on a person who is substantially impaired, sexual assault on a person in fear of imminent bodily injury, second-degree unlawful restraint and domestic assault. These charges stemmed from a nearly four-month investigation into allegations of abuse reported by a 35-year-old woman.
State police searched Newton's Middlebury home for possible additional evidence on Tuesday afternoon.
A court affidavit filed by VSP Det. Sgt. Angela Baker details the state's case against Newton.
Baker states she was assigned on March 3 to follow up on an alleged domestic disturbance occurring at Newton's Middlebury home on Feb. 26. The call was originally fielded by Middlebury police but transferred to state police in light of Newton's position as an elected sheriff.
According to the police reports prepared by Middlebury PD's Sgt. Bill Austin and officer Nick Stewart, the alleged victim had called police at approximately 12:27 a.m. that morning to report that Newton — whom she identified as her "boyfriend" — was "recording her" and "laughing at her," according to Baker's affidavit. Local police dispatchers reported the caller sounding "very intoxicated," according to court records.
 Baker said the woman told her she had sustained pain and bruises stemming from alleged sexual encounters with Newton, some in which she alleged "he took too far," according to court records.
The woman told Baker at the time that she didn't want to press charges against Newton, but wanted to have her case and her injuries documented and for Newton's alleged behavior "to stop."
Austin interviewed Newton at his home on the date of the alleged domestic dispute and was told by the sheriff he was "going to call 911 to get (the woman) out of his house because of her level of intoxication," according to court records. He said he attempted to record the woman because she was getting "increasingly angry, and she tried to take the phone from him," according to the affidavit.
Newton told Austin he had eventually dumped out her wine, described the woman as "paranoid," and that her injuries were as a result of consensual activity, according to the affidavit.
Police made no arrests that day and noted the Newton and the woman agreed to sleep in separate rooms that night "to avoid any further confrontations," according to court records.
Middlebury PD initially consulted with then-Addison County State's Attorney Dennis Wygmans about the case. Wygmans requested the case be reviewed by an "outside, objective" state's attorney's office, and the case was referred to Washington County State's Attorney Rory Thibault.
Baker said she contacted the alleged victim on March 3, to follow up on the case. Baker said the woman "expressed extreme reluctance" in participating in any investigation involving Newton because she "did not trust the police" and "firmly believed Newton has the ability to influence this investigation," Baker states in her affidavit.
But the woman agreed to stay in touch with Baker, and contacted her on May 18. She said she was concerned with her safety and that of her children, but would consult with a lawyer about possibly being interviewed by Vermont State Police.
THE RELATIONSHIP
On June 16, Baker met with the woman, her sister and her attorney. The woman told investigators she'd been dating Newton since December 2021, and that she had initially sought him out in his role as sheriff to "help her with problems with the father of her children," according to Baker's affidavit.
"Newton told (her) he would investigate (her former partner's) continued actions toward her, and she would be safe with him," reads the Baker affidavit.
The woman told police she and Newton began communicating often. That feeling of safety, she told police, led to her trusting Newton.
"(She) advised Newton represented 'safety' to her and she trusted him everywhere except the bedroom," Baker stated through the affidavit. "(She) advised 'she now knows that Newton used his job and his position as sheriff to find her and groom her for the purpose of sexually assaulting her.'"
The woman said she agreed to let expire a relief from abuse (RFA) order against her former partner because "she believed that Newton would keep her safe."
But when the woman dropped the RFA, she claimed Newton started to "go further" with some of their physical encounters, according to court records. In the court records the woman — who told police she was a sexual assault survivor before meeting Newton — offers details of alleged alcohol-fueled incidents that included restraints and painful activity.
The woman told investigators that Newton claimed to "know people in high places" that could "hurt her."
"She said Newton told her no one would believe her, and no one would do anything if she came forward to report this information," Baker states in her affidavit. "She said Newton told her 'she was crazy' and she 'dreamt it.'
Conviction on any one of the felony counts that Newton faces would carry a penalty of at least three years in prison and/or a fine of up to $25,000.
HIGH BAILIFF
Per state statute, the county's high bailiff must step in for the sheriff if that person is unable to fulfill their duties. Silberman, who is also a lawyer, on Tuesday issued the following statement about Newton's arrest:
"This morning, Addison County Sheriff Peter Newton was arrested on charges of sexual assault, unlawful restraint, and domestic assault. Sheriff Newton is currently in police custody pending arraignment, scheduled for later today. Pursuant to 24 V.S.A. §333, I will serve as Acting Sheriff so long as Sheriff Newton remains in custody.
"Earlier this afternoon, I spoke with lead Deputy Sergeant Michael Elmore, whose duties include general administration of the Addison County Sheriff's Department. Sgt. Elmore assured me that the ACSD will continue to provide all necessary services to the county during this difficult time.
"I anticipate that Sheriff Newton will be released from custody this evening after his arraignment, at which point, under state law, he will automatically resume his elected office.
"Like all people charged with crimes, Sheriff Newton deserves a presumption of innocence pending trial and conviction. However, it is simply impossible for Sheriff Newton to continue serving the community in a law enforcement capacity under the cloud of these very serious charges.
"Accordingly, I am calling for Sheriff Newton to immediately resign from office."
Newton's term in office has been marked by an at-times acrimonious relationship with other local police and municipal officials.
Soon after being elected, he ended the Addison County Unit for Special Investigation's tenancy in the sheriff's department building, saying he hoped his department could provide those services itself.
Last summer, Newton and Brandon officials publicly squared off about the provision of evidence after an ACSD deputy has issued a speeding ticket to the son of the Brandon town manager.
In 2020, Newton and one of his deputies, Brent Newton, accused Vergennes Police Chief George Merkel of mis-assigning hours he was working for the city to the Governor's Highway Safety Program, and that he had also failed to keep complete data on the racial identities of those his department dealt with in traffic stops. A state police review of evidence culminated in Merkel being cleared of the allegations.
Around the same time Vergennes police and the sheriff's department were competing for a contract to enforce traffic laws in Ferrisburgh. Newton also said he would launch an interagency co-operative network to improve social services delivery — an effort that looked remarkably like an effort Merkel had already been leading through the Vergennes Police Department.
Anyone with information that may be relevant to the state police investigation of Newton is asked to contact the VSP Bureau of Criminal Investigations at 802-524-5993. Tips also may be submitted online anonymously vsp.vermont.gov/tipsubmit.
Reporter John Flowers is at [email protected].
More News
Blasting ledge could begin on Monday in Vergennes as work on the $25 million Vergennes Gra … (read more)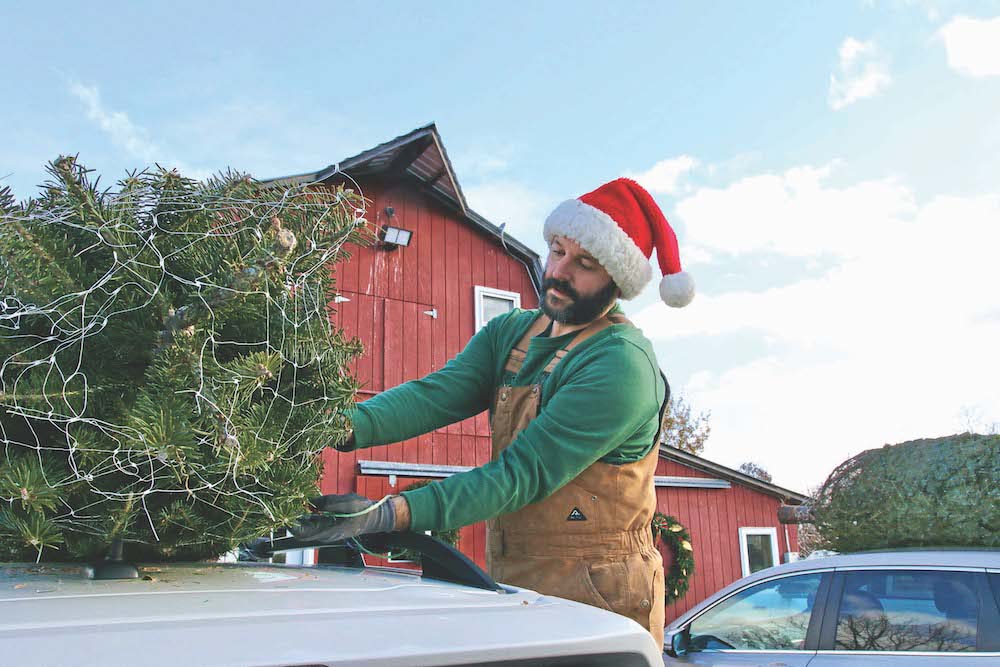 With the holiday season underway, county Christmas tree farms have begun welcoming visitor … (read more)
As the Middlebury Snowbowl prepares for opening day this Saturday, Dec. 9, loyal skiers an … (read more)