VUHS, OV, MUHS pick up softball wins
ADDISON COUNTY — The Vergennes and Otter Valley softball teams each won multiple games in recent high school action, while Middlebury earned a dramatic victory in its only outing, and Mount Abraham saw a rally fall just short in its only game between April 27 and May 3.
COMMODORES
On Saturday, the Commodores outslugged host U-32, 18-12. Sierra Bertrand (homer, double), Audrey Tembreull (two doubles) and Jasmine Little had three hits to pace the VUHS attack, and Felicia Poirier and Kaitlyn Little added two hits apiece. Winning pitcher Savanah Blaise went the distance, allowing seven earned runs on 12 hits and six walks while fanning 10.
Caroline Flynn took the pitching loss, allowing nine earned runs on 12 hits and five walks and striking out none. Elyse Kelley had three hits for U-32 (0-3), and Allie Guthrie homered.
On Tuesday Blaise tossed a five-inning perfect game, striking out all 15 batters, as VUHS blitzed visiting Harwood, 31-0, to improve to 4-1.
Several Commodores had big games, led by Jasmine Little (three hits, four RBIs, five runs). Poirier (four hits, six RBIs, four runs) and Tembreull (three hits, including a triple, three RBIs, three runs).
The Commodores will host the Eagles on Thursday.
TIGERS
On Tuesday, the Tigers scored six times in the seventh inning to edge visiting Rice, 7-6. The winning run scored on a Riley Farrell squeeze bunt. Olivia McCray and Taylor Betourney each doubled and tripled to spark the offense. Emma Deering earned the pitching win, striking out seven, as the Tigers improved to 3-1.
OTTERS
On April 28, the Otters pounded White River, 23-2, in five innings, scoring 18 runs in the third.
Sydney Gallo tripled and scored to key the outburst. Mackenzie McKay earned the pitching win, fanning 10 and allowing three hits and two unearned runs.
OV took care of host Springfield, 11-3, on Saturday, avenging an earlier home loss to the Cosmos. Details were not available.
On Tuesday, OV (4-2) won its fourth straight, 16-4 over Windsor in five innings.
Gallo hit for the cycle, while Bryn Blanchard went 4-for-4, Alice Keith and McKay each had three hits, and Ryleigh LaPorte tripled. Riley Keith struck out 11 and earned the pitching win.
EAGLES
On April 28, the Eagles rallied from down by 6-0 at South Burlington to tie the game at 7-7, but lost, 8-7, when Emma Stevens stroked a walk-off RBI double in the bottom of the seventh. Sofie Richland also homered, singled, drove in two and scored twice for the Wolves.
For Mount Abe, Cami Willsey had a hit and scored twice, Lucy Parker singled in a run, Eve McCormick doubled and drove in two runs, and Isabella Powell doubled. McCormick pitched well in relief, but took the pitching loss. The Eagles dropped to 3-2.
More News
The Middlebury College football team outlasted visiting Bowdoin on Saturday, 34-27, a resu … (read more)
The Middlebury College football team scored first the outlasted visiting Bowdoin on Saturd … (read more)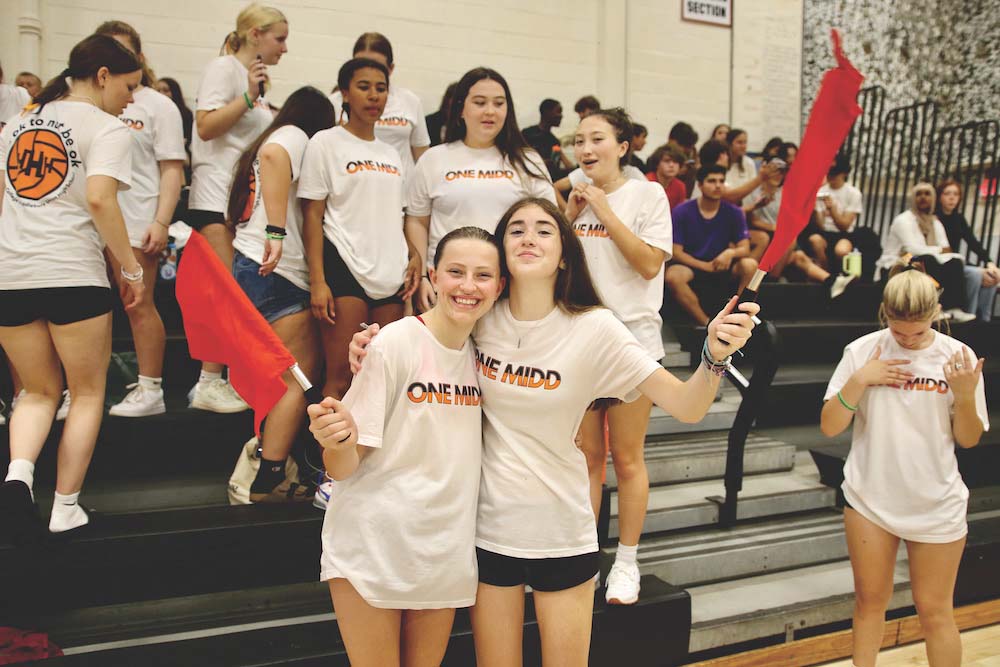 Considering the Middlebury Union High School volleyball team's decidedly successful record … (read more)