Karl Lindholm: One play: A steal of home!
The situation:
On Friday, April 15, the Middlebury College baseball team took on NESCAC archrival Williams in the first game of a big three-game weekend series.
In the bottom of the third inning, Midd was down 4-1, having given Williams six outs and four unearned runs on two drops and a boot in the top of the third. It was too early in the game to be too demoralized, yet it was a bad start and hopefully not a harbinger of further little league play. The Panthers had come into the game on a five-game winning streak.
The first batter for Middlebury in their half of the third was junior outfielder Alec Ritch, one of their best and most experienced players. With the count one ball and one strike, he lined a single to center.
On the next pitch, Ritch took off for second, sliding easily under the tag of the Eph second baseman. Now, that was a nervy play, stealing with his team behind and needing baserunners. On the other hand, Ritch is a good baserunner and his steal reduced the likelihood of a double play.
Runner on second, no outs. Next thing you know, Ritch was taking off for third! The Williams catcher made a good throw — Ritch was safe on a bang-bang play. That call was really risky, down three runs with no outs.
Credit Middlebury coach Mike Leonard for sending Ritch, for conveying that intent to his assistant coach Mike Phelps, coaching at third, who gave Ritch the sign to go, employing that delightful pantomime, the non-verbal sign language of baseball: the tip of the finger to the nose, a tug at the ear, a touch of the bill of the cap, a sweep of the hand across the chest.
Except . . . had anyone watched closely, they would not have seen Mike Phelps do any of that. He transmitted no apparent sign to his runner on second, save a clenched fist indicating "no outs." Could it be that Ritch, brazenly, against conventional wisdom, the book, went on his own?
Indeed so!
The fact is that Coach Leonard has no steal sign: runners all go on their own at any point in the game. He trusts them to make good decisions. I met with Coach Leonard at Haymaker the week after the Williams series (a sweep of the Ephs!) to ask, among other things, about this decision to allow the players themselves to decide when to take chances on the basepaths.
"I want to make it OK for them to fail," he told me. "They have to be comfortable with that possibility. They know they will not get yelled at for taking a risk. I will get after them for being too timid. When in doubt, go!
"Baserunning is undertaught and under emphasized," he said. "We want to take the extra base on a hit, run on a pitch in the dirt, go hard out of the box. We want to force teams to execute challenging plays, make them throw us out. Be relentless. Don't be passive. Constant pressure."
Leonard explained that he has had a "no steal sign" concept since his second year (of six) at Middlebury in 2018. "I wanted to tap into the creativity and intelligence of the athletes. As a coach, I may have more experience, but I'm not in the game. I think they grow from this approach. There have been many more rewards than risks."
Does this approach work? As of this writing, Middlebury is first in steals this year in the NESCAC by a wide margin (also, by the way, in batting average, home runs, RBIs, hits, on-base percentage, and other categories) and second in the country in Division III.  In 2019, the last full season of play before this one, Middlebury led NESCAC and indeed all of DIII in steals.
Back to Alec Ritch at third base: after stealing third, Alex surveyed the situation and then . . . stole home! The Middlebury bench erupted. He stole second, stole third, and stole home! In a stroke, the team mood went from down to up, despondent to ecstatic.
I met with Alec Ritch in the college library last week and asked him to describe his thinking during this dramatic third-inning sequence:
"I was just trying to get on base. There was no doubt I was going to steal second on the first pitch. He was a lefty pitcher, but I had noticed in the dugout that he didn't have a great pick-off move. I didn't need a big lead.
"I was determined to go to third and got an amazing jump. It was a close play, but the throw was a little off the bag. Any time I'm on third, especially with a lefty pitcher, I try to notice if the catcher is lazy returning the ball to the pitcher.
"The third baseman was playing back. They weren't paying any attention to me. They were asleep at the wheel.  I said, 'I'll give him one pitch to see how far off I can get.' I told Phelpsy, 'I think I got it.'
"He said, 'Go for it!'
"The catcher didn't even look at me.  As soon as he released the ball, I took off. The pitcher was surprised, threw it to the backstop, but I would have scored anyway, even with a good throw.
"I've always kept my foot on the gas. We needed a run. My dad told me, 'You lead from the front!' I love to get on base because then I can start running. We love playing here: it's not 'go if you want, it's GO!'"
This one play did not determine the outcome of the game. Alec's run only cut the deficit in half, 4-2. It was in the third inning of a nine-inning game. Clearly, however, it affected the outcome.
The game-winning hit was an RBI single in 7th inning, giving Midd an exciting 5-4 win. But the steal was crucial: it sent a message. The whole emotional landscape of the game was altered, definitively.
Here's a nice touch: Alec Ritch stole home on April 15, Jackie Robinson Day in Major League Baseball. Jackie Robinson brought the speed and daring of the Negro Leagues to MLB. He stole home 19 times in his 10-year career with the Dodgers!
The "relentless" Panthers: homage to Jackie.
Karl Lindholm can be reached at [email protected].
More News
Tiger boys' cross-country team held off runners from Burr & Burton, VUHS and Mount Abe in … (read more)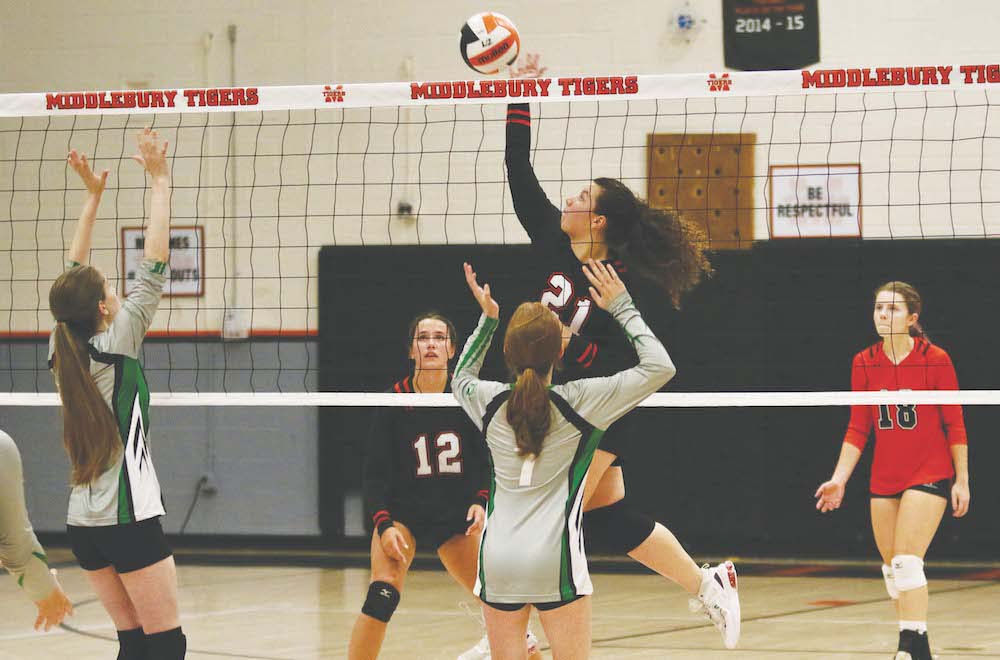 The first-year Middlebury Union High School girls' varsity volleyball team continued its r … (read more)
I gave Bill Lee a call last week, hoping he was at his home in Craftsbury and we might arr … (read more)