Matthew Dickerson: A winter (or summer) reading list
A few days ago the temperatures soared above 70. I started thinking about summer.
I know plenty of people make summer reading lists. I make reading lists for a year, sometimes. But I don't usually make summer reading lists. I make summer to-do lists. I also make summer where-to-fish lists. Although I'm reading books year-round, summer is not usually the time that I suddenly add more books to my list. If anything, with all the gardening, fishing, hiking and outdoor adventuring to be done in my spare time, my reading shrinks a little.
I've never been one to want to sit on a beach reading a book. Mention sitting in a lounge chair with a mug of tea or cocoa and a good book on a cold winter night, however, and you've got my attention. There was snow this week. It might be all gone by the time you read this, nevertheless, this week I offer you a short winter reading list. Feel free to read these books in the summer.
These are three very different books to read if you like fish, and also if you are interested in fishing, ecology and culture. (Note that while I've written five books that fit in that category, none of my own books are on this list.) I'll start with my current read: "Fishing through the Apocalypse." I acquired it in part because I liked the title, but also because the author, Matthew Miller, is on the Outdoor Writers Association of America board of directors with me. When I mentioned to him that I was just about to order his book, he generously offered to send me an autographed copy instead.
The book is entertaining, fascinating and informative. It's also challenging at times. The narrative is driven by the author's adventures as he tours the country on a quest to find out what natural fishing looks like on a continent where we have ravaged most natural ecosystems, and where it's difficult to find water inhabited by the same species of fish that inhabited it 300 years ago.
Each chapter brings readers to a new body of water somewhere, usually in search of a native fish. If the opening scene depresses readers with a story of catching invasive fish out of a rusted filing cabinet in a drainage ditch in Florida, the book also restores hope as Miller discovers little spring-fed streams in northeast Iowa that still hold native brook trout, that somehow found their way down there from the Great Lakes as the glaciers retreated after the last ice age.
The conservation message is strong and urgent, but the telling of the stories never feels preachy. And the tales of the damage we've done to the earth and water is mingled with encouraging stories of places where important work of preservation and restoration is being done. The book makes me want to go fishing with the author.
I will also admit that I was somewhat pleased early in the book when I found that Miller, while writing about Gila trout in New Mexico, mentioned my own book "Trout in the Desert." I would have been more pleased, except he spelled my name wrong. Also, he caught Gila trout there, which I never succeeded at doing.
If you're interest in winter (or summer) reading that is more explicitly in the sciences, then Kurt Fausch's excellent book "For the Love or Rivers: a Scientist's Journey" is a good one for your list. Fausch, recently retired from a long career teaching at Colorado State University, is one of the foremost experts on stream ecology and especially on native cutthroat trout. (The author also has a video series that goes with the book. Find both here: fortheloveofrivers.com.)
Although Fausch does not mention me in his books (nor misspell my name) back in 2016, not long after his book was published, I had a chance to spend a day with him on a little stream that still held native Colorado River cutthroat trout, high in the Rockies in the Apache National Forest.
I said it was a scientific book. And it is. But it is also narrative. The title is not misleading. The author's love of rivers and their inhabitants comes through on every page, as does the author's humility. The book brings readers from experimental streams in Japan where Fausch worked with Japanese colleagues studying the impacts of invasive fish, including not just the impact on native fish but also how the trophic cascade impacts algae, streamside spiders, and even songbirds. From Japan, we end up back in little cutthroat trout streams in Idaho and out onto the Plains of Colorado, where we learn about little minnows that inhabit seasonal streams — and are in trouble because of the decades-long draining of the aquifer for unsustainable agriculture. Although fishing doesn't play a front-and-center role, fish and rivers do. Read the book and you will see every stream and river you ever visit after that with new eyes.
Finally, I was given a copy in 2017 (the year after it was released) of "Body of Water: a Sage, a Seeker, and the World's Most Alluring Fish" by Chris Dombrowski. Although the book is about bonefish and fly-fishing for bonefish (at least on the surface), and I have never fished for bonefish in my life, I was completely capture by the compelling story and beautiful writing. The author is a poet and writes with a rich poetic voice. The book took me a long way from the trout streams where I have spent most of my fly-fishing life.
And (like Norman Maclean's "A River Runs Through It") while fishing may be central to the surface narrative, the deeper story is about people, and especially about racial injustice, prejudice, power and privilege in the Bahamas where the story takes place, and about one particular guide named Pinder. As the book description states, by the time the author has met him "Pinder has been abandoned by the industry he helped build. With cataracts from a lifetime of staring at the water and a tiny severance package after 40 years of service, he watches as the world of his beloved bonefish is degraded by the tourists he himself did so much to attract. But as Pinder's stories unfold, Dombrowski discovers a profound integrity and wisdom in the bonefishing guide's life."
All of these books, while capturing my attention with strong narratives and good writing, simultaneously raised questions and pushed me to think more deeply and see the world through slightly different eyes. They might help get you through the hard winter ahead. Maybe even through the summer.
More News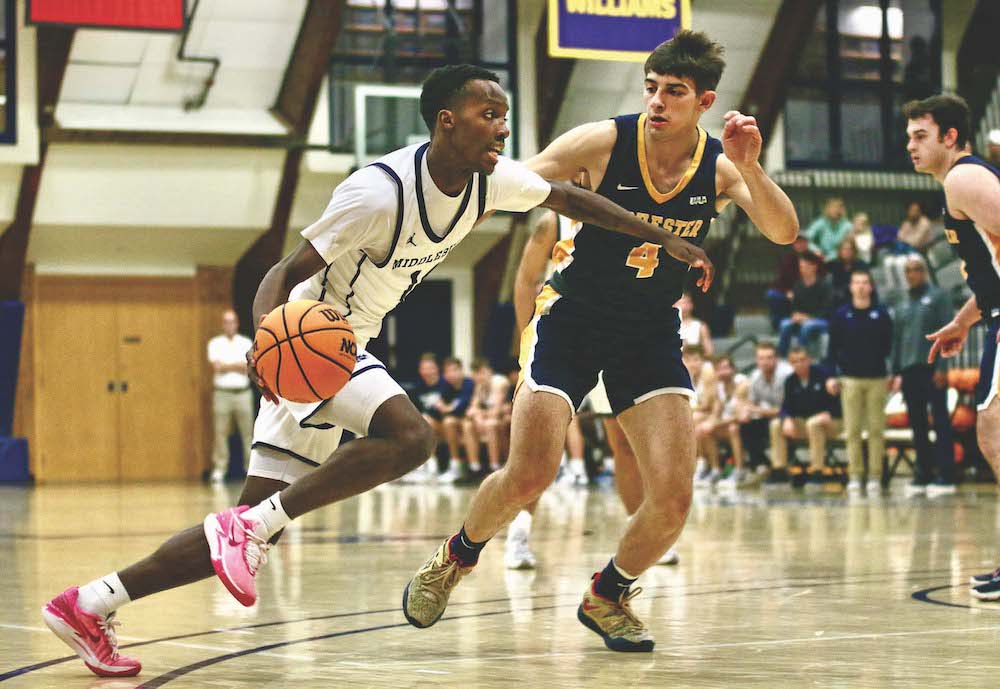 The Middlebury College men's basketball team dropped a pair of home games to teams in the … (read more)
The Middlebury College women's basketball team split a pair of games this past weekend at … (read more)
The Middlebury College women's hockey team lost one game and settled for a tie in another … (read more)