Court criticizes Corrections on furlough procedures
"The facts … reveal a bureaucracy that comes very close to the sort of 'procedural mockery' we have previously warned against."
— Supreme Court Justice Karen Carroll
The Vermont Supreme Court slammed the state Department of Corrections this month over its handling of furlough cases, calling the system close to a "procedural mockery" and demanding that the department "do better for the persons subject to the rules."
Despite its harsh words for the corrections department, the court ruled in the department's favor in a decision in the case of Anthony Davey, who challenged a process that led to the revocation of his furlough four months before he even had a hearing.
Vermont's furlough system allows those convicted of a crime to serve a portion of their sentence in the community, rather than in prison, if they abide by certain rules.
In a unanimous opinion issued Dec. 17, Justice Karen Carroll wrote that Davey still had other steps to challenge his furlough revocation before the one that brought the case before the state's highest court. But despite ruling against Davey, Carroll used the last paragraph of her nine-page ruling to sharply criticize the corrections department.
"Notwithstanding our conclusion that petitioner had an alternative avenue to challenge DOC's revocation of his furlough, we must address DOC's troubling procedural actions in this case," Carroll wrote.
"The facts petitioner alleges — many of which the State does not dispute — reveal a bureaucracy that comes very close to the sort of 'procedural mockery' we have previously warned against," the justice added.
Carroll wrote that the department's "history of deficient procedural processes does little to instill confidence" in how the rules are applied.
"DOC must do better for the persons subject to the rules it alone promulgates and administers," the justice wrote.
The high court's ruling follows an appeal by Davey of an earlier decision by Windsor County Judge Robert P. Gerety Jr. dismissing a habeas corpus petition brought by Davey.
A habeas corpus petition is a civil court filing on behalf of an incarcerated person asking a judge to find that person's imprisonment unlawful.
Prisoners' Rights Office staff attorney Annie Manhardt, who represented Davey, said Monday that the ruling clarifies and streamlines the process for future challenges. It also supports concerns that clients have raised about the corrections department's administration of the furlough program, Manhardt said.
"The decision was helpful in the sense that it did give us a roadmap on how to bring these issues up in the future," Manhardt said.
As for the ruling's last paragraph chastising the corrections department, Manhardt said, "It seemed warranted based on just how serious the violations were in this case. Just not holding a hearing at all for four months is just as serious as it can get."
Corrections Commissioner Nicholas Deml acknowledged his department's deficiencies in a written statement.
"The court was right to point out previous shortcomings," Deml said. "Until we identify the imperfect parts of our process, we cannot begin to fix them."
He added that the corrections department was working with the judiciary and "other stakeholders" to improve the process.
"But, I cannot underscore enough the impact the COVID-19 pandemic has imposed on our corrections system," Deml said. "For the last two years, saving lives has been our priority above all else. Mitigating the virus is affecting staffing levels and the standard ways of doing business across the board."
Carroll's ruling laid out some of the history of the case, starting when Davey was convicted of several counts of sexual assault in 2014. He is currently serving a sentence that had a minimum release date of March 30, 2017, and a maximum term of life.
Davey was released on furlough on April 5, 2017, and lived for about two years with a relative in Pownal, with a condition to stay away from places where children gather.
Then, on March 6, 2019, he didn't show up to a scheduled meeting with his parole officer and didn't answer when the officer tried to reach him by phone. Davey was placed on "absconded" status and a warrant was issued for his arrest.
Davey was arrested by the U.S. Marshals Service on Oct. 27, 2020, and received a notice from the corrections department stating that he would be having a hearing no later than Oct. 29, 2020. However, that date came and went without a hearing. After a "case staffing" by corrections employees, Davey was told he would be sanctioned and have to serve an additional year in prison before becoming eligible again for release into the community on furlough.
Then, on Feb. 17, 2021, the corrections department sent Davey a new notice for "escaping," with the date of the incident Feb. 17, almost four months after his arrest, and informing him he would have a hearing no later than Feb. 20.
That hearing date also came and went, and it wasn't until Feb. 24 that the hearing took place. A hearing officer then refused to consider the delay in bringing the action or due process arguments.
"The officer returned from a 90-minute off-the-record deliberation with a supervisor, found petitioner guilty of the furlough violation, and referred petitioner for case staffing," Carroll wrote in the ruling.
Ultimately, that case staffing took place March 20 and affirmed the one-year sanction for Davey, leading to the filing of the habeas corpus petition and later appeal to the Vermont Supreme Court.
In its ruling, the court wrote that Davey could pursue action under a change in law governing furlough that went into effect Jan. 1, 2021.
That revision allows people to challenge furlough decisions by the corrections department in state civil court, where they would be required to show that the department "abused its discretion" in imposing a 90-day or longer sanction for a violation.
Manhardt, Davey's attorney, said Monday that it hadn't been clear in that new law if a person could only challenge the ultimate sanction or also the process leading up to making the decision.
The high court, Manhardt said, clarified that action could be brought challenging either.
Manhardt said that Davey is still incarcerated and has already served his one-year sanction behind bars. He is currently awaiting "release planning" by the corrections department, she said.
More News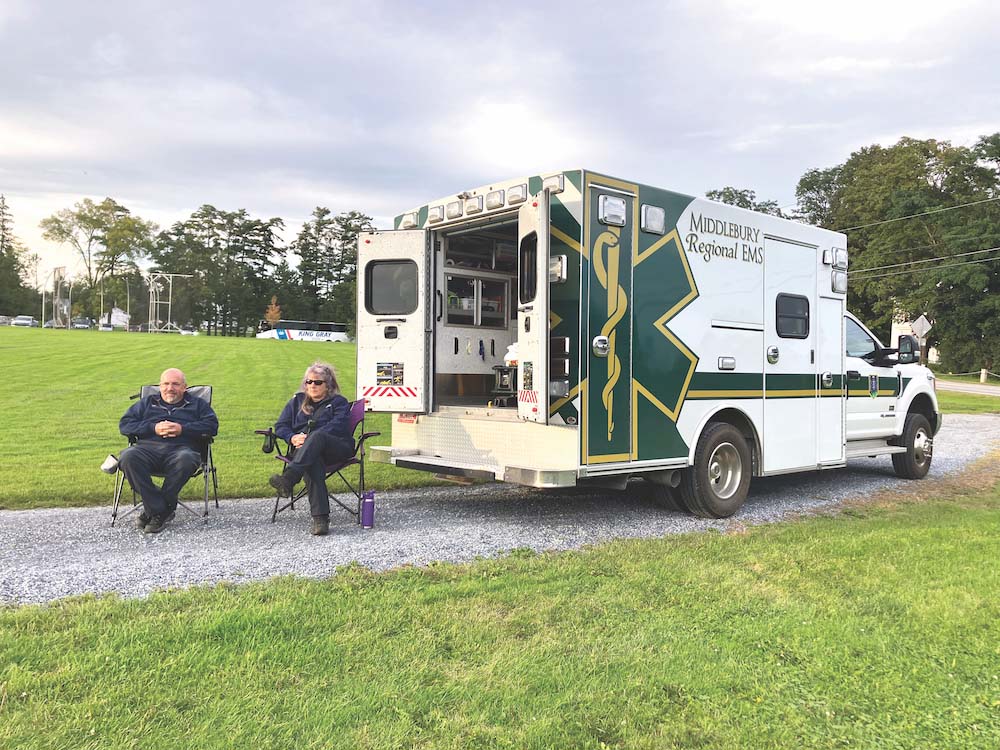 Middlebury Regional Emergency Medical Services wants to eliminate its annual Town Meeting … (read more)
Middlebury police are investigating the death of a Middlebury College junior and say the p … (read more)
Vergennes resident Margaret Clifford offers nearly a century of recollections, from losing … (read more)