New Calvi's finds a place to call home
MIDDLEBURY — Memories can be powerful — particularly if they are tethered to a specific taste or aroma.
For Helen Hall, it's her childhood recollection of scaling one of the counter stools at Calvi's old-fashioned ice cream shop to enjoy a rich, thick malt shake.
"I remember going there regularly after school," she said. "They had the best malts. I still haven't found any other place that can replace those malts."
But her mouth-watering memory seemed destined to remain just that; Calvi's closed its Main Street Middlebury doors 23 years ago, not long after the tragic death of its congenial scoop-master, Blaney Calvi Blodgett.
The nostalgic echoes were inescapable, trailing Hall from her hometown of Ripton to New York state and then the West Coast, where she spent 16 years after graduating from Middlebury Union High School in 2002. After earning a degree from Empire State College in Saratoga, N.Y., she carved out a career in the food service industry, working kitchens and dining rooms in a half-dozen different eateries.
She decided upon her return to Addison County last year that the next restaurant at which she worked would be her own.
And that's when Hall, now 38, resolved to have her malt and drink it, too.
"I thought, 'Someone should open up Calvi's,'" Hall recalled. "Then it was like, 'I should open up Calvi's.' It all made sense."
It was a sweet idea, and she received ample encouragement from other Middlebury-area folks who had spent more than a couple carefree afternoons at Calvi's shoveling down ice cream with one hand while toggling the controls of a Pac Man game table with the other.
Hall then spent several months developing a business plan for a new Calvi's. She knew it had to have counter/bar seating to replicate the soda fountain ambiance. It had to mimic the original Calvi's casual, inviting atmosphere. And it had to feature a limited menu with items done right.
A couple Pac Man tables would be a bonus, Hall acknowledged with a smile.
It didn't take her long to settle on two menu staples: Ice cream malts and crepes.
"It's a low-key menu right now, and will evolve over time," she promised.
She's been experimenting with different ice creams and malt recipes to recreate what had been her childhood obsession.
Hall has already got the crepes covered. Her resume includes work at a creperie, where she learned how to whip up the best batter to make the pillowy, paper-thin wraps for all things savory and sweet. Nutella, fruit preserves, buffalo chicken, cheeses and bananas — and more — are all invited to the party.
Next, Hall embarked on a search for the appropriate space for the new Calvi's. And as it turned out, she picked a prime time to put her business plan into motion. Downtown Middlebury last year was carrying around a dozen storefront vacancies created primarily by the COVID-19 pandemic, a major rail tunnel project, and market forces. The Better Middlebury Partnership launched an aggressive effort to fill those spots through a "Kick Start" competition that promised startup funding and other amenities to the most auspicious business plans.
Calvi's was among those that made the cut, ensuring Hall around $20,000 in financing and another $5,000 in supports to get things rolling.
"The Kick Start aid is a major game changer for me," Hall said at the time. "It will not only give me great financial help in starting my business — especially with rent and renovations — but there will be amazing opportunity for business growth with this aid."
It took a while for Hall to find the right spot, but she believes she's found it in the Marble Works, in a spot (111 Maple St., unit 24) soon to be vacated by the 11th Hour Botanical Wellness & Spa-fé. Hall and an architect have been sizing up the space for renovations that will allow for a spring 2022 launch of Calvi's.
Hall is aiming for indoor and outdoor seating. Her original vision called for a full-fledged sit-down restaurant, but she's tempered that plan in view of a COVID-19 pandemic that has at least temporarily complicated in-person dining.
The original Calvi's was on Main Street, but Hall is content to have its new incarnation located a stone's throw away, in the Marble Works.
"I fell in love with the idea of being in the Marble Works; I felt it would be a great place to have a business," she said. "There's a lot of foot traffic through here, it's a pretty location (near the Otter Creek Falls) and easy parking."
If things go according to plan, Hall will find great success and pass along her Calvi's enthusiasm to the next generation — including her two children, Lincoln, 5, and Quinn, 3.
"It's something I love to do, that I want to do, and is also helping the community — it checked all those boxes," she said of her venture.
Reporter John Flowers is at [email protected].
More News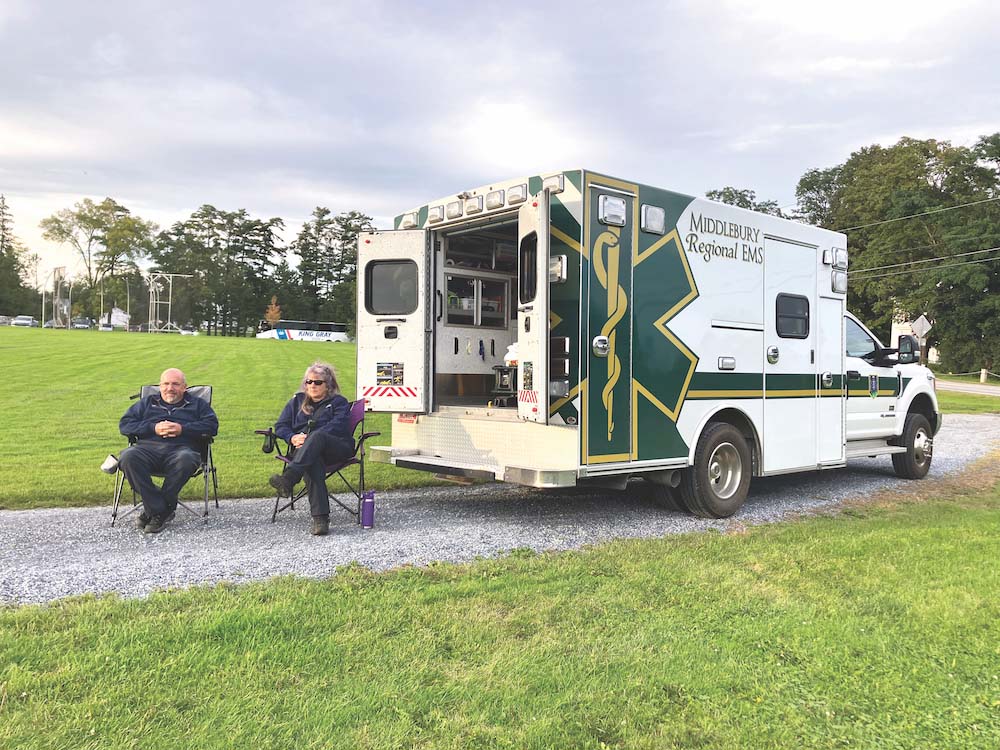 Middlebury Regional Emergency Medical Services wants to eliminate its annual Town Meeting … (read more)
Middlebury police are investigating the death of a Middlebury College junior and say the p … (read more)
Vergennes resident Margaret Clifford offers nearly a century of recollections, from losing … (read more)