What's up with Fort Ti Ferry? Ask the courts
SHOREHAM — A part-time Cornwall resident is hoping to acquire and resurrect the historic Fort Ticonderoga Ferry, which has remained dormant this year due to a legal dispute that was recently transferred to U.S. District Court.
The Fort Ti Ferry crosses between Ticonderoga, N.Y., and Larrabee's Point in Shoreham, Vt. It's a power-cabled vessel that's been transporting travelers between the two points on Lake Champlain since 1759. It's a seasonal operation that generally runs from the beginning of May until the end of October, with seven-minute daytime crossings.
In addition to charming tourists, the ferry has served as an important and convenient travel link for commuters and shoppers on both sides of the lake. During a typical year, it's part of the economic engine that powers both the Addison County and Ticonderoga economies.
But 2021 has been far from a typical year for the ferry — and for the world, in general.
COVID-19 has affected many people's commuting habits. But it's not the ongoing pandemic that has temporarily scuttled the Fort Ti Ferry; rather, its a legal dispute over the business's assets, the fallout from the recent, ill-fated sale of the property by longtime owner Michael Matot to an entity known as "1759, Ltd.," aka Neil Jensen of Clifton Park, N.Y.
According to a complaint filed by aspiring Fort Ti Ferry owner Jack Doyle — who divides his time between Florida and Cornwall — 1759 Ltd. finalized a deal to buy the business from Matot this past April 14 for $600,000. The assets include the tugboat, barge, cable, ferry equipment and two related, small pieces of non-contiguous land in Shoreham, according to the complaint.
The transaction calls for an interest rate of 5% with monthly payments of $3,959.73, according to the lawsuit. The note provides that if any payment is in default and continues for more than 30 days the balance "shall become immediate due and payable without notice," the complaint states.
But other than making an initial payment of $1,000 this past May, 1759 Ltd. hasn't followed through with the payment schedule, according to the lawsuit.
"Defendants 1759 and Jensen have failed, and continue to fail, to make payments on the note," reads the complaint. "Defendants have also failed to take any steps to operate the ferry."
On June 25, Matot gave written notice to 1759 Ltd. and Jensen that the entire purchase price was due immediately, as provided by the agreement. That action has failed to yield results, according to the complaint.
"Defendants have not made payments or taken any further steps to cure the default since June 25, 2021," the lawsuit alleges.
Enter Doyle, a Middlebury College graduate (class of 1978), retired Wall Street investor and owner of Hibernia Farm in Cornwall. Doyle — aka JVD Property Enterprises Inc. — has had a keen interest in the Fort Ti Ferry.
Doyle grew up in Boston, one of eight children. He became a history buff at an early age, devouring literature about the birth of the U.S. — including the role played by Ethan Allen and the Green Mountain Boys, who rowed from just north of Larrabee's Point across Lake Champlain to capture Fort Ticonderoga in the American Revolution.
"That story always resonated with me," he said during a recent interview.
He developed a strong connection with Vermont during his years at Middlebury College, which is proximate to Lake Champlain and other sites that played a pivotal role during the Revolutionary War and War of 1812.
He embarked on a career on Wall Street following his graduation from Middlebury. Doyle enjoyed business success, but lost a brother-in-law during the terrorist attacks of Sept. 11, 2001. He began yearning again for Vermont and a more simple, rural way of life.
He and his wife bought Hibernia Farm in 2003. Doyle crossed paths with Matot, and later became interested in the Fort Ti Ferry.
"Given my background, my initial fascination with the history of Vermont, and given this operation has been running continuously since before we were a nation — all of that appealed to me," Doyle said.
Though retired, Doyle said he remains an "active investor," and saw the Fort Ti Ferry as a "terrific business opportunity" with a historic pedigree.
But by this time, Matot had already entered into an agreement with 1759 Ltd. — though the deal had entered choppy waters.
"I had a conversation with (Matot), I went through all the documents, and was satisfied — so I bought the note (on Sept. 10)," Doyle said. "Now I'm pursuing ownership of the operation."
In taking on the note, Doyle is arguing for the right to take possession of the ferry assets and any other collateral defined in the agreement signed by Jensen.
If successful in acquiring the property — which would likely have to occur through an auction once the case winds its way through court — he vowed to assemble a ferry crew in an effort to restart the operation next spring.
Doyle's complaint alleges 1759 Ltd. has "failed to operate the Fort Ticonderoga Ferry in any manner," raising concerns that the business's assets "have been put at physical risk of damage as the Tug and Barge were left in the water."
He's requesting the court, among other things:
Determine the exact amount due by 1759 Ltd.
Grant his foreclosure request.
Grant him authority to take possession of the property.
Grant him "reasonable attorney's fees" and reimbursement for "all funds advanced for taxes, insurance premiums, municipal assessments and all other costs and expenses, incident to the preservation of the premises… "
The Independent on Monday reached out by email to Jensen's attorneys, listed as Andrew Manitsky, Elliot Hallak and Daniel LeCours. None had responded to the request for comment at the Independent went to press on Wednesday.
But Jensen, in court papers responding to the JVD complaint, has denied the principle claims set forth by the plaintiffs. And he's filed a counter-claim of his own against Matot and his attorney James C. Foley of Middlebury, alleging, among other things, that Matot didn't follow through with a promise to "provide assistance and knowledge to 1759 and Neil Jensen, including to captain the ferry multiple days per week, as well as to provide assistance to Neil Jensen to allow him to captain the ferry on the other days."
As a result, Jensen claims, "1759 was rendered completely unable to operate the business or generate any income during the 2021 season and suffered substantial monetary damages.
"1759 and the Matot Parties knew that, without Michael Matot's assistance, 1759 would be unable to operate the business at all, much less profitably," the Jensen complaint states. "Since the parties' agreements were entered, the Matot Parties withheld all assistance from 1759 in connection with the operation of the business despite numerous requests that such assistance be provided."
Attorney Eben Punderson, who along with attorney Fritz Langrock represents Doyle, disputed Jensen's claim.
"That is not true," Punderson said. "The only facts that are not in dispute are: Jensen bought the business, signed a note to Matot, and promptly defaulted. Everything else in the answer (to the Jensen complaint) is very much disputed by Matot and (his attorney, Jim Foley Jr.), who are now being dragged into this in an effort by 1759 to muddy the waters."
Jensen further alleges 1759, "as a consideration for the conveyance (of the ferry business)," made a $400,000 "investment" payment to Matot, in addition to signing the promissory note for $600,000.
Matot and his attorneys will soon be filing an answer to 1959 Ltd.'s counter-claim allegations.
Reporter John Flowers is at [email protected].
More News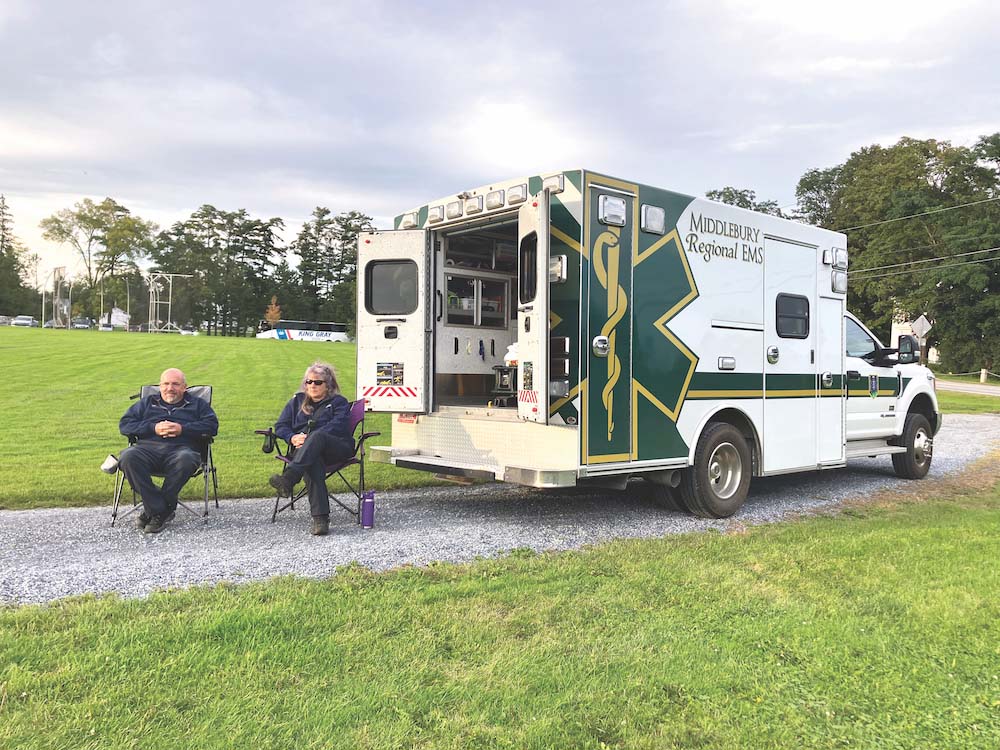 Middlebury Regional Emergency Medical Services wants to eliminate its annual Town Meeting … (read more)
Middlebury police are investigating the death of a Middlebury College junior and say the p … (read more)
In the course of her almost 101 years on Earth, Vergennes resident Margaret Clifford, bett … (read more)