Middlebury runners vie at national meet
LOUISVILLE, Ky. — The Middlebury College men's and women's cross-country teams finished 13th and 14th, respectively, at Saturday's NCAA Division III championships, hosted by Spaulding University in Louisville, Ky.
The Panther men scored 401 points in their 32-team race, which was won by Pomona-Pitzer with 80 points, followed by MIT (112) and Williams (167).
Middlebury's top performer was Drew Donahue, who covered the 8K course in 24:24.0, good for 42nd place overall in a field of 289 racers. Also cracking the top 100 was Max Cluss in 72nd in 24:38.3, followed by Alexander Kessler in 117th overall (24:57.5). Next up for the Panthers was Quinlan McGaugh in 133rd (25:01.1), followed by Luke Lorenz, who placed 166th (25:10.5). Rounding out the squad were Ziggy Goddard (190th in 25:25.4) and Alec Gironda (211th in 25:37.4).
The Panthers were making their 11th straight appearance at the NCAA championships and entered the national meet on the heels of back-to-back runner-up efforts at the NESCAC and NCAA D-III Mideast Regional meets.
In finishing 14th among 32 teams, the Panther women scored 450 points. Johns Hopkins claimed the team championship with 130 points, edging runner-up Claremont-Mudd-Scripps (132). SUNY Geneseo rounded out the top three teams at 168 points.
Cassie Kearney paced the Panther women in the 6K course with an All-American performance, taking seventh place in 21:02.1.
The next Panther was Bea Parr in 103rd (22:29.1), while Katherine Kenny was 114th (22:32.7). Also scoring for Middlebury was Nicole Johnson in 167th-place in 22:53.4, while Emily Bulczynski finished 181st in 22:57.5. Rounding out the Panther competitors were Grace Kirkpatrick (204th in 23:11.7) and Morgane Orcutt (231st in 23:25.2).
The Panther women were making their 24th straight appearance at the NCAA D-III championship meet. Middlebury headed into the national meet following a third-place effort at the NESCAC meet and a runner-up finish at the NCAA Mideast Regional meet.
More News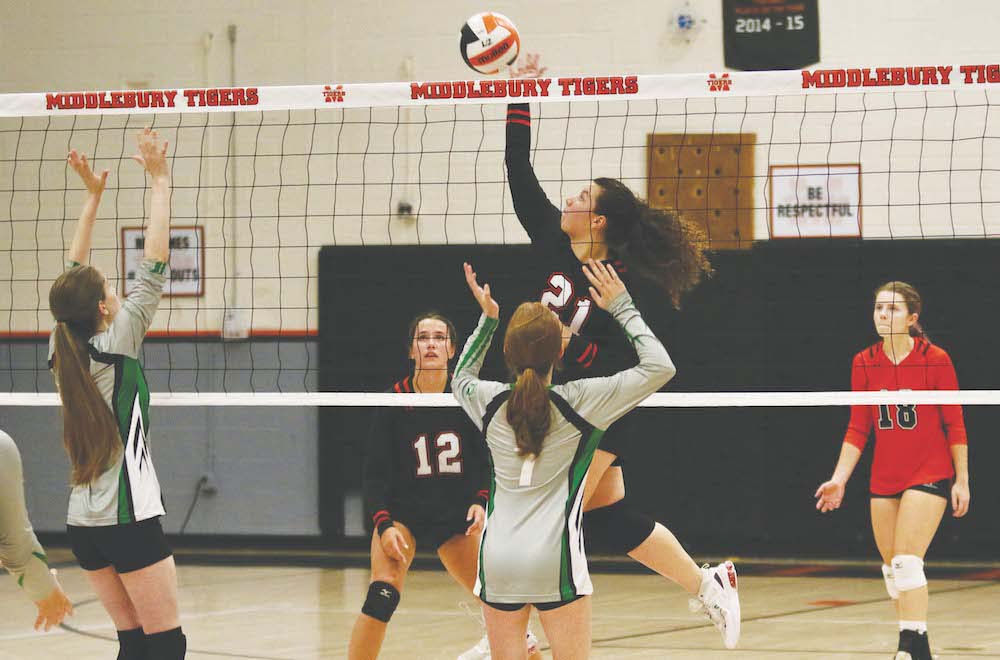 The first-year Middlebury Union High School girls' varsity volleyball team continued its r … (read more)
Soggy conditions didn't slow down Middlebury runners noticeably at a cross-country meet ho … (read more)
I gave Bill Lee a call last week, hoping he was at his home in Craftsbury and we might arr … (read more)