Men's hoop splits at Cave Classic tournament
BRIDGEWATER, Mass. — The Middlebury College men's basketball team split two games at Bridgewater State's Cave Classic tournament this past weekend, defeating Anna Maria in double overtime on Friday, 99-96, before falling to Eastern Nazarene on Saturday, 85-75.
The 2-2 Panthers were also set to host Johnson on Tuesday after the early holiday deadline for this edition.
In the opening game of Bridgewater's tournament, Anna Maria led after the first half, 39-30, but the Panthers rallied to take a 68-67 lead with 4:08 remaining in regulation. The teams traded the lead down the stretch until two layups by Panther Jaden Bobbett in the final minutes tied the game at 74-74 and forced overtime.
In the first overtime, the Panthers scored the first nine points, but Anna Maria's Kennedy Minix-Rogers sparked a rally and then hit a late jumper to tie the score at 88-88 and send the game to a second OT.
Middlebury repeatedly took a small lead in the second overtime, but Anna Marian responded each time until a layup by Jackson Pitcher put the Panthers up, 97-94, with 2:04 remaining. Anna Maria cut it to 97-96, but Sam Stevens sank two clinching free throws with five seconds left.
Stevens led the Panthers with 26 points and 10 boards. Noah Osher had 22 points, while David Brennan had a game-high 18 rebounds and three steals. Alex Sobel pulled down 16 boards, led all players with four blocks and chipped in 10 points. Bobbett added 16 points and three steals.
Jakai Alexandre led the Amcats with 26 points, seven rebounds, and five steals; Trevian Grenon had 19 points; and Minix-Rogers scored 14.
Saturday's final was close in the first half, with Eastern Nazarene finishing on a 10-7 run to take a 32-31 edge into the break.
In the second half, the Lyons pulled away to lead 63-46 just past the midway point. The Panthers came within 67-57 when Osher scored with an assist from Sobel. A three-point play by David Brennan drew Middlebury closer at 71-64 with 3:11 remaining.
Bobbett sank a free throw with 28 seconds left to cut it to 81-75, but Eastern Nazarene hit four free throws to nail down the 85-75 win.
Stevens, who was named to the all-tournament team for the Panthers, finished with 19 points, while Sobel added 14 and Osher tallied 12. Brennan contributed nine points and a game-high 12 rebounds.
For the Lyons, tournament MVP Bernie McGuinness led all players with 29 points, while Nick Manso contributed 17.
Middlebury shot 40.9 percent, while Eastern Nazarene hit on 52.6 percent, enough to overcome the Panthers' 43-31 advantage on the glass.
More News
Tiger boys' cross-country team held off runners from Burr & Burton, VUHS and Mount Abe in … (read more)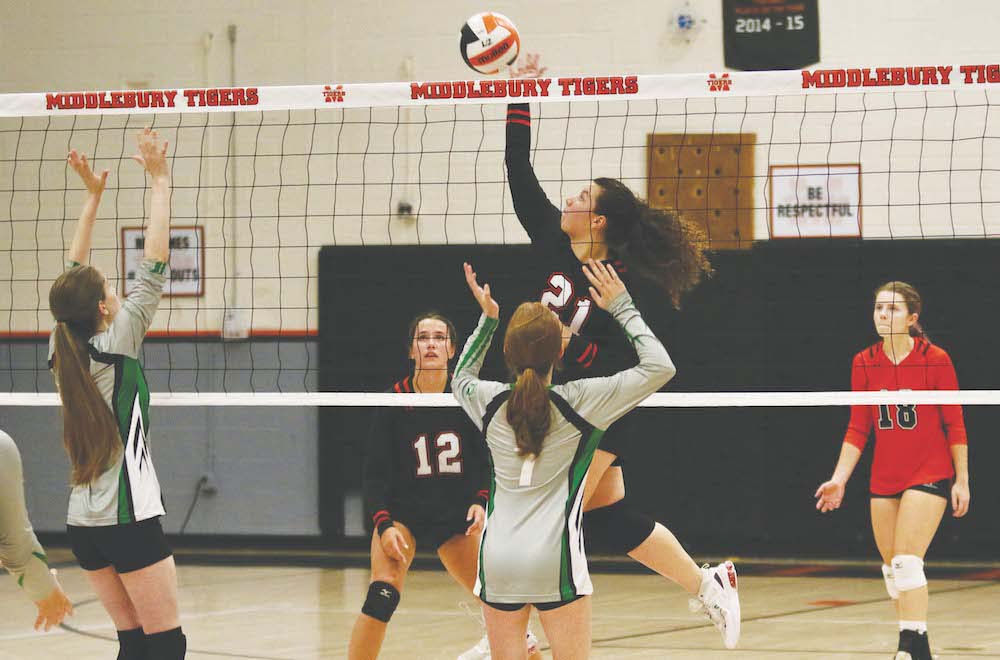 The first-year Middlebury Union High School girls' varsity volleyball team continued its r … (read more)
I gave Bill Lee a call last week, hoping he was at his home in Craftsbury and we might arr … (read more)