Swamped resale shops are limiting donations
MIDDLEBURY — Addison County's two largest nonprofit resale shops are swimming in donated clothing, accessories, furniture and other items  — so much so that they've had to limit intake due to swelling inventory.
Helping Overcome Poverty's Effects (HOPE) runs the area's largest resale shop, offering major quantities of gently used clothing, textiles, housewares, electronics, furniture, crafts, records, CDs, DVDs, puzzles, baby equipment, camping gear, tools, collectibles and other items.
"You'll never know what you'll find," said HOPE Executive Director Jeanne Montross.
And HOPE in turn has been finding an embarrassment of riches unloaded onto its doorstep as folks have used the pandemic as an opportunity to conduct spring cleaning in their homes and garages. The piles of donations got so high that HOPE had to suspend donations for a few months until this past Saturday. Donations are now confined to 9 a.m. to 4 p.m. on Saturdays.
"We were astonished at the volume of donated items coming in," Montross said.
Clothing and other textiles should be delivered to HOPE in a one container, with shoes, belts and purses in another. Household items shouldn't be wrapped, as HOPE officials need to inspect everything before they can accept it.
Anything HOPE can't use is something it has to pay to discard, thus leaving fewer resources for Addison County residents in need of help.
"These guidelines will help prevent us from taking in things we cannot use, and possibly having to close again," Montross said. "People are asked to be patient, wait their turn, and pack their items in bags or boxes they can leave with us."
Find out what's accepted online at hope-vt.org.
The community's generosity has coincided with a well-chronicled workforce shortage, which has resulted in HOPE limiting resale store operations to five days a week, instead of six. The store is now open Tuesday through Saturday at its Boardman Street location.
HOPE is down a full-time position in its warehouse, as well as a 25-hour-a-week post for a tester of small appliances and electronics. The organization has additionally created a new, full-time position of "store manager" to oversee staff, deal with truck schedules, and tend to administrative chores.
The workload is currently being carried by eight people, half of whom are part-time, covering both the store and the warehouse, according to Montross.
All items sold at the HOPE resale shop have been aired out and/or wiped down to guard against COVID, Montross stressed.
She's pleased to report customer traffic has been increasing at the store during the past few weeks, with folks compliant with COVID guidelines.
"These continue to be challenging times for us all," Montross said. "I am very grateful for the patience and understanding of the community."
BUSY AT NEAT REPEATS
Meanwhile, Neat Repeats at 1428 Route 7 South has also seen its inventory surge during the pandemic — to the extent that store volunteers are asking their benefactors to limit their donations to the capacity of two large garbage bags or boxes. Donations should only be dropped off at the store during its open hours of noon to 4 p.m., Monday through Saturday, according to Neat Repeats Vice President Mary Sullivan.
Still, resale shop officials concede it's better to have a surplus of donations than not enough. Neat Repeats is having a banner year — in spite of having recently reduced its hours of operation to four hours a day (due to COVID-19), compared to the previous seven, noted Sullivan.
"Our sales are extraordinarily solid," she said. "We've been able to be very generous to people writing grant requests."
Last year, Neat Repeats recorded around $207,000 in sales. Sullivan estimated the nonprofit is currently 25% ahead of that pace for 2021. She attributed part of the increase to the store's more visible location on Route 7. It had previously been located in downstairs rooms off Bakery Lane in downtown Middlebury.
Sullivan is happy to report a roster of around 50 volunteers to ensure the store is properly staffed. Volunteers are vaccinated, masked and no more than 20 people are permitted inside Neat Repeats at once in order to lessen the chances of contagion.
Find out more about Neat Repeats here.
John Flowers is at [email protected].
More News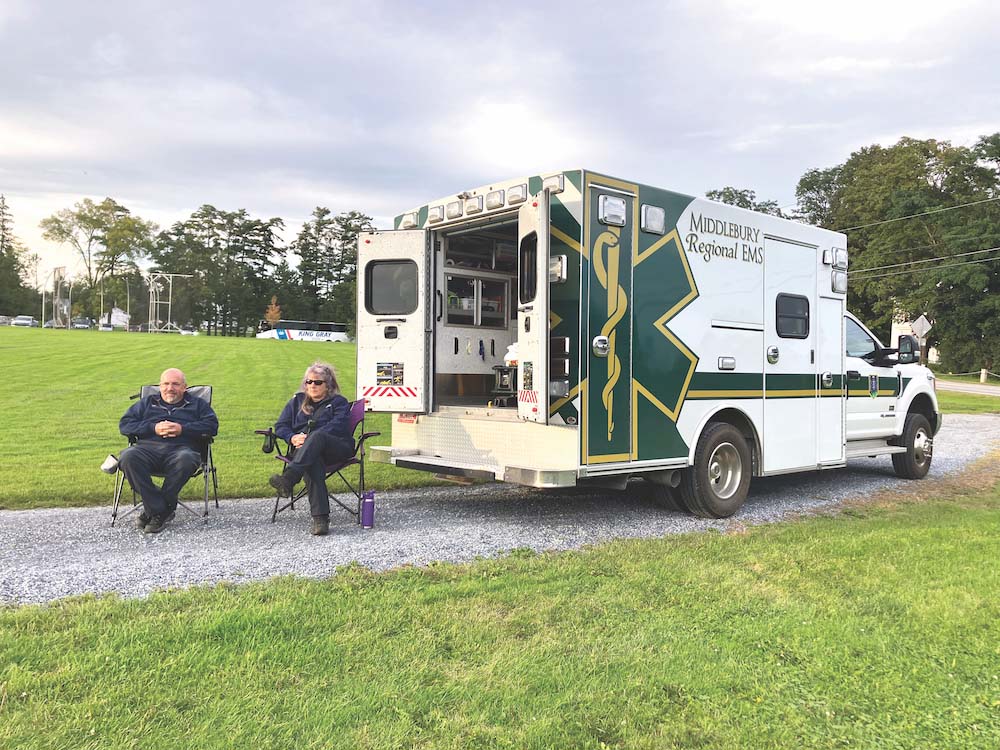 Middlebury Regional Emergency Medical Services wants to eliminate its annual Town Meeting … (read more)
Middlebury police are investigating the death of a Middlebury College junior and say the p … (read more)
Vergennes resident Margaret Clifford offers nearly a century of recollections, from losing … (read more)