Tiger football thumps the Seawolves
"The kids really enjoyed it this week. We did a great job defensively."
— Tiger Coach Dennis Smith
MIDDLEBURY — Two games, two shutouts. 
Granted, a road game at St. Albans on this coming Friday might pose more of a challenge for the Middlebury Union High School football team's aggressive defense.
But this past Friday's victim, the Burlington-South Burlington cooperative team on Doc Collins Field, will be happy not to see the Tigers again after losing by 22-0. 
The Seawolves managed just two first downs all night, both on their opening possession on completions by sophomore quarterback Nick Kelly.
The rest of the night Kelly and Ahmed Diawara, with whom he shared time at QB, were sacked as many times — six — as they completed passes. Kelly finished seven of 17 for 52 yards and Diawara one of five for three yards. The Seawolves' passing game only netted 13 yards after the Tigers' six sacks created 42 yards of losses. 
In the first half the Seawolves managed 58 yards of total offense. In the second half they lost 18 yards in five possessions as the Tigers got after the two visiting quarterbacks relentlessly and allowed the Seawolves rushing game just 27 yards on 17 carries.
Coach Dennis Smith said he had picked the brains of the Middlebury College coaching staff to come up with a new blitzing package. Different members of his front seven — five linemen and two linebackers — went after the quarterbacks on passing plays, and the Seawolves never adjusted.
Penn Riney, Charlie Stone (two), and Cameron Stone picked up individual sacks, four Tigers were in on another, and Kelly slipped while trying to avoid the rush for the sixth.
"The kids really enjoyed it this week," Smith said. "We did a great job defensively."
Offensively the Tigers might not have exactly lit Doc Collins Field on fire, but they did enough to put four scoring drives together.
Two of those came after senior starting QB Ryan Thomas-Danyow went down in the third quarter after taking a hit while completing the Tigers' only pass of the day, an 11-yarder to Nikolai Luksch on fourth down that came up short of a first down deep in Seawolf territory.
But sophomore Jackson Gillett and junior Fynn Whitlock each led touchdown marches afterward, and Smith said it looks like Thomas-Danyow might be able to play vs. St. Albans. 
"I think Ryan will be OK. He's got a bruised muscle in his back. We'll see how he can do. But if he's not ready to go I've got two other guys who are ready to step in," he said.
The Tigers rushed for 215 yards on 48 carries, led by Nick Austin-Neil (14 carries, 93 yards), Luksch (11 for 55) and Brian Whitley (eight for 38).
The Tigers scored on their first two possessions, both coming after Seawolf fumbles. After stopping the initial Seawolf drive and forcing a punt, that kick hit a Tiger downfield and the Seawolves recovered. No worries, the Seawolves fumbled and the Tigers recovered at their 31.
Their drive stalled on the Seawolf 26, but Luksch boomed a 42-yard field goal.
The Tigers made it 10-0 with 1:30 left in the first period after Cameron Stone recovered a Diawara fumble on the Seawolf 21 after a sack. Three plays later Luksch went wide right for the score. 
The Tiger offense bogged down until late in the third, in part because the Seawolves became more aggressive with their own run blitzing. But eventually the Tigers solved it and began to break off bigger runs. 
"We had a couple issues stopping their blitz," Smith said. "But other than that I thought our kids did a hell of a job offensively and defensively. We made a couple mistakes, fumbled the ball here and there. But win and fumble the ball, it's all good."
At 1:47 of the third the Tigers made it 16-0 with a 37-yard drive set up by a short punt. Eleven-yard runs by Austin-Neil and Gillett helped move the Tigers close to pay dirt, and Gavin McNulty took it the final seven yards.
After that Seawolf Alec LeClair apparently broke loose for a 71-yard scoring run down the right sideline, but the visitors were not done shooting themselves in the foot — it was called back for an illegal formation. 
At 2:58 of the fourth Jae Davis capped a 27-yard drive with a one-yard run to wrap up the scoring.
Smith said after a year in which the program could not practice its bread-and-butter running game — COVID dictated a non-contact, all-passing 7v7 game in 2020 — the Tigers are still finding their way, but also beginning to hit their stride.
"Our program basically lost a year last year. We weren't running the ball, we were passing. We were doing something that's not right for us," he said. "But we're getting better."
More News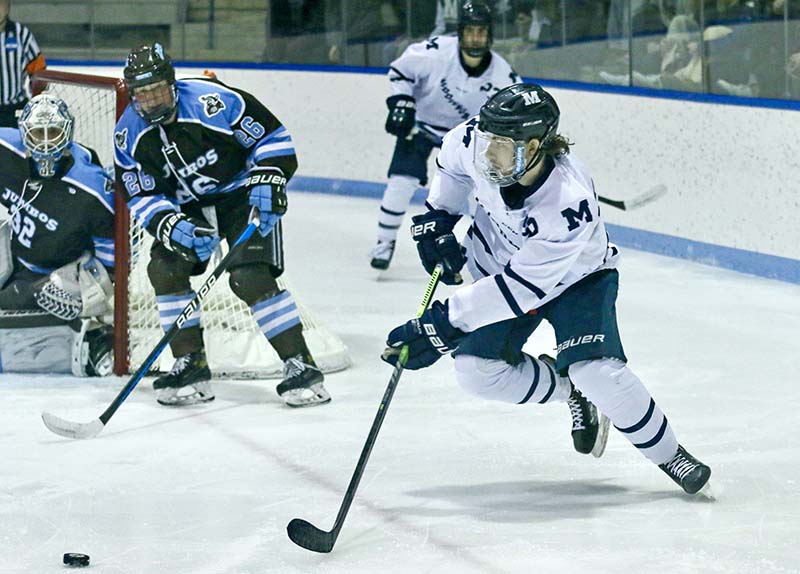 Middlebury College men's hockey surged passed Conn College before falling to Tufts this pa … (read more)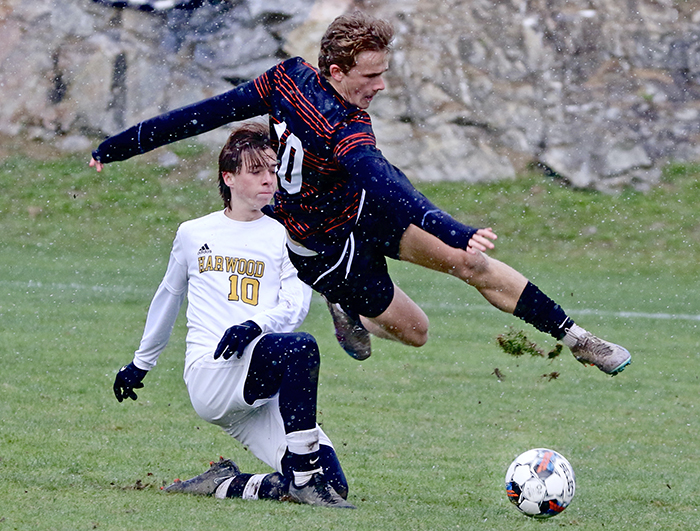 Seven local high school boys' soccer players were named to the Division II or III All-Stat … (read more)
Five area high school girls' soccer players were named either Division I or D-II All-State … (read more)