Masks will stay in place in Addison County schools
ADDISON COUNTY — All three Addison County school district superintendents confirmed on Thursday, Sept. 2, that in-school mask mandates for students, staff and visitors would remain in place for the foreseeable future.
Initially, schools in the county and around the state had started the school year with a 10-day masking policy. But with several cases already cropping up in Addison Central and Addison Northwest schools, never mind the rest of the county and state, the superintendents said the districts would stay the course.
Addison Central Superintendent Peter Burrows summed up in an email with which Addison Northwest Superintendent Sheila Soule and Mount Abraham Superintendent Patrick Reen were copied.
"Given current conditions, we will not be moving towards unmasking at this point in time (I believe all three of our districts are aligned on this). In addition, we have heard that the state will be updating its recommendation on the 10-day window and extending it," Burrows wrote.
Reen quickly chimed in: "Agreed. MAUSD will not be unmasking at this time."
Soule also responded soon afterward and said ANWSD was also on board.
She expanded on the subject in a Sept. 2 memo to families and staff:
"We intend to continue the masking recommendations of health experts at all levels PK-12. We learned that the state is recommending this practice stay in place for the foreseeable future given the cases counts in our region and across the state as a result of the Delta variant. Therefore, all students and staff will be required to wear masks while inside the building until further notice."
Meanwhile, the ACSD COVID dashboard at acsdvt.org had reported four cases as of Sept. 2.
On Aug. 31 and Sept. 1 three members of the "Shoreham school community" had tested positive for COVID-19, and on Sept. 2 a member of the Mary Hogan School community was added to the list. According to a Mary Hogan parent, a student was ill and families in that classroom were notified.
In Soule's memo she noted on that day ANWSD "learned of one positive COVID case in one of our schools. This case did not impact any students, and due to the vaccination status of adults who might otherwise have been impacted, we do not have anyone in quarantine as a result."
Soule added that ANWSD would activate its COVID dashboard at anwsd.org.
MAUSD's website at this point does not have a dashboard, nor did in during the 2020-2021 school year, nor are there any notifications of current or recent COVID cases in MAUSD schools.
MAUSD's most recent post on COVID-19 came on Aug. 27. It urged staff vaccinations and promised a coordinated effort to provide student vaccination sites when shots are approved for those under the age of 12.
In a post on the ACSD site, Burrows outlined typical procedures in all the districts when cases do crop up:
"If there is an active COVID-19 case, principals will communicate directly to the school community affected. If staff or students are considered close contacts, they would have received prior direct notification from a school nurse or principal."
More News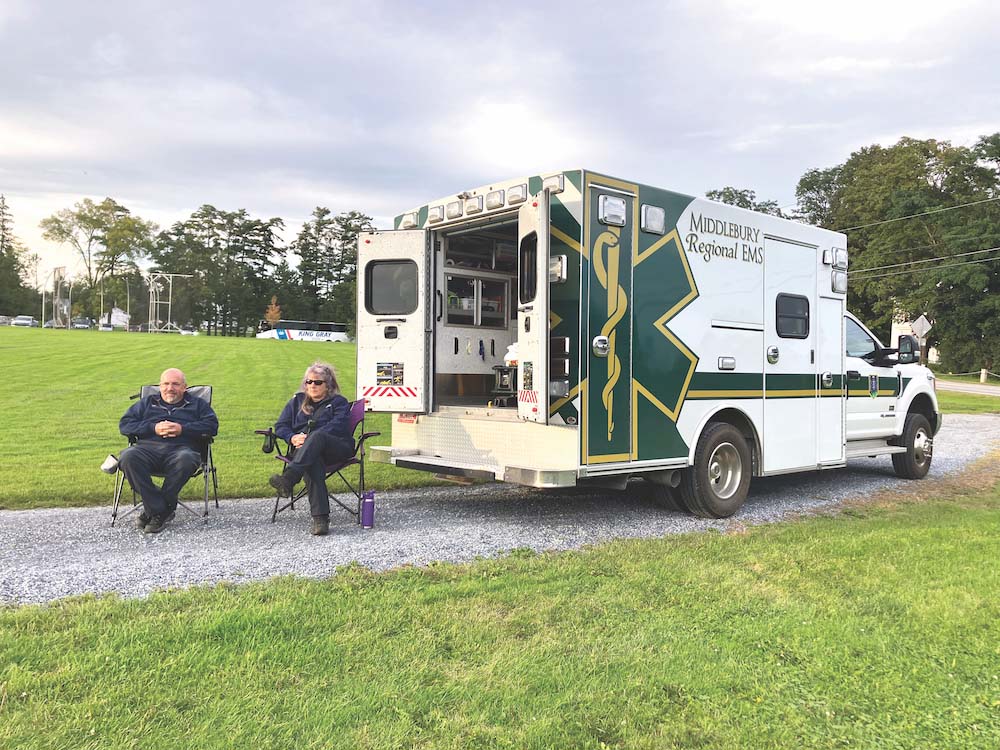 Middlebury Regional Emergency Medical Services wants to eliminate its annual Town Meeting … (read more)
Middlebury police are investigating the death of a Middlebury College junior and say the p … (read more)
Vergennes resident Margaret Clifford offers nearly a century of recollections, from losing … (read more)