Vermonters brace for the Delta variant
The guarantee was never that you would be protected from infection in general, because each vaccine has its own efficacy level; but you would be protected at a much higher rate from the most severe outcomes — like hospitalization and death.
— Dr. Mark Levine
MIDDLEBURY — State and local health officials urged unvaccinated Vermonters to consider the emergence of the Delta variant of the coronavirus as a wake-up call to finally get a COVID-19 vaccination.
Delta is a highly contagious SARS-CoV-2 virus strain, first identified in India back in December. The first Delta case in the United States was diagnosed in March and it is now the dominant strain in the U.S., according to the CDC.
Vermont Health Commissioner Dr. Mark Levine told the Independent that the Delta variant is 60% more transmissible than the prior incarnation of COVID-19. Consequently, some vaccinated persons have contracted the virus, though they've typically not gotten seriously ill due to the protection they enjoy, officials said. But Delta should be a particular concern for the fewer than 90,000 eligible Vermonters who've yet to get the vaccine, according to Levine.
"It's hard to say, but we'd like to say that the illness they get is less severe than if they hadn't been vaccinated," Levine said.
The CDC on Tuesday revised its guidelines suggesting that vaccinated people wear face coverings in parts of the country where COVID cases are surging, in large part due to the Delta variant.
Vermont was on a nice roll of keeping new daily COVID cases in the single digits, along with just a smattering of virus-related hospitalizations each week at the beginning of the summer. The advent of the Delta strain, however, has coincided with a return to double-digit daily case counts and more seriously ill people in Vermont.
The Vermont Department of Health (DOH) reported 44 new cases statewide on Tuesday, with six people hospitalized.
Addison County has seen 24 new cases during the preceding two weeks.
As the Independent went to press on Wednesday, the DOH had confirmed a total of six Delta-related cases of COVID statewide, one of which was linked to Addison County.
But Levine and Dr. Paco Corbalan of Middlebury's Porter Pediatrics agree that Vermont's vaccination rate of 80% will likely prevent it from seeing a big new wave of cases.
"If you're the virus, you're much more likely to encounter a vaccinated person in Vermont than an unvaccinated person," Levine said. "The guarantee was never that you would be protected from infection in general, because each vaccine has its own efficacy level; but you would be protected at a much higher rate from the most severe outcomes — like hospitalization and death."
Corbalan said the best defense against Delta remains the COVID vaccines.
"What we're seeing is that people who are vaccinated who are getting COVID — including with the variants — their severity of disease is much less," Corbalan said. "That means either minimal or no symptoms, and lower hospitalization rates."
A lot of the patients Corbalan has been seeing are unvaccinated — and that's because they're younger than 12 and thus can't get it yet. Federal authorities continue to assess and test doses appropriate for the youngest among us. Until then, Corbalan and his colleagues are offering the vaccine to parents dispensing advice intended to keep children away from the virus.
"We want to get as many people vaccinated as we can, and then once it's approved for the next age group down, we'll be ready to do that," he said.
Corbalan was pleased to report he's not seeing many children with COVID these days. On the other hand, he's seen a return to conventional maladies — like the common cold and strep throat — that had been rare this past winter due to effective masking and social distancing.
His advice to parents of children younger than 10 includes:
•  Avoid big group settings, especially those where you know unvaccinated kids and adults will be present.
"Do as much podding and cocooning as possible," Corbalan said, referring to family units and groups of COVID-free children.
•  If you're traveling, avoid big public spaces as much as possible.
He said vaccinated parents shouldn't feel apprehensive about sharing a mask-free household with their young children, as long as they're asymptomatic.
"If the parents have any respiratory symptoms — or if they've had a known exposure — they should be tested and avoid contact with their kids as much as possible until they know they're negative," Corbalan said. "Otherwise, I think the vaccine confers enough protection where you can safely interact with your kids in a way you normally would, and should."
It remains true that children who contract COVID tend to weather it better than older adults and people with pre-existing conditions. But there are always exceptions, Corbalan warned.
"A certain percentage of kids do get really sick, and there are some potential consequences, like multi-system inflammatory disease," he said. "What we are seeing with the Delta variant is that kids who get that are getting a little sicker than they have been with other variants."
Corbalan is unsure whether Middlebury Pediatrics has seen any children lately who've been infected with the Delta variant of COVID. He explained if the test comes out as positive, the office doesn't always receive specificity on the strain.
LIVE YOUR LIFE
While he's stressing vigilance and vaccination for those eligible, Corbalan — like Levine — wants people to continue living their lives.
"If you're vaccinated and staying in Vermont — even with the variants — you're in a pretty good spot," Corbalan said.
Levine also weighed in on the subject of children and COVID. He noted the DOH has already advised summer youth programs that unvaccinated children ages 2 and older wear masks indoors. It's the only specific recommendation the DOH has made since Vermont reached the 80% vaccination level, he said.
"It's probably even more important now, with the delta variant," Levine said of the mask recommendation.
That said, the commissioner said vaccinated people should still feel comfortable outdoors with unvaccinated children. He noted there have been 364,000 COVID tests on children throughout the pandemic, with a positivity rate similar to adults: 1.6%. The state hasn't seen any pediatric cases of multi-system inflammatory syndrome. There have been a total 10 hospitalizations involving children age 19 and younger during the entire pandemic, according to Levine, who added no children in this state have died from the virus.
The commissioner isn't asking parents to keep their kids away from the grocery store or other populated venues in Vermont, and he suggested they become flexible with their toddlers who instinctively pull away their face coverings.
"That's a tough one," Levine said of toddlers and masks. "You shouldn't impose a mask on them. If the mother wants the kid to be in a play group or have another mother and child over to let the kids interact, I think that's fine. You need to know who you are with and have an element of trust in them… Make sure it's a low-risk enterprise for you and your child."
John Flowers is at [email protected].
More News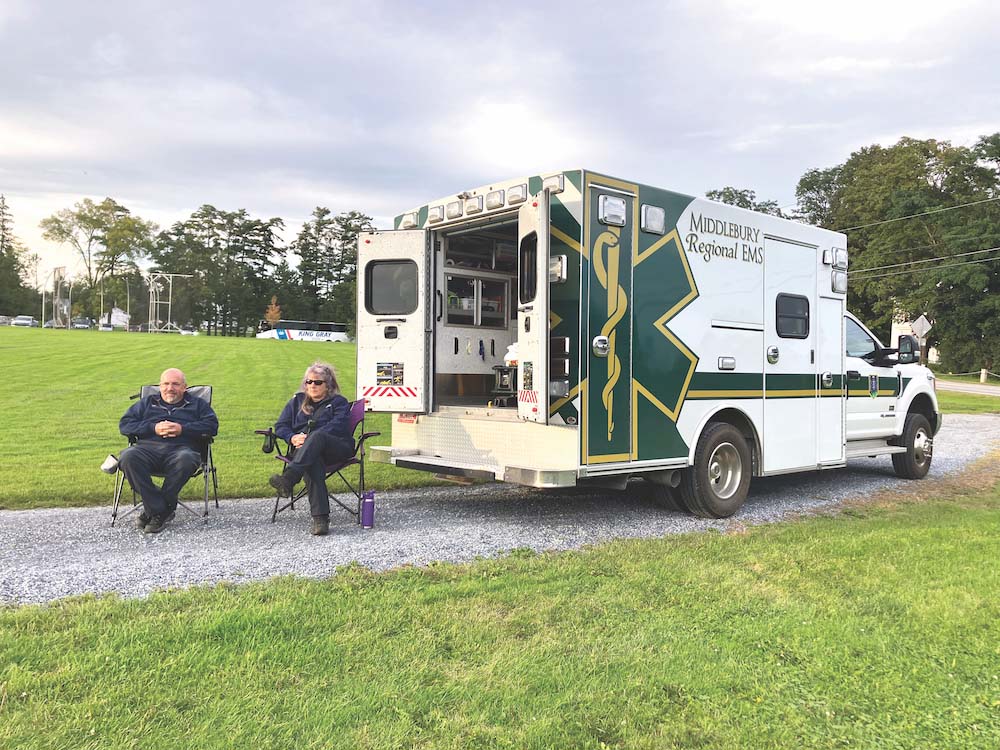 Middlebury Regional Emergency Medical Services wants to eliminate its annual Town Meeting … (read more)
Middlebury police are investigating the death of a Middlebury College junior and say the p … (read more)
In the course of her almost 101 years on Earth, Vergennes resident Margaret Clifford, bett … (read more)