How to stay active at 75? Build a barn!
There's the end product satisfaction: being able to say, 'Hey, this is what I did. It looks good; it's functional.' Then there's the process satisfaction. For me, the 'doing it' is satisfying.
—Bob Horne on building a barn
MIDDLEBURY — We sometimes associate people's golden years with the relaxed life.
Book clubs. Matinée showings of Judi Dench movies. Stamp collections.
Middlebury resident Bob Horne, 75, has a different idea. He is building a barn next to his home on Halladay Road, using wood from his own backyard to make the barn's foundations.
"I think it… brings some vitality to older age," Horne said about his project.
Built plank-by-plank by the septuagenarian, the homemade barn is meant primarily for storage.
"I had three sheds over here; three junky sheds," Horne said. "I wanted to clean up this mess, so I decided 'I'll build a three-base salt-box (the barn) so that way I can store all of my saw stuff.'"
Horne, who worked as a program director at a mental health institution in New York until his retirement a decade ago, has only recently started his barn project.
"I got the building permit round January," he said. "I started it when the contractors arrived to get the groundwork and the foundation. That was probably around close to the first week of June, maybe the end of May."
With the exception of the concrete in the structure's foundations, the materials used to build Horne's barn are all from his backyard. The barn's wood comes from several types of trees on his property, including sugar maple and white pine.
Horne refines the wood with his very own sawmill, a Hud-Son Oscar 228, which Horne purchased in Crown Point, N.Y.
A BARN OF ONE'S OWN
Horne has several reasons for constructing his barn with materials made from own his property.
"It's sustainability, the costs; you're reducing the use of oil," he said.
But when watching Horne's concentrated brow and hint of a smile as he saws a piece of wood in his workshed, you can see another reason he's going at the job with his own resources: He's having a ball building a barn of his own.
Horne's already constructed the structure's skeleton, and the day the Independent interviewed him, he was making the barn's stairs.
"I originally thought I wanted a three-foot-wide stairway. And I put the rails up this morning and it was too much space," he said.
But it's the process itself more than any particular task that makes Horne's barn a joy to make.
"There are two (things) I think," Horne said in describing what he enjoys most about building his barn. "There's the end product satisfaction: being able to say, 'Hey, this is what I did. It looks good; it's functional.' Then there's the process satisfaction.
"For me, the 'doing it' is satisfying," Horne added.
The new storage barn is not the first building Horne has constructed.
The house he and his wife, Patricia, bought in 1987 was almost entirely built by Horne, and the garage where Horne keeps his myriad constructions tools is also his creation.
When asked if he had any professional experience in building or architecture, Horne said his knowledge comes primarily from observation. One influence was his father, who was an aeronautical engineer who made fuel cells for NASA.
"I have friends who are electricians who tell me things," Horne added — as if this somehow explained his uncanny talent for building.
Horne has a design for his barn, but, similar to his talent for building, the barn's layout is really in his mind.
"I did a lot of building in my head," Horne said. "I have a diagram for this barn I'm building, but everything else is in my head."
Another influence on Horne's barn is an illustrated book by Eric Sloane.
"One of the best books is (Sloane's) 'Diary of an Early American Boy,' which was a narrative about a family who moved and started a homestead," Horne said. "(The book describes) all the buildings they built; how they built them; how they did the joinery; where the lumber came from; how they made the lumber; how they made the tools to make the lumber."
RETIRING WELL
At 75, Horne also stays active in a pick-up soccer league that he has been going to since the 1980s. His other hobbies include gardening, which he and Pat do together.
Oh, and Horne also makes his own maple syrup, because, of course he does.
Similar to his barn project, pick-up soccer gives Horne plenty of physical and mental activity to stay at his prime at the age of 75.
"(Soccer has) maybe given me strength and stamina," he said. "It's (a) diversion; it's a release; it gives me some physical activity. It's a social thing."
Soccer also allows him to enjoy more social interaction with friends and family, he noted.
Horne was happy to resume playing soccer again after he got his COVID-19 vaccination earlier this year.
"We have a Wednesday and Sunday pick-up group that meets at the Creek Road fields," he said. "There's three of us over 65. They're in their late 60s. We've played together since the '80s … It's now fun because I can go out on a given day (and) can play with my friends, my son, his wife and my two granddaughters."
One of the main reasons Horne says he is staying active athletically and architecturally, though, is a fear of ennui in his later years. He cited a business trip he took to Florida in 1979 as a parable of how to spend your old age if doing nothing is your only priority.
"I don't know if you've ever been to Miami, but Collins Avenue is the main drag," Horne said. "And along Collins Avenue are all of these retirement apartment houses. And they have all of these long porches, long verandas. On each of those verandas are hundreds of chairs. And in those chairs are hundreds of retired people from the city."
He paused.
"And it's all they do," Horne observed. "All they're doing is sitting on the veranda, watching the cars go by."
Watching the way Horne confidently toils with his barn on a rainy Vermont morning — mosquitoes buzzing in the damp air, flakes of saw-wood flying into his safety glasses, mud splashing as he quickly strides toward the barn, inspecting its new stairs and railings with the eyes of a hawk — it is not a stretch to conclude one thing about Horne.
This 75-year-old is a long, long way from retirement à la Miami Beach.
Thinking back to the seniors he saw in Florida so many years ago, he knows he learned at least one lesson:
"I did not want that to happen to me when I got older."
More News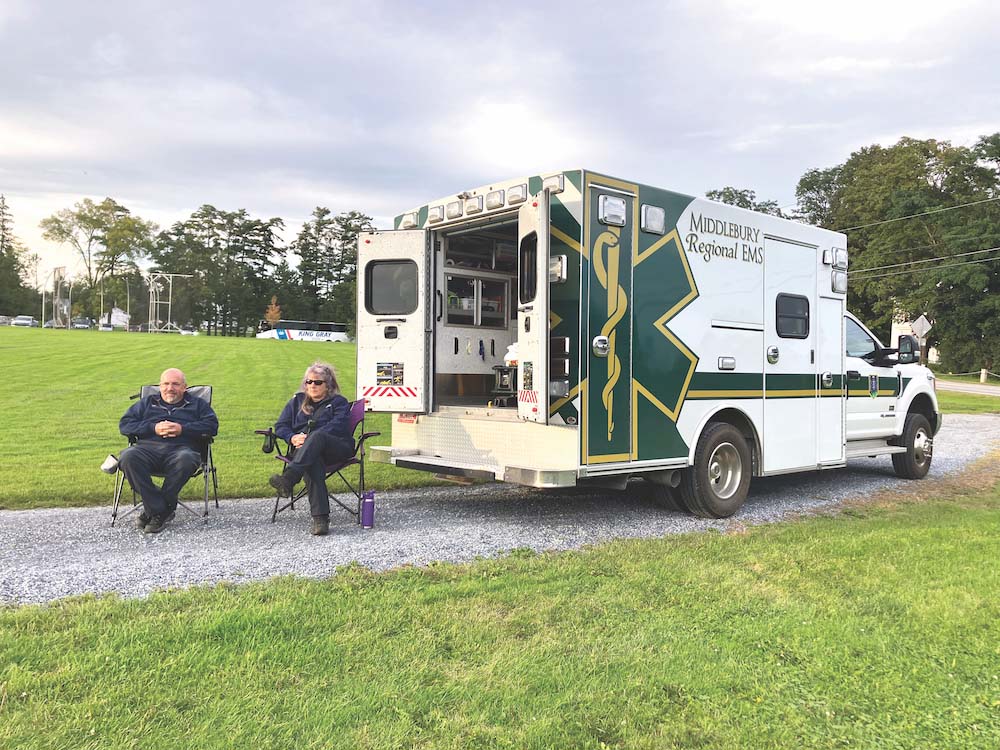 Middlebury Regional Emergency Medical Services wants to eliminate its annual Town Meeting … (read more)
Middlebury police are investigating the death of a Middlebury College junior and say the p … (read more)
In the course of her almost 101 years on Earth, Vergennes resident Margaret Clifford, bett … (read more)