Hemp firm eyes vacant Rt. 7 Middlebury building
MIDDLEBURY — A Vermont-based investment company is seeking to buy the former Connor Homes property at 1741 Route 7 south and use it for indoor growing of hemp plants, including propagation, storage, drying, testing, processing and wholesale distribution.
The Middlebury Development Review Board is slated to hear an official pitch from representatives of Satori Seven South LLC and its parent company, Satori Investment Partners (SIP) LLC, on Monday, July 26, at 7 p.m., at the Middlebury town offices.
"We see the building as a great space to continue our investment in cannabis, primarily around hemp, quite honestly," said Scott McGuffie, SIP founder and partner. "We see a market both domestically and internationally for high-quality, indoor-grown, non-THC-based, smokeable hemp flower."
McGuffie first came across the 1741 Route south property in February, while searching throughout the state for hemp-related investment opportunities.
"This building came quickly to the top of our list, but more importantly is its location in Addison County, the farm belt of Vermont, in Middlebury," he said.
Since flagging the property, SIP officials have reached out to local entities — including the Addison County Economic Development Corp., town officials, contractors, lawyers and environmental entities — to see what it might take to renovate and reuse the building for hemp operations. McGuffie acknowledged the structure needs plenty of repairs, as well as an ongoing environmental cleanup plan in recognition of chemicals used during its Standard Register era.
Information supplied by Satori officials to the town of Middlebury indicates the new business would employ 10-25 individuals by 2022, with staggered shifts fulfilling a 6 a.m. to 6 p.m. workday.
The building would receive an anticipated two- to four deliveries per day by mostly UPS and FedEx trucks, as opposed to tractor trailer units, according to the Satori application.
Satori officials concede indoor hemp growing operations will produce an odor, which they'll seek to remediate if they receive complaints.
"In close-spaced urban areas this odor when exhausted from the building can create impacts to the downwind neighboring properties," reads the Satori application. In this larger expanse setting where the building is set back substantially from the north, south and east (receivers of the most prevailing west directions), this has a much lower potential to be an issue. Where complaints have arisen, the hemp processing odors can be mitigated through the installation of an air filtration system."
Satori officials contend the building's new use would "be consistent with the industrial use that previously occupied this property and will have employee levels and a.m. and p.m. peak hour traffic-generation levels that are lower than the Conner Homes use," reads the Satori application.
During its heyday, Connor Homes employed 95 people at 1741 Route 7 south, and saw regular tractor-trailer truck activity.
McGuffie said permitting requirements and needed building repairs could result in a spring 2022 opening of the new Satori operation in Middlebury.
"The building is basically abandoned and has a number of challenges," McGuffie said. "We're still in the due-diligence process of qualifying the building for our needs. But we will say that everything we've found in the building right now is leading us in the direction of being interested in closing on the building."
Patrick Malone of Montpelier-based Malone Properties took ownership of the building after submitting the winning bid of $1.13 million at a March 26, 2018 auction. He told the Independent at the time that he planned to renovate the building and lease it to a single or multiple businesses looking to grow in Middlebury.
The structure for years hosted Standard Register and, most recently, Connor Homes. Connor Homes would briefly regroup as Connor Mill Built Homes (CMBH) and relocate in a portion of the Good Point Recycling building at 227 Pond Lane. But CMBH ultimately closed its doors for good early last year, leaving some customers in the lurch. Silver Maple Construction moved into some of the CMBH manufacturing space that was being vacated at 227 Pond Lane.
McGuffie believes the new Satori business could become a big asset for Addison County hemp growers, many of whom were rocked by what McGuffie called a "boom and bust cycle" while trying to cash in on the popularity of CBD products via Vermont's new hemp law.
"A number of farmers weren't able to monetize their crops the way they thought they could, going into the (growing) season," McGuffie said.
Factors leading to the bust, he said, included bad genetics within some of the hemp crops, promised prices at the back-end that never materialized, and unanticipated labor expenses for getting the product saleable and to market.
There was initially talk of $40 per pound for hemp. But it's now below $5 per pound (based on the extractable amount of CBD), and there's a lot of hemp sitting in inventory.
"We hope (the market) has stabilized and we're seeing prices come back slightly," he said. "We're hearing from other parts of the country that the demand is picking up for CBD products … as we come out of COVID," McGuffie said.
McGuffie and his partners have already invested in a number of hemp-related businesses, primarily in Massachusetts, Pennsylvania, Missouri, Michigan and California. On Monday, SIP closed on its first Vermont purchase: Northeast Processing Labs in Brattleboro, which among other things provides support and extraction services for the hemp-based market.
And SIP launched a new company earlier this year called "Seeds of Satori," marketed to hemp growers.
"We're focused on bringing strong genetics with profiles that target certain minor cannabinoids that we feel bring value to the market and farmers and that also produce high-quality, smokeable hemp flower," McGuffie said. "For us, that's the first step in helping farmers monetize their crop, is providing them with the best possible genetic strains of hemp."
McGuffie and his partners are betting big on the broader acceptance of cannabis, along with more research into its beneficial properties. Cannabidiol (CBD) oil has been studied for its potential role in easing symptoms of anxiety, depression, acne and heart disease, among other things.
Cannabinol (CBN) has been touted as a sleep aid and pain reliever.
McGuffie said there are more than 100 less-explored cannabinoids that can be extracted from hemp that can provide medicinal benefits to people.
"We believe that's the next step when it comes to hemp — when it becomes more medically proven and medically accepted."
McGuffie doesn't believe Vermont's recreational marijuana law will have a big effect on Satori, except the business could see more demand for its testing services.
"We're really excited to bring this facility that's been dormant for a number of years to again become a functioning part of Addison County," McGuffie said of the building at 1741 Route 7 south.
Reporter John Flowers is at [email protected].
More News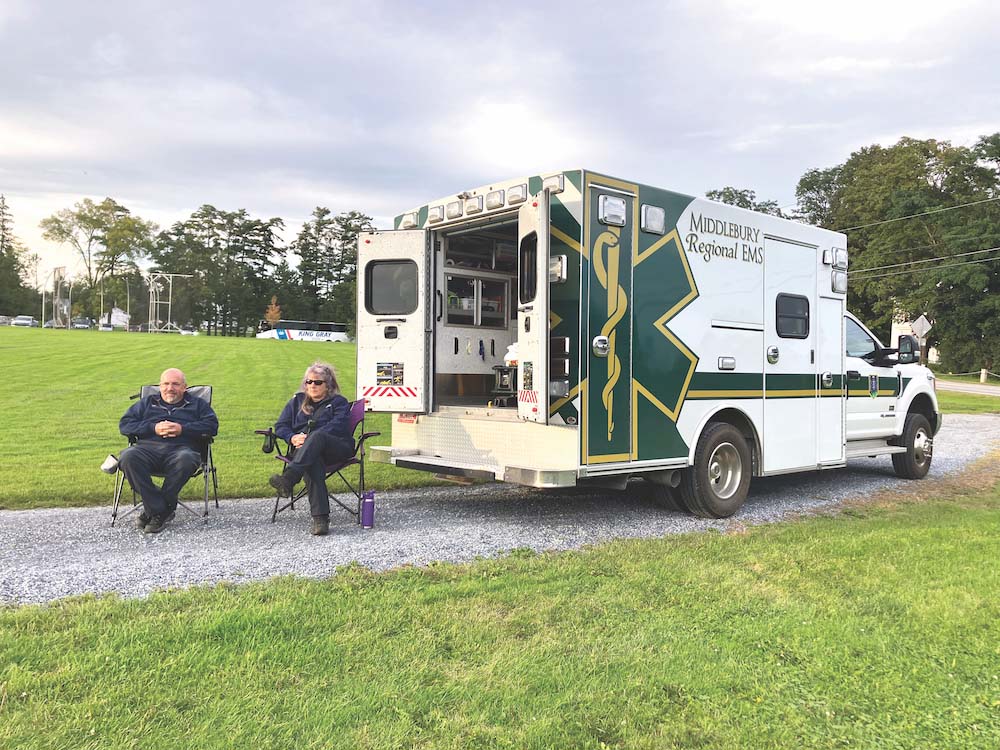 Middlebury Regional Emergency Medical Services wants to eliminate its annual Town Meeting … (read more)
Middlebury police are investigating the death of a Middlebury College junior and say the p … (read more)
In the course of her almost 101 years on Earth, Vergennes resident Margaret Clifford, bett … (read more)