40 years later, Loretta Lawrence leaving FCS
Loretta knows every parent's name — many of the parents are former students.
— Principal Andy Kepes
FERRISBURGH — When Ferrisburgh Central School students have arrived almost every morning over the past 40 years, a familiar face has greeted them — FCS administrative assistant Loretta Lawrence.
Lawrence won't be fulfilling that role — one of many in what might fairly be called a flexible job description, and one that is probably her favorite — for much longer.
Lawrence, now 70, will step away from Ferrisburgh's elementary school at the end of this academic year after serving three generations of students and parents, 14 principals, and many dozens of teachers and staff members.
And, she said, enjoying just about every minute of it, as one might expect from someone who has spent four decades at the same workplace.
"I love the job. It's never boring, and it's never the same any two days," Lawrence said.
"The best part of the job is the kids. Just being around the kids. It keeps me young," she added. "To know what's going on with kids and what's cool. I have no idea, but then they explain it all. I can keep up with the times. The kids keep me up to par with what's going on."
She said in an interview this past week the last thing a student taught her was the latest handshake, but there's plenty more she learns daily.
"It's different than a fist bump now," she said. "It's different every day. Different movies, different lingo."
Lawrence believes those morning greetings are hugely important, even if they probably aren't part of her written job description. She believes she is part of a team that creates the right atmosphere at FCS.
"It's everything, making sure the kids are happy to be here, and those that aren't make them feel welcome, try to encourage them to have a better day," Lawrence said. "It's important to have a safe environment and a happy environment."
CO-WORKERS SPEAK
Principal Andy Kepes said Lawrence also makes another group comfortable at FCS.
"Loretta knows every parent's name — many of the parents are former students," he wrote in an email.
Kepes and others cited her camaraderie and sense of humor creating a happier workplace.
"Loretta has never failed to make me laugh," said FCS physical education teacher Annie Wilson.
Wilson recalled a time when she, Lawrence and former custodian Hank Schondube were eyeing a delivery of hay bales for a school project. This is where it's important to know that Lawrence grew up on dairy farms.
Wilson told the story in an email:
"Someone made a comment about the hay bales. Naturally, Loretta and I began to brag of our years of hay throwing. Of course this led to a 'hefty' competition as to which of the two of us could actually pitch bales the farthest … I don't even remember who won, but if you asked her, she would say she did."
Former FCS teacher Allison Parsons joined Kepes in citing Lawrence's institutional knowledge, not only at the school, but also in Ferrisburgh. Lawrence served on the town's selectboard for 17 years, many of them as its chair.
"Oh gosh, we often referred to LL as the eyes and ears of Ferrisburgh," Parsons wrote in an email. "You could go to her to find out what was going on in school, or town (because of her position on the selectboard). In fact we were recently discussing what was happening at Mailloux's, (across from the McDonalds) here at VUES and someone suggested we call Loretta. I often had her draw me a map to explain how certain families were related."
BACK STORY
Lawrence grew up in Sheffield, near Lyndonville. At the age of six, her family moved to dairy farms in New Haven and then Panton. Her family of 10 siblings, in which she was a middle child, had its benefits, she said: "We always had our own baseball team. I never was bored. We were worker bees."
Lawrence attended the East Panton School and then Vergennes Union High School. She graduated in 1969 and went straight to work for Standard Register in Middlebury. She created the forms the company sold to businesses to the specifications of the sales team, giving sales people price estimates on business forms and advising them on design.
She also earned a two-year associates degree in business administration from the University of Phoenix in those years and married Paul Lawrence in 1970, and they settled in Ferrisburgh. She lives "six minutes up the road" from FCS.
She stayed with Standard Register until their two sons were born, and started volunteering at FCS in the late 1970s. That gig turned into a part-time job as the school's first librarian from 1981 to 1983, without an actual library.
"I would order books, and move all over the building. That was fun. I got to know the community," Lawrence said.
She also began subbing in the front office. Then the administrative assistant job opened.
"I just kind of wedged in," Lawrence said.
In a small school Lawrence has always worn many hats, especially in the past year-plus with COVID-19 added to the mix.
She takes messages for the staff and students ("It's gotten better with emails, but there are always a lot of phone calls."), pays bills, works on payroll, orders supplies, tracks attendance, helps the 34 teachers when they need to send a child to the office for disciplinary or health reasons, and informs teachers where missing students are.
And she's never really seriously considered doing anything else.
"It crossed my mind years ago. I never acted on it. I thought about it. I think when I got to the 20-year point I thought this was good. I'll stay another 20 years," she said. "I met so many people between 17 years on the selectboard and here. I got to know the community so well."
LOOKING AHEAD
Retirement will have its drawbacks.
"I'm really going to miss the kids," she said. "And I'll miss the staff."
Concrete ideas moving forward are few, however. The couple did plan a 50th anniversary trip to Alaska for 2020 that at some point they will reschedule, and certainly children and grandchildren will factor into the mix.
"I haven't thought about it. Someone said to rewire and not retire. I don't have a plan yet," Lawrence said. "I'll take this summer off and just enjoy it. We're getting that comfort level of where to travel."
But even without too many concrete plans, she'll keep busy. Lawrence likes to garden, walk and hike, cook, and sing in the St. Peter's Catholic Church folk group.
She won't start volunteering at FCS for at least a year, but maybe in the future. But Lawrence probably won't be found on a rocking chair watching traffic.
"Summer will go by just like that, and September will come and I'll think, hmmm, what's the plan? I don't like to sit around, so I don't know. You might see me somewhere. I think people need to be busy or involved," she said.
Certainly Lawrence will look back fondly at FCS.
"Everybody is so creative with the kids. I think Ferrisburgh is very lucky, for sure, a lot of minds thinking creatively," she said.
And Lawrence is proud that maybe she has contributed to the school's success.
"Being part of a community at this school is important for everybody," she said. "I think that's why I stayed. I want to make a difference, and I think I have made a difference in some way, shape or form."
More News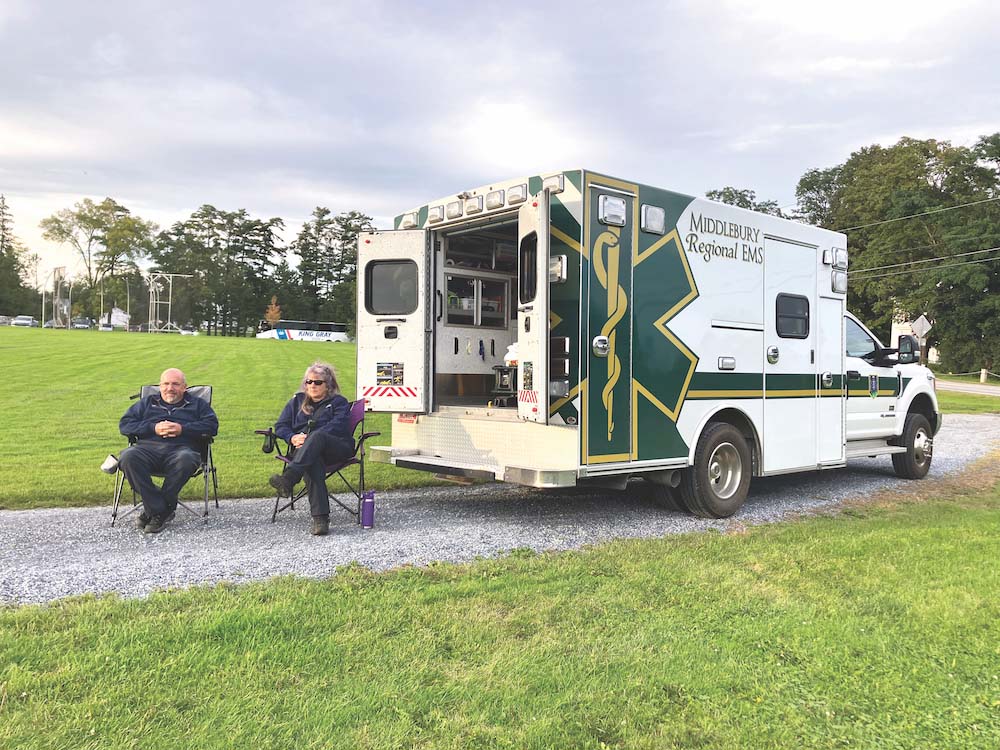 Middlebury Regional Emergency Medical Services wants to eliminate its annual Town Meeting … (read more)
Middlebury police are investigating the death of a Middlebury College junior and say the p … (read more)
Vergennes resident Margaret Clifford offers nearly a century of recollections, from losing … (read more)