Tiger girls' tennis team pulls it all together
MIDDLEBURY — When the six seniors on the Middlebury Union High School girls' tennis team were ninth-graders they were new to a varsity program that went 1-11 and opted to sit out the Division II postseason.
Those six now start for a team that won twice last week — 4-3 at a talented Montpelier team and 7-0 over North Country at home on Friday — to improve to 8-0. The Tigers stand in second place in D-II behind also undefeated Burr & Burton.
Four years ago was also Coach Jill Dunn's first year with the program. She remembers setting modest goals for the team — winning more games while losing sets, for examples, as a measure for the Tigers' improvement.
Now she has a team that blends those experienced seniors with several talented newcomers and a number of other players who are learning the ropes and should be ready to step into the lineup next spring.
The reserves and starters alike have embraced their jobs, Dunn said.
"We have a group of learners who are really enjoying their role as learners," she said. "And then we have our starters, who are really going after their role of competing. So it's a nice mix."
Dunn also talked about the team's chemistry as an important factor in this season's success: She said she and the veterans have made it a priority to foster unity among the team's 17 members with efforts like a team-run bake sale and a big sisters-little sisters program.
"We've had a big effort of reconnecting," Dunn said. "We've had things besides tennis that are keeping us together. It's been important, and I think it's a reason why we're gelling and having success."
And, of course, the team has good players. Sophomore newcomer Scarlett Carrara has taken over as No. 1, and junior Julia Bartlett and senior Abby Bailey have improved to the point that last year's No. 1, senior Elizabeth Bright, has become what Dunn calls an "automatic win" at No. 4.
Another newcomer, sophomore Paige Hescock, has excelled at No. 5 singles. And two veteran senior doubles teams have dominated. At No. 1 Lois Alberts and Emma Franklin are undefeated, while at No. 2 Gwen Troumbley and Bridget Graham lost for the first time this spring vs. Montpelier last week in a competitive match.
Dunn said she and the team sensed early on this season could be special, and now they are looking forward to a deep run in the D-II postseason.
"We've been talking about this from the get-go. We actually have rocks that we painted. Our theme of the season is that we're rock solid. It's interesting that when we made these we didn't know how anything was going to start," Dunn said. "And now we are rock solid, and we have our little symbol that is showing to be true."
RESULTS
Vs. Montpelier on Wednesday:
At No. 1 singles, Carrara defeated Daphne Lassner, MO, 7-6, 7-5.
At No. 2 singles, Julia Bartlett defeated Kenzie Golonka, MO, 6-3, 6-0.
At No. 3 singles, Bailey lost to Grace Murphy, MO, 6-3, 6-1.
At No. 4 singles, Bright defeated Sydney Dunn, MO,
At No. 5 singles, Paige Hescock defeated Rochana Cherion, 6-1, 7-5.
At No. 1 doubles, Franklin/Alberts, M, defeated Sophie Sevi and Emily Swenson, 7-6 (7-5), 6-2.
At No. 2 doubles, Troumbley/Graham, M, lost to Chloe Monteith/Georgia Schiff, 6-4, 6-3.
Vs. North Country on Friday:
At No. 1 singles, Carrera defeated Haley Goff, NC, 6-1, 6-0.
At No. 2 singles, Bartlett defeated Marta Potter, NC, 6-0, 6-1.
At No. 3 singles, Bailey defeated Lexi Booth, NC, 6-2, 6-0.
At No. 4 singles, Bright defeated Thea Potter, NC, 6-0, 6-1.
At No. 5 singles, Hescock defeated Grace Elwell, NC, 6-0, 6-2.
At No. 1 doubles, Franklin/Alberts defeated Maeve Wright/Anna Maurice, 6-0, 6-0.
At No. 2 doubles, Troumbley/Graham won by forfeit.
More News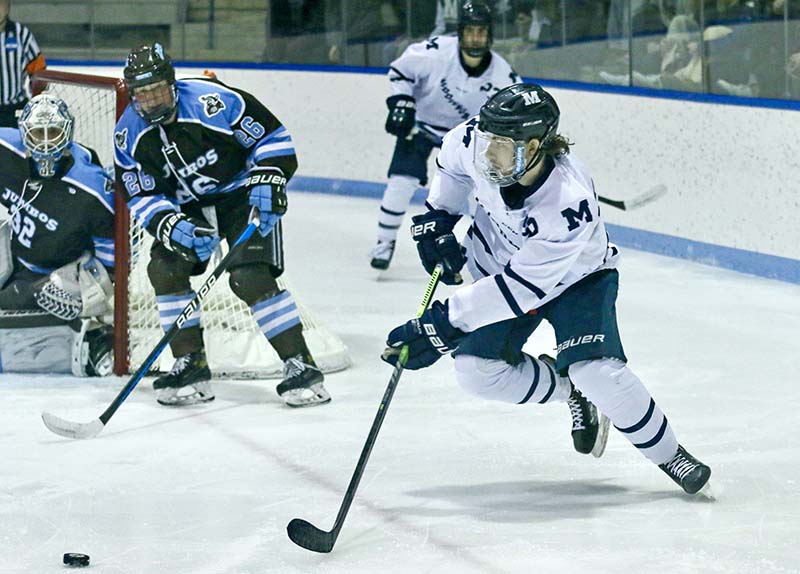 Middlebury College men's hockey surged passed Conn College before falling to Tufts this pa … (read more)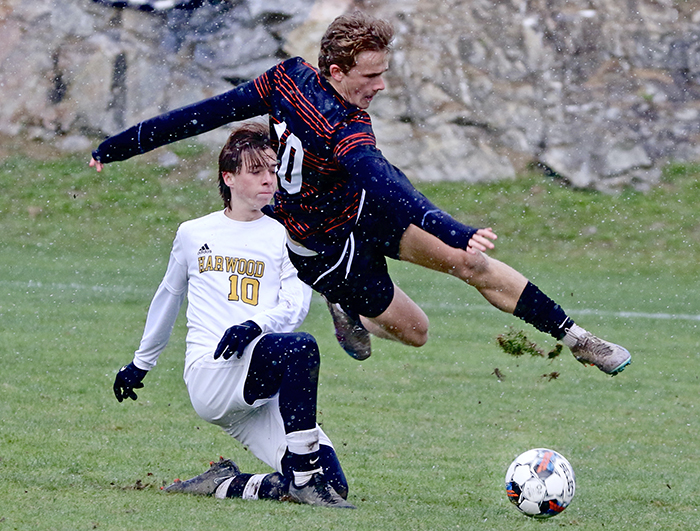 Seven local high school boys' soccer players were named to the Division II or III All-Stat … (read more)
Five area high school girls' soccer players were named either Division I or D-II All-State … (read more)