Film Fest plans in-person screenings
We're committed to making this happen, but we understand that we enter an uncertain world.
— Jay Craven
MIDDLEBURY — The Middlebury New Filmmakers Festival (MNFF) will return to an in-person, five-day experience in Addison County's shire town this August, news that comes as a blessing for movie enthusiasts and the many local lodgers, restaurateurs and store-keeps eager to serve them following a pandemic-induced hiatus.
Lloyd Komesar, MNFF founder and producer, confirmed on Monday the festival has already received an impressive 378 submissions, spanning several categories, from first- and second-time filmmakers. The firm deadline for submissions is May 28.
"That number is clearly on the high side, and very unexpected," Komesar said during a Zoom interview that included MNFF7 Artistic Director Jay Craven and Associate Producer Phoebe Lewis.
"We're lucky to have access to so many great films."
Festival officials will spend the coming weeks reviewing films, as well as state and federal guidelines for the safe conduct of in-person events during a COVID-19 pandemic that Vermont — knock wood — is having great success squelching. As of Tuesday, Addison County had recorded a total of 1,034 positive cases since the coronavirus arrived 14 months ago. But thanks in part to a highest-in-the-state vaccination rate of 77%, Addison County has recorded only three new COVID-19 cases during the past week, according to the Vermont Department of Health.
Federal regulators this week OK'd use of a Pfizer vaccine for children 12 and older, which is expected to allow further inroads in immunization against a virus that has killed 251 Vermonters. The statewide vaccination rate is currently tracking at 69.1%.
Festival organizers promised to issue attendance guidelines by this July, but this is already clear: Visiting filmmakers will need to have been vaccinated, with a card to prove it. This is a promise Craven and Komesar have made to local hosts who will be housing many of the filmmakers.
Craven, a renowned filmmaker in his own right, said the festival is in some respects taking its revival cue from Broadway, which recently announced a Sept. 14 reopening date.
"Producers there are saying, 'We don't know what to expect, but somebody's got to rebuild this whole, fragile, fabulous infrastructure by going out and actually doing the work,'" he said.
But he stressed the rekindling of MNFF won't be "like turning the lights back on and everything will resume the way it was. We're committed to making this happen, but we understand that we enter an uncertain world. We're excited about it and we're thrilled to remember and project forward what we believe is the essential uniqueness of this festival, and we want to keep it going. We can't imagine ourselves going another year dark."
For now, MNFF officials are "strongly encouraging" the festival attendees to get vaccinated as a way to maximize public health and give all spectators a high comfort level for the event. And by August, proof of vaccination could become a state/federal requirement for access to a lot of indoor activities, Komesar noted.
"At this point, we think (vaccinations are) the glue that can hold us all together as we emerge from a really difficult time," Komesar said, "and if the trend continues to emerge that indoor venues require proof of vaccination, we're very likely to participate in that as well."
He and Craven said MNFF7 will follow the latest mandates from Gov. Phil Scott, the Vermont Department of Health and the U.S. Centers for Disease Control. Current projections, Komesar said, call for no capacity limits for performing arts spaces come July. And festival organizers vowed to err on the side of caution.
"I will say that I believe mask wearing is appropriate," Komesar said. "If you're going to see a film and you're vaccinated and wearing a mask, that's a very safe combination. That would promote a high level of confidence that people would enjoy themselves watching a film for a couple of hours."
Plans call for MNFF7 to be screened at four venues during its five-day run, including Town Hall Theater, the Marquis Theater, and an outdoor tent at the Swift House Inn. Komesar hopes to soon announce the fourth venue, which could be on the Middlebury College campus. The festival has in the past used Dana Auditorium, but the college has understandably had to rethink the use of its buildings during the pandemic.
"We are currently in discussions with Middlebury College on the use of a significant screening venue on campus and anticipate having a final arrangement in place in the near future," Komesar said.
In an effort to take advantage of late-summer weather and to promote social distancing, MNFF7 will be an indoor-outdoor affair this year. While most of the films will be shown indoors (except for those screened at the Swift House tent), all MNFF7 social events — mixers, panel discussions, etc. — will be held outdoors in at least three tented locations, including the garden of the Henry Sheldon Museum of Vermont History, Swift House Inn, and in the alleyway between THT and the former Steve's Park Diner.
"This will hopefully create comfort levels for participants who probably, throughout the summer, are going to be getting more and more into the outdoors as a way of reintegrating into a pattern of social behavior," Komesar said.
While MNFF7 organizers are excited to revive the festival as an in-person event, they won't completely jettison the online formula that allowed MNFF6 to exist last year, when a worldwide audience was able to sample an MNFF6 menu of 26 feature films and 33 shorts that garnered a combined total of more than 5,000 hits through the CinseSend platform.
Organizers want to maintain a certain level of that virtual experience, so plans call for a limited number of MNFF7 films — perhaps up to 14 — to be made available online for one week through CinseSend, beginning on Aug. 30.
"We're nodding to the importance of digital as an extension of what we're doing on the ground this year," Komesar said.
MNFF7 is just one example of an arts-and-entertainment renaissance in downtown Middlebury this summer.
The Festival on the Green will again draw spectators to the town park Aug. 2-6, following its one-year absence.
Local officials are planning a celebratory event in mid-August to mark the completion of a downtown tunnel project that has replaced two crumbling bridges, greatly expanded Triangle Park, and will result in creation of a Lazarus Park next to Printer's Alley.
Meanwhile, St. Stephen's Episcopal Church has tentatively set a date of July 31 for the return of its much-loved Peasant Market, but organizers noted the event still needs a green light from the Episcopal Diocese.
And as previously reported by the Independent, Middlebury's Town Hall Theater continues to transition from virtual to in-person activities — including a series of events planned in a tent in the riverside park in the Marble Works — with the goal of being back to "normal" by this fall.
Komesar is pleased MNFF7 will play a role in that return to normalcy.
"This is a fierce determination, a substantial commitment, and I think also a belief in the possibility of coming back together around cinema, connection, conversation, and the filmmakers — and around our belief of community and culture as interactive forces with each other," he said.
Reporter John Flowers is at [email protected].
More News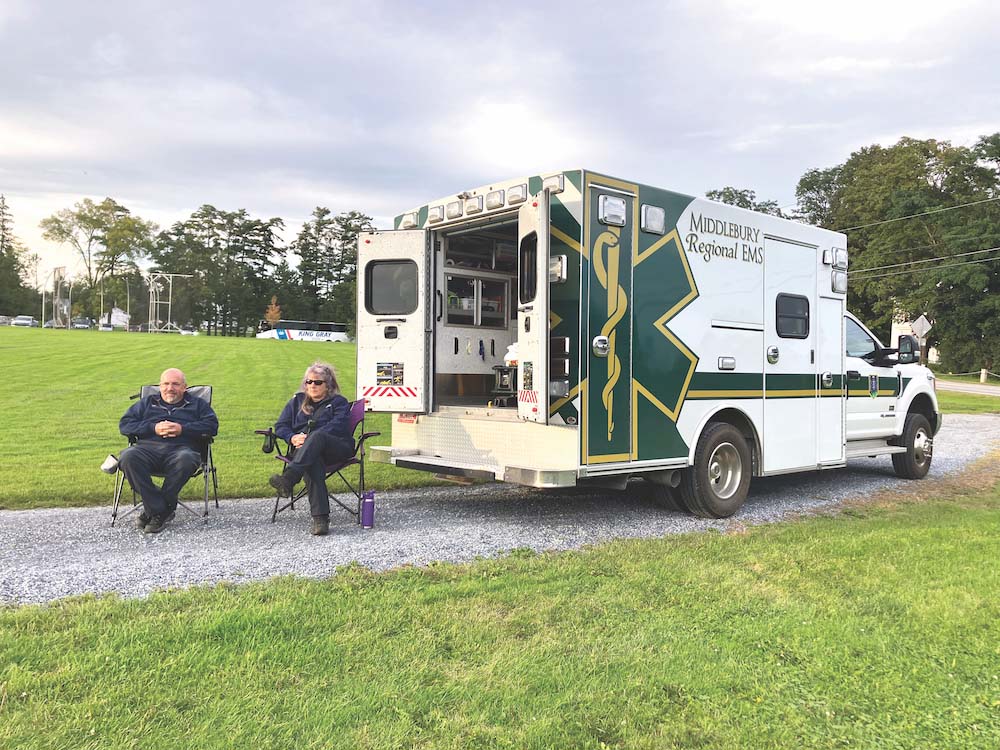 Middlebury Regional Emergency Medical Services wants to eliminate its annual Town Meeting … (read more)
Middlebury police are investigating the death of a Middlebury College junior and say the p … (read more)
Vergennes resident Margaret Clifford offers nearly a century of recollections, from losing … (read more)