MUHS boys' tennis splits a pair
MIDDLEBURY — The sun shone on the Middlebury Union High School boys' tennis team on Friday, at least metaphorically, as they downed visiting Harwood and won all five contested matches.
Champlain Valley Union, however, proved to be a tougher nut to crack on Saturday as the Tigers came away with only two winning singles matches and fell to the Division I power, 5-2.
On Friday, Tiger No. 1 player Andy Giorgio set the tone by defeating Highlander Cole Baitz, 7-5, 6-1. At No. 2 singles Kellan Bartlett saw less of a fight, winning over Cole Deschamps, 6-2, 6-0.
In the balance of the matches the Tigers did not drop a game during singles plan and only lost one game during doubles play.
The Tiger winners were Clyde Malhotra and Aidan Chance. The doubles team of Oliver Poduschnick and Aiden Cole won, 6-1, 6-0.
Then CVU came to town on Saturday, and the Tigers played many tiebreakers.
Giorgio put up a good battle at No. 1 singles before falling to Ethan Gisle, 4-6, 6-4, 10-6.
Two Tigers prevailed. No. 2 Clyde Malhotra  defeated Charlie Mjaanes, 6-2, 3-6, 10-8; and at No. 5 Tiger Abel Anderson prevailed over Jack Biggins, 6-2, 3-6, 10-5.
Tigers on the loosing end were Kellan Bartlett at No. 3 singles (6-0, 6-3) and Aidan Chance at No. 4 singles (6-0, 6-3).
MUHS boys' tennis was due to host U-21 today and will host Spaulding on Wednesday.
More News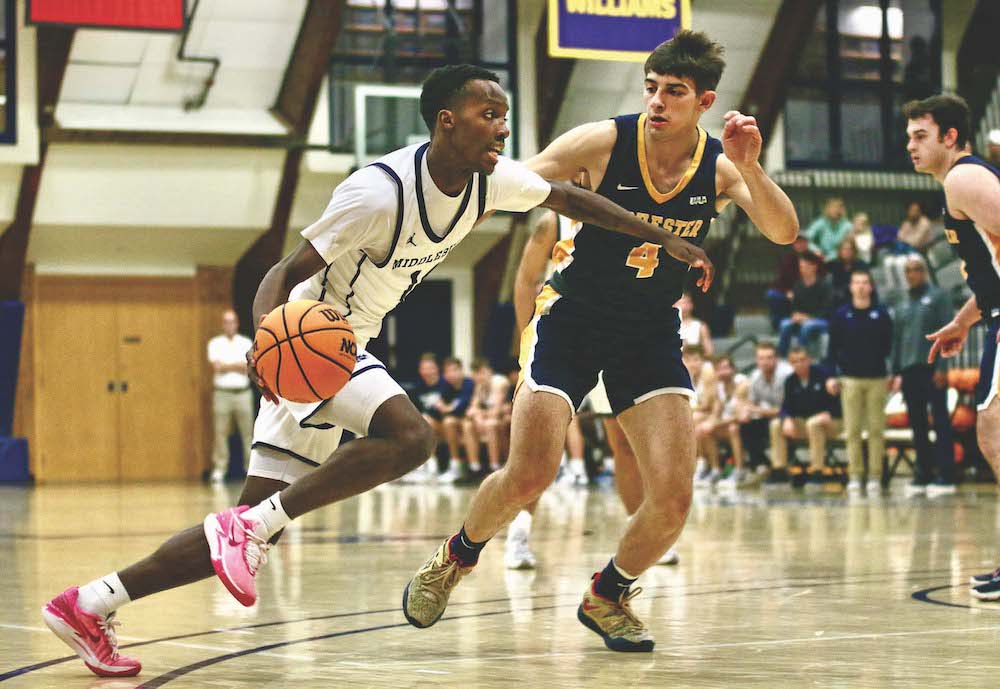 The Middlebury College men's basketball team dropped a pair of home games to teams in the … (read more)
The Middlebury College women's basketball team split a pair of games this past weekend at … (read more)
The Middlebury College women's hockey team lost one game and settled for a tie in another … (read more)