Free clinic rolls out COVID vaccine to farmworkers
We weren't sure if we'd have real buy-in from this community, but it's been remarkable. And I give (Julia Doucet) so much credit for 11 years of planting that seed of trust.
— Martha Redpath
MIDDLEBURY — Most people see the COVID-19 vaccine as a ticket to freedom, travel and reconnecting with friends and loved ones after 14 months of pandemic-forced seclusion.
Consequently, the vaccine tends to be its own best advertisement. For the most part, "if you offer it, they will come."
But not always.
There are hundreds of arms to jab at farms throughout Addison County. Yet those farmworkers' busy schedules, a lack of transportation, and a reluctance by some migrant laborers to step outside the shadows all adds up to a challenging demographic to immunize from the coronavirus.
Until recently.
Middlebury's nonprofit Open Door Clinic has mobilized a van and a team of medical professionals and Spanish speaking volunteers to scour the countryside for willing vaccine recipients in the local agricultural economy, folks who might otherwise miss their opportunity and thus continue to place themselves and others at risk of contracting COVID-19.
Heidi Sulis, executive director of ODC, calls the traveling COVID vaccine clinics "humanity at its best." Since launching at Misty Knoll Farm on March 17, the clinics have visited more than 50 farms to administer the Pfizer vaccine to around 350 farmworkers. Clinic officials believe 98% of the county's rural farmworker population has now received at least one of the requisite two COVID vaccine doses.
"I feel so happy we have provided this service to these people who otherwise wouldn't have access to this care," said Martha Redpath, RN, who's been part of the ODC's traveling vaccination team since its inception.
"We are providing this remarkable service to an under-served, hidden population that would never have gotten these vaccines without this."
While free clinics in other regions of Vermont — such as in Barre and White River — have been working to get COVID vaccines to their respective homeless populations, Sulis believes the ODC's pop-up vaccine clinics for farmworkers is the only program of its kind in the state right now. The team is also vaccinating dozens of guest workers on H-2A visas — including folks from Jamaica who are so pivotal to the success of the county's apple crop.
The traveling vaccination crew is composed of around eight people, including medical professionals, English-Spanish interpreters, and other folks who help set up and dismantle the pop-up clinics. Word of this important free service has spread by word of mouth through the farm community. Julia Doucet, ODC's Outreach Nurse, has been diligent about contacting all the farms she knows to schedule the quickie clinics.
Doucet often pilots the ODC's van, with volunteers trailing in their own vehicles. It was Sulis who found the 10-year-old van last August at Junction Subaru in New Haven. She secured a grant from International Paper Co. and gathered other funding to cover the $6,400 purchase price. The van came in very handy for flu clinics last fall.
The COVID vaccine caravan at first rolled to three or four farms a day, one day per week. It eventually grew to eight to 10 farms per day, three days a week.
"I feel pretty confident that we have put our tentacles into the far reaches of our county," Doucet said with a smile.
"It was really exciting to see how excited people were, and to think about the gift that the vaccine was providing them," she added. "It really is the first step toward their worlds opening up again, being able to be with their loved ones again."
Redpath was pleased to report that as of Friday, April 23, the ODC's pop-up clinics were revisiting farms to give workers their second vaccines. Organizers are still fielding requests here and there from farmworkers who missed their chance and want to be added to the rotation.
"This week, we were finding little pockets of people, rather than large farms that needed many vaccinations," said Redpath, who expects the clinics to wrap up in June.
Only a handful of farmworkers have declined the vaccination, and Sulis is optimistic those folks will reconsider. And that's important, because state and federal authorities are working around the clock to get as many people vaccinated as possible so life can get back to normal. Farmworkers tend to share housing and thus run the risk of passing COVID along to unrelated roommates, Redpath explained.
GOODWILL TOWARD CLINIC
The ODC's 98% vaccination success rate in the farm community is largely attributable to the goodwill it has developed among farmworkers for the past decade.
Doucet, whom Redpath calls the ODC's "Weaver of Wonders," is a major reason why the barn doors swing wide open to the organization. Doucet and other ODC officials have diligently checked in with farmworkers to make sure their physical and mental wellbeing is sound. Making the trek from Central America to the more fertile jobs of Vermont can be dangerous, costly and culturally turbulent.
"She's quiet, lovely and strong," Redpath said of Doucet. "She's built 11 years of rapport with the farmers and the workers. We weren't sure if we'd have real buy-in from this community, but it's been remarkable. And I give (Doucet) so much credit for 11 years of planting that seed of trust."
Adding to the comfort level have been Spanish-speaking locals who've provided essential communication to the workers who speak little or no English. Clinic volunteers have not only brought their physical, linguistic and driving skills, some arrive with tasty food in tow — including authentic Mexican dishes.
Sulis added one of the ODC's employees was born in Mexico.
"She's that authentic voice, the one doing the teaching," Sulis said. "It's a person from the community who is more relatable, honestly. She's been incredible for them."
Handouts, in Spanish, explain what the vaccine is and why it's being administered.
"There have been times when we've had to break down some myths and talk about what this vaccine isn't, and what it won't do to you."
Once farmworkers have received their vaccinations, they receive an explanation of potential side effects, such as aches, fever and temperature spikes. Each person is given an assortment of products — including Tylenol, ibuprofen, tea and honey — to provide relief from side effects.
Those participating in the ODC's traveling COVID vaccine clinics aren't really looking upon it as a job, according to Sulis.
"So many of the volunteers have dedicated their lives to health care," she said. "It almost feels to me that they feel privileged to be part of this. It's so important."
Reporter John Flowers is at [email protected].
More News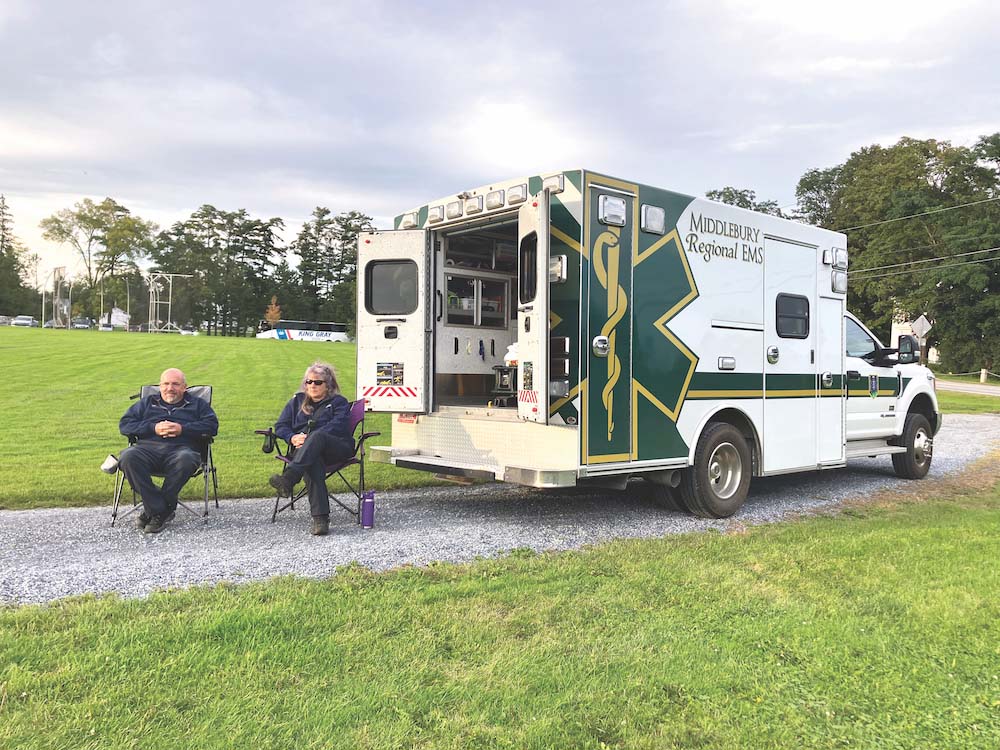 Middlebury Regional Emergency Medical Services wants to eliminate its annual Town Meeting … (read more)
Middlebury police are investigating the death of a Middlebury College junior and say the p … (read more)
In the course of her almost 101 years on Earth, Vergennes resident Margaret Clifford, bett … (read more)