MUHS essayists win two top prizes in NAACP
RUTLAND — Middlebury Union High School students won two of the top three prices in a regional NAACP essay contest.
February's Black History Month educational outreach by the Rutland Area NAACP has shown considerable impact on local schools and students, with many submissions in the first annual essay contest and substantial interaction from some teachers. The branch sponsored the contest for high schoolers and distributed a comprehensive packet to all schools in Rutland, Bennington, and Addison counties for teaching Black history.
Three winners of cash prizes and certificates have been chosen for their outstanding essays expressing their commitment to anti-racism and encouraging their peers to be anti-racist. Narges Anzali of MUHS won first prize for an essay that NAACP judges said beautifully communicates her personal dedication to ending oppression and marginalization and exhorts her peers to do likewise with great poetic flow and feeling. The winner of the second prize, Addie Lenzner of Arlington High School, is robust and urgent in her powerful essay calling upon her peers to join her in anti-racist work. Third prize was won by Ari Graham-Gurland, also of MUHS, who invites readers to resist hopelessness and move forward together to create change.
"We are so impressed with the level of insight and thoughtfulness that these essays presented," said Julie Conason, chair of the branch education committee. "Students really are paying attention to what's happening in the world, and taking action in their own communities."
The first prize essay can be seen below; the others are posted on the NAACP website at naacprutland.org. The comprehensive packet for Black History Month and Beyond that all schools received in mid-January contained lesson plans and ideas, common pitfalls to avoid, and tips for facilitating the difficult conversations that often come up around issues of race. A further goal of the packet was to create the understanding that Black history is everyone's history, and that Black history is meant to be essential in the teaching of all history, during all months of the year.
Below is Narges Anzali's prize-winning essay:
"You don't love America."
Perhaps you have used it or watched adults on TV lob this insult at each other. Perhaps your own parents have even accused people of this apparent crime. Perhaps you have heard it railed against you. What do you think love is? Do you think love is overlooking every fault? Do you think love is continuing on ignoring when someone hurts you? Do you think that when someone has been hurt by a person they love that they should sit down and let them because that is what love means? Most people would say no to these questions.
We were taught at an early age, us teenagers of the Internet, that love, real, mature love, is looking at someone's actions and explaining how they hurt you. Or what they can do to make it stop, and what they can do to make up for past hurts. And with this understanding, anti-racists are perhaps the people who love this country most of all.
We do not blindly try to force the injustices committed against Black people to go ignored. Forcing Black people to forgive this country without due action and due reparations for all the damages inflicted against them and their communities is showing not love for this country, not respect for this country, but indulgence. If we love our country, we should want to move forward with it in a way that is better than how we moved forward before. If we love our country, we should respect it enough to challenge the policies and views that harm the people that it is supposed to represent. And most of all, if we love this country, we do not let this country move on without making up for the atrocities committed in the past. Love does not mean that you remain stagnant and who you were at the beginning, with no changes. Love means that you grow together, a government and a people growing together as one.
In 1787, when the Constitution was first adopted, 'we the people' meant about 6% of the population. We grew. And now we have to grow again, and recognize that the way that we are functioning is not working. It is not working, because Black people are murdered in the streets. It is not working, because Black households are more likely to have a lower family income for the same work as white households. It is not working, because Black women are three to four times more likely to die in childbirth. We have to be anti-racist, together. We have to love our country, together. We have to hold our country accountable, together. And we have to move forward together.
More News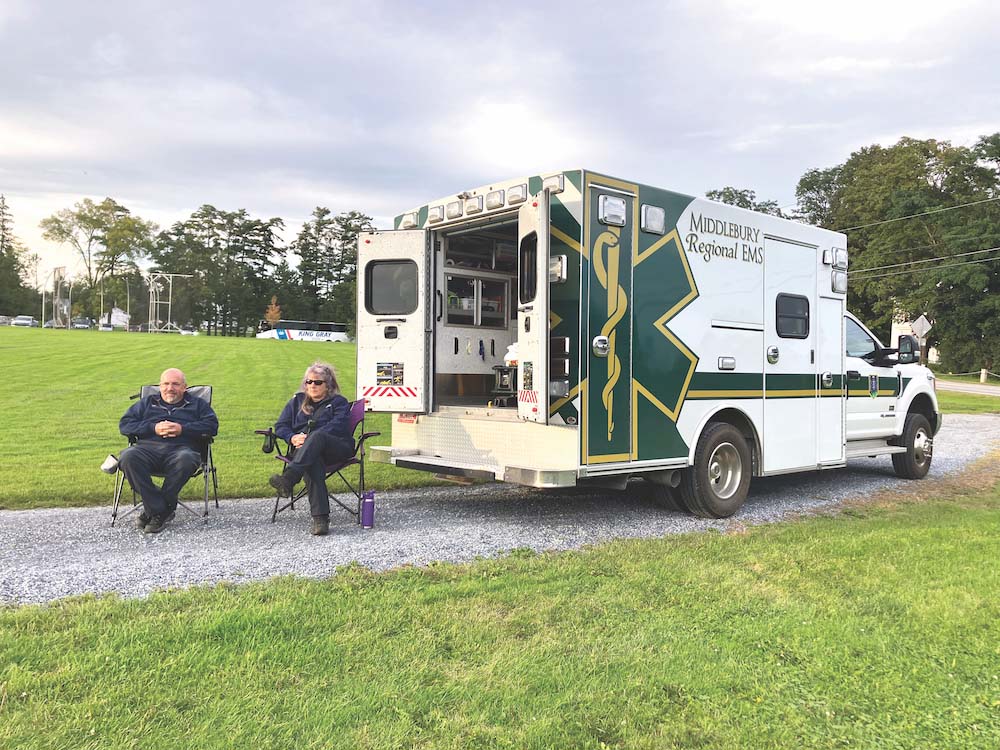 Middlebury Regional Emergency Medical Services wants to eliminate its annual Town Meeting … (read more)
Middlebury police are investigating the death of a Middlebury College junior and say the p … (read more)
In the course of her almost 101 years on Earth, Vergennes resident Margaret Clifford, bett … (read more)