Irrepressible MUHS music teacher leaving on a high note
I get to come in every day, spend time with a bunch of kids who were hilarious, smart and witty and talented and driven, and make music all day. What a dream job.
— Anne Severy
MIDDLEBURY — Legendary Middlebury Union High School music teacher Anne Severy is playing the final notes of a 40-year career symphony — but don't be surprised if she returns to the stage for an encore in a substitute role.
She's decided to retire this June and has this to ponder: She's been in school — as either a student or educator — every year of her life since 1964.
Severy, who grew up in Connecticut, comes from a family of teachers. Both her parents were educators — her mom at the college level. Her oldest brother was an art major who became a phys ed instructor, and her sister recently retired after a lengthy career as a Spanish teacher.
There was a time when Severy resisted the notion of emulating her kin.
"It was the typical, 'I don't want to do what my family is doing' kind of thing," she recalled. "But I loved music."
And she was good at it.
By the time Severy was in high school, she was taking private lessons in three instruments: Piano, flute and saxophone. With her brother's encouragement, she developed an interest in jazz.
"(Music) was my thing," she said. "I was not the jock of the family; that was my oldest brother. I wasn't very good at languages; that was my sister."
Initially, musicianship was something she practiced just because she liked it.
"I never did it thinking I was going to have a career at it," Severy said.
Then her dad gave her advice when she arrived at a crossroads.
"OK, Annie, the reality is, you're never going to be a professional musician; you're not that kind of performer," Severy recalled him saying.
"But you could be an educator."
She thought about it some more. While other family members were educators, none taught music. So Severy was confident she could carve out her own niche.
Severy majored in flute in college (first Westminster, then Boston University), but made a point of becoming proficient in several instruments. She took advantage of any and all playing opportunities, whether it be in marching band or jazz ensembles.
"When you go to college as a music major, we had to learn how to play and teach every instrument," she recalled, noting she can still play a trumpet and trombone, among others.
And teaching came naturally to Severy, a gregarious, talented individual who can easily strike a chord with young folks.
She began her career in 1981, first in the West Rutland school system. For four years, she was the music teacher for about 500 K-12 students.
"I did all the general music (instruction), beginning band, grades 7-12 band," she said. "I did chorus. I started the jazz ensemble there."
In 1985, she moved on to an instrumental music teaching position at Rutland Junior/Senior High School.
"I loved Rutland, and I would still be there except for the fact I married a farmer in Cornwall," she said with a chuckle. The farmer is husband Joe.
Still, Severy had been prepared to drive the 40 minutes each way to Rutland. But as luck — and fate — would have it, the MUHS music position opened up in 1986. She would only have to teach high school students, and was looking at a $10,000 bump in her annual salary.
To put things into perspective, her K-12 music department budget in West Rutland in 1981 was $300. Her salary that first year was $8,400.
"I would teach piano lessons for $5 per half-hour to have enough money for food," she said.
Indeed, Severy's educator friends told her she'd won the lottery when she landed the MUHS job. The school had quite the reputation for high values and quality, according to Severy.
They said, 'You know what they say about MUHS don't you? The adage is, when teachers die, they don't go to heaven, they go to Middlebury,'" she recalled.
Her long career at MUHS didn't get off to a good start. Her popular predecessor had left suddenly to take a new position after 10 years. Some of the students took their disappointment out on the newbie — Severy.
It's something that happens in the arts, Severy explained, an arena in which educators tend to form more personal bonds with students than do teachers in the core subject areas.
"My first year was horrible," she said candidly. "There were six or seven kids who were going to test me."
And clearly, Severy passed the test with flying colors. She's now Facebook friends with legions of her former students, including some of those who resented her arrival 35 years ago.
Her time at MUHS has been full of joy and successes. Severy was hired to teach music theory, band,  and lessons during the day, and jazz one night per week. She found greater freedom beginning in 1993, with the arrival of Principal Bill Lawson.
"That's when things really took off for me," Severy said. "He thought it was ridiculous that I had jazz band at night, so he made it a class during the day. That was a huge difference. And he let me design a 'Composition 2/Music History' class."
Severy looks back with particular fondness on the period of 2000-2015. The program was firing on all cylinders. If you were a "music kid," you could have band for 40 minutes, lunch for 30 minutes, then either take jazz or choir for 40 minutes — every school day.
"If you were a band kid who ate lunch in my office with me and then had jazz, you were in here for two hours every day," she said. "This community was so strong."
When Severy arrived, she found students playing what she called "level 3 or 4 music — which is very respectable for high school."
But she knew they could do even better, and leaned on them to give their best. Consequently, many now leave Severy's tutelage playing at level 6.
 "As I learned more, I pushed them more," she said. "And they went with me."
It was all part of a job that she said has been a true joy.
"I used to tell Bill Lawson that the biggest secret was this was the best job anyone could have in this building," she said. "I get to come in every day, spend time with a bunch of kids who were hilarious, smart and witty and talented and driven, and make music all day. What a dream job. And it was different every day."
Her students' dedication to music reverberated beyond the confines of the school auditorium. Severy hosted jazz dinners four times per year at her home.
"It propelled them to want to work together," she said. "They wanted to be pushed."
Several of her students have gone on to careers as professional musicians, composers and music producers. She's proud of them all.
Not all of her students have chosen to make music their life, but Severy made sure each of her charges left her class with a more intimate relationship with what they choose to play or listen to.
"All I want them to do is to be able to leave here and if they want to join the town band, or sit down and listen to a piece of music, they know what they're listening to, can understand it, and have an appreciation for it," she said.
CHANGING TIMES
Severy still enjoys teaching music, but times have changed.
The International Baccalaureate program — while a great education tool — has eliminated the two-hour music block that students had been able to enjoy.
Social media has also struck some sour notes for educational continuity, Severy believes.
"The culture has changed dramatically with students," she said. "Before social media, kids would come and sit with you and, since you weren't their parent, open up to you and want to get advice. But with social media, they're kind of relying on each other.
"The students are lovely human beings, but they don't have time with me like they used to," Severy added. "Our relationship is different; it's more formal than it used to be."
She's earned a ton of accolades during her career, most recently a 2020-2021 Outstanding Music Educator Award from the National Federation of High School Association. In 2018, Severy was named Music Educator of the Year by both Vermont Music Educators Association and Green Mountain Music District V, which previously awarded her the honor in 2006. She was also chosen as University of Vermont Teacher of the Year for Secondary Education in 2015.
Severy thought 40 was a "good round number" to end her full-time teaching career. She's not headed for an idle retirement. She likes to garden, bake, make handcrafts, and tend to farm chores; she will spend more time with family. She and her husband, Joe, have four grown children. And substitute teaching is more than likely in her future.
Since her announcement, Severy has received tons of Facebook love from friends, family and former students.
"So sad for us, but so happy for you," wrote Kelly Landwehr.
"I'm in the denial stage of loss," wrote Brooke Jette.
Reporter John Flowers is at [email protected].
More News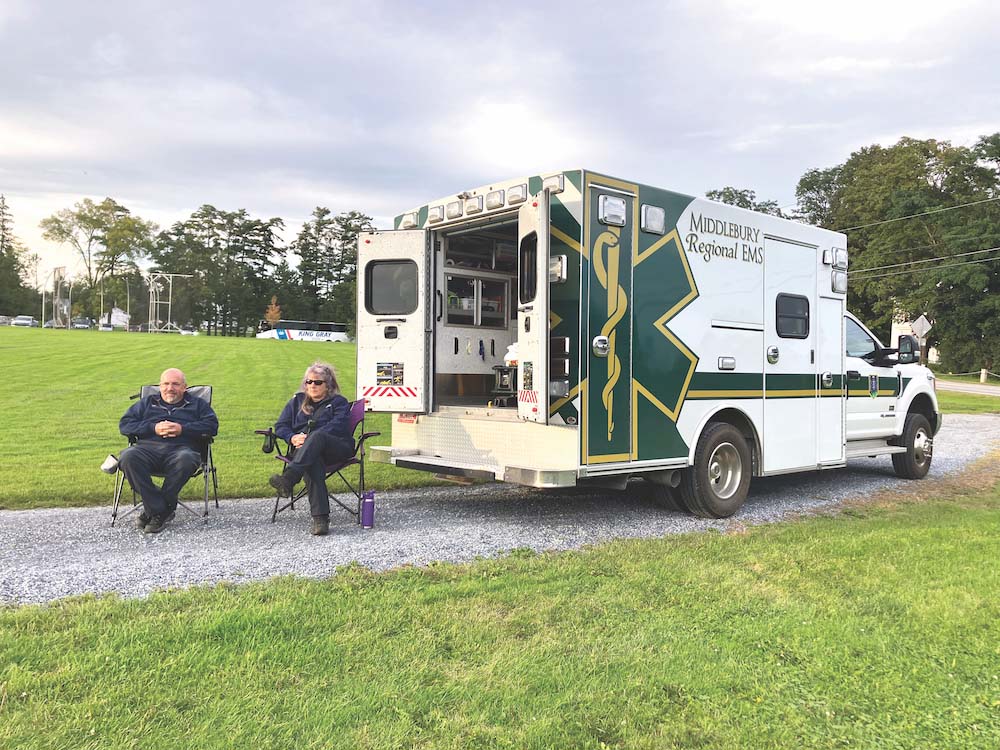 Middlebury Regional Emergency Medical Services wants to eliminate its annual Town Meeting … (read more)
Middlebury police are investigating the death of a Middlebury College junior and say the p … (read more)
In the course of her almost 101 years on Earth, Vergennes resident Margaret Clifford, bett … (read more)