Sugaring gets off to a late start this year
ADDISON COUNTY — It's been cold in Addison County over the past several months. It's almost as if we had a proper Vermont winter. It was so cold, in fact, that sugaring got off to a late start this year.
Many maple sugarmakers had become accustomed over the past few years to starting in February, but this year, because of the persistent freezing temperatures, boilable sap didn't make an appearance in many places until the first week of March.
"We started very late, more so because the snow in the woods was unbelievably deep," said Don Gale of Twin Maple Sugarworks in Lincoln. "And the wind-driven stuff was even deeper."
Snowshoes were sinking into the snow anywhere from eight inches to knee-deep, Gale reported.
"There's still two feet of snow in the woods," he said early this week.
Now that it's here, the sap isn't running particularly fast.
"It's been steady, but nothing to tell your mother about," Gale said. "We haven't had any oh-my-god runs."
Gale is in his 34th year of sugaring. Twin Maple has 5,200 taps and typically boils 120,000 gallons of sap down into 2,000 gallons of certified organic syrup.
"This year? Who knows," he said.
In addition to the late start and ho-hum sap flow, Gale has noticed the sugar content of his sap is off, he said.
"Normal is about 2%," he explained. "This year we started at 1.6% and now we're holding at 1.8%."
Lower sugar content means more boiling for less syrup.
Twin Maple doesn't seem to be the only site experiencing this phenomenon.
"I'm hearing some stories about sugar content as low as 0.7%," Gale said. "That's zero-point-seven."
Which means it will take roughly 90 gallons of sap to create one gallon of syrup, he estimated; typically it is 40 or 50 gallons of sap per gallon of syrup.
Still, sales are going well, Gale said, especially at the Middlebury Farmers' Market, which Twin Maple is doing for the second year in a row.
For more information about Twin Maple Sugarworks, visit twinmaplesugarworksvt.com.
HARD ACT TO FOLLOW
Even a normal year might have felt a little disappointing to Vermont sugarmakers this year.
In 2020, Vermont sugarmakers produced 2.22 million gallons of maple syrup, about 51% of the entire U.S. output, according to the Vermont Maple Sugar Makers Association.
Vermont production in 2020 was 7.2% higher than in 2019, which was roughly 2.07 million gallons.
"Vermont and Quebec had record crops last year," said Dave Folino of Hillsboro Sugarworks in Starksboro. "And at first I thought, 'Where's all that syrup going to go?'"
In the end, demand was so high in 2020 that Hillsboro didn't have enough, "which is a good place to be," Folino said.
Like many sugarmakers, Hillsboro saw a bump in sales in 2020 because of what was then an emerging global pandemic.
"People were staying home and cooking for comfort," Folino said.
It's a trend Folino believes will continue.
"Sales are way up on Amazon and our website — by hundreds of percent," he said.
How much syrup can get produced this season, however, remains to be seen.
With its 15,500 taps at a high elevation, Hillsboro averages about 7,000 gallons of syrup per year, which is certified organic by the Northeast Organic Farming Association of Vermont (NOFA-VT).
This year, Folino, who's been at it for 43 years, is running behind.
"And I'm concerned about this belch of warm weather," he said.
When the Independent spoke to Folino Monday, temperatures in many places around the county had pushed past 60 degrees, with similar weather expected for Tuesday.
"I'm hoping our season will go until the middle of April, if we can survive this warmer weather."
This week's stretch of warm weather reminded Folino of the 2012 season.
"On March 23 of that year it was 80 degrees," he recalled. "That was not a good year."
For more information about Hillsboro Sugarworks, visit hillsborosugarworks.com.
PANCAKE BREAKFAST
At the other end of the county, Tim Hescock of Vermont Trade Winds Farm in Shoreham is still hoping to have a "normal" year, he said.
Trade Winds has 2,500 taps and typically aims for a half-gallon of syrup per tap.
"We don't usually quite get that, but sometimes it's close," Hescock said.
So far the farm has produced about 500 gallons of syrup, he said.
The current warm spell, which will play out differently in low-lying Shoreham than it will in Lincoln or Starksboro, represents the biggest possible impact on Trade Winds' season.
Still, Hescock is hoping sugaring will last until the first week of April.
On the plus side, the long, cold winter has been great for outdoor recreation at Trade Winds, which has six kilometers of cross-country skiing trails and a skating rink.
The trails are now closed, but there's still a great reason to visit Vermont Trade Winds Farm this Saturday: an old-school maple sap boiling demonstration and the farm's annual pancake breakfast.
Between 8 a.m. and noon you can get all-you-can-eat pancakes with fresh off-the-farm maple syrup, along with other items. Breakfast will be served outdoors and takeout will be available, Hescock said.
Admission is $7 per adult and $5 per child.
Recent weather forecasts called for a high of 50 degrees in Shoreham on Saturday, so make sure to dress warmly.
After breakfast, check out the Vermont Trade Winds Farm store, where you can find an assortment of maple products, 10 different syrups for tasting and syrup on tap — bring your own container.
Masks are required indoors and social distancing is strongly encouraged.
From 11 a.m. to 4 p.m. there will also be horse-drawn carriage rides. Visit vermonttradewinds.com for more information.
EAT LOCAL VT
For more details about sugaring activity in our region, download ACORN's free Eat Local VT app from the Apple App Store or Google Play Store. The app makes it easy to find and connect with the nearly 250 farmers and food producers in our community. A Wednesday search for "maple" produced 45 results.
Reach Christopher Ross at [email protected].
More News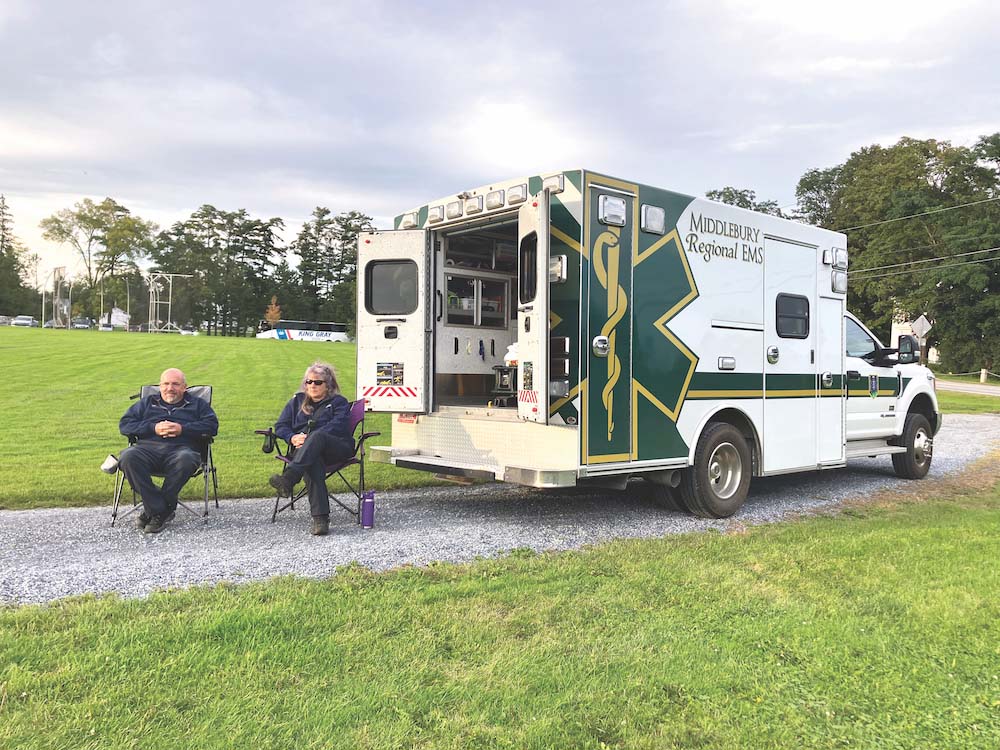 Middlebury Regional Emergency Medical Services wants to eliminate its annual Town Meeting … (read more)
Middlebury police are investigating the death of a Middlebury College junior and say the p … (read more)
Vergennes resident Margaret Clifford offers nearly a century of recollections, from losing … (read more)