Four in the mix for three Middlebury selectboard seats
MIDDLEBURY — Esther Thomas and Andy Hooper on March 2 will compete for a one-year post on the Middlebury selectboard, while incumbents Lindsey Fuentes-George and Farhad Khan each will run unopposed for three-year terms on the panel.
Independent Senior Reporter John Flowers reached out to all four candidates to get a sense of what is motivating them to run, and a glimpse of what they hope to accomplish if endorse by voters on Town Meeting Day. What follows are brief profiles of the four candidates, based on interviews and/or email exchanges.
ESTHER THOMAS
Esther Thomas moved to Middlebury two years ago from Rhode Island in order to take a job as a residence director at Middlebury College. She manages a staff of 18 students and is responsible for juniors and seniors. She also oversees "Febs" — first-year students beginning their college careers during the month of February.
Altogether, Thomas oversees more than 800 students within the residential setting. Housing complexes under her jurisdiction include Atwater, Voter, Painter, Forest and Chateau.
She's available to hear students' concerns and to orient them on campus protocols and other news. Thomas also meets with students who get in trouble with alcohol, cannabis and other infractions.
Thomas became sold on Middlebury during her first visit.
"I fell in love with this place during my interview," she said. "I looked around and said, 'This is where I want to raise my kids.'"
She's a single mom with two children, ages five and three.
While there aren't many students on campus right now, Thomas is still working hard during the pandemic.
"We're meeting with students through Zoom, and we're now preparing for them to come back (to campus)," she said. "We're putting newsletters together, so my staff and I are building community."
And that's what she'd like to do as a selectboard member. She doesn't have a list of board goals for the next three years; her emphasis will be on adding a different kind of voice to town affairs.
"My hope is to bring a different perspective — someone working full-time, being a single parent," Thomas said. "My lens is a little different than most people on the board."
She's already joined two organizations that have helped her learn about the Middlebury community and its residents. Thomas is a member of the Champlain Valley Unitarian Universalist Society and is on the Middlebury Natural Foods Cooperative board.
"I moved here knowing I wanted to be an active part of the community," she said. "I was always looking for opportunities, and dove right in."
ANDY HOOPER
Andy Hooper's parents met at Middlebury College in the late 1960s. He was born in the Northeast Kingdom and raised in Central Vermont. As a young man, he left Vermont to study physics and mathematics at the University of California at Berkeley and then attended law school at Columbia.
"Finding no place or people more agreeable, I returned to Vermont to start my career, put down roots, and raise a family," he said.
His work is steeped in technology — first building and maintaining networks for small businesses and nonprofits, then as a programmer and manager at Cabot/AgriMark, where he's been for the past decade. Hooper and his spouse, Middlebury College Economics Prof. Caitlin Myers, have a blended family that he said includes a Middlebury College student, three children in local elementary and middle schools, a dog, a hedgehog, and 11 chickens.
Hooper has long participated in public service. It began in his 20s as a member of a restorative justice/reparative probation board. He was subsequently elected four times to the Montpelier City Council and served as a delegate to the Central Vermont Solid Waste District and ECFiber boards.
During the seven years he's lived in Addison County, he's served on the boards of the Ilsley Library, the Addison County Regional Planning Commission and the Addison County Solid Waste District.
"I enjoy municipal service, and particularly appreciate the myriad ways that people from all parts of the community constantly invest their time and energy to improving society," he said.
Hooper's top issue right now is seeing revitalization of downtown Middlebury.
"Empty storefronts are sad and we all hope that vibrant businesses will bring people back to our town once the disruptions of the rail construction and the pandemic are behind us," he said. "The challenge is large — mail order and big box stores have an unfair price advantage, so small town retailers must add expertise and services to compete. The Better Middlebury Partnership has excellent ideas and hopefully the selectboard will continue to both support them and find other ways to encourage investment and entrepreneurs in our downtown."
Hooper believes the new Middlebury Downtown Master Plan has quality suggestions that can bring back the stores and excitement. "With this abundance of ideas, the next step is to focus on the projects we can afford that will have the biggest impact," he said.
Making Middlebury affordable for a wide cross-section of folks is also important to Hooper.
"Affordability is a constant struggle, particularly in a town like ours with both high property tax and income disparity," he said. "It is essential that the selectboard take its role as fiduciary for the tax monies we collect seriously — to see that they benefit everyone, and are not wasted chasing pipe dreams. Aspirational goals are important, but we must be content with continuous small steps toward important goals like carbon neutrality and zero waste."
Hooper also wants to see a "redesign our public transit as a system that is more flexible and responsive to the needs of people who rely on it, and spend less on driving empty buses around the town."
LINDSEY FUENTES-GEORGE
Lindsey Fuentes-George and her family moved from Massachusetts to Middlebury around 10 years ago. Her husband, Kemi Fuentes-George, teaches political science at Middlebury College. Lindsey's professional experience includes working full-time at one of the Counseling Service of Addison County's Middlebury group homes for developmentally delayed adults. Her résumé also includes work at a shelter for victims of domestic violence.
Fuentes-George holds a bachelor's degree in journalism from Mount Holyoke College, and has always worked within the realm of human services.
She was first elected to the selectboard in 2018. She serves on the town's infrastructure Committee and is the selectboard representative to the Energy Committee. Fuentes-George has also been a key player in racial justice and anti-bias efforts at both the school and municipal levels.
Her priorities for the next three years include getting downtown Middlebury revitalized following the economic challenges created by the COVID-19 pandemic and the rail tunnel project.
"In terms of major projects or issues, an obvious one will be getting our downtown back to full capacity," she said. "The Better Middlebury Partnership has a plan ("Kick Start Middlebury"), and I'm hopeful that our new, revitalized downtown will be a very attractive place for a number of businesses."
Lindsey is also excited about the board's recent effort around diversity, equity and inclusion. The board is reviewing potential consultants to advise it on bias-free governance/policing procedures.
"Some community members have brought concerns before the board, and we are in the early stages of learning," she said. "This is a community-wide venture, but the board is putting a lot of energy into doing this work thoroughly and well, and I am proud to be a part of it."
Another item on the board's to-do list, according to Fuentes-George: Seeing through several municipal infrastructure projects, including upgrading water lines.
She cited major town accomplishments:
•  Completion of the downtown master plan, which she said will served as "a roadmap we will refer to heavily in the foreseeable future."
•  Substantial completion of the downtown tunnel project that shut down Main Street and Merchants Row for 10 weeks last summer.
•  Climate change initiatives driven by the town's Energy Committee. The board last month endorsed an Energy Committee strategy to achieve an 80% reduction in carbon dioxide generation caused by municipal operations.
"I really enjoy the work we're doing on the selectboard, and I'm honored that our community allows me to serve in this way," Fuentes-George said. "I can sometimes feel overwhelmed by the state of things on a national or international scale. Being able to look locally and work together to make our community better goes a long way toward alleviating those feelings."
FARHAD KHAN
Farhad Khan is indeed an example of the American dream. He emigrated from his native India to the United States in 1991, with the hope of becoming a successful entrepreneur and one day starting a family.
He's checked both of those boxes — he and his wife, Amtul, own and operated the Middlebury's One Dollar Market, and together have three children — along with another major goal: Serving his community. Khan was appointed to the Middlebury selectboard in 2017, then won a three-year term in 2018. He's a member of the town's Parks & Recreation and Economic Health committees.
"I strongly believe that this is where I got my break, this is where I am and will continue to raise my family," said Khan, who's lived in Middlebury for more than 25 years. "My wife has grown to fall in love with the town, and most importantly, I have a duty to give back. I am passionate about the diversity, equity and inclusion initiative we have undertaken on the selectboard level."
Khan cited economic development as a top priority for the board, which is fortunate to have the Downtown Master Plan for guidance.
"There were several businesses closed recently for various reasons, including the changing retail landscape and the online competition," he said. "The pandemic especially impacted most of the local businesses including the hospitality sector bearing the brunt. Other factors that impacted the local businesses were the much needed rail/bridge project. I have high hopes that when all is said and done, we will come out in a much better position economically. I would hope that we will be proactive in finding a way to make Middlebury more business-friendly."
Middlebury must constantly keep its infrastructure up to date, according to Khan, specifically citing roads, buildings, sidewalks, water and wastewater services. These services — along with more housing — will be key in attracting and retaining new residents, he noted.
"From personal experience, I have struggled to find/keep employees because of the lack of affordable housing in our region," he said. "We end up losing valuable help to competing businesses in Chittenden County, New York and other places."
Khan cited the downtown tunnel project as being "by far" the board's biggest accomplishment of the past three years. And he believes Middlebury is well positioned to make new strides.
"We have a great group of people in leadership positions," he said. "We have great town management and town departments and employees. Our library rivals some of the best in the region. We have excellent emergency services, a well-run recreation, and public works department. All of these are accomplished with little impact on our tax rates."
More News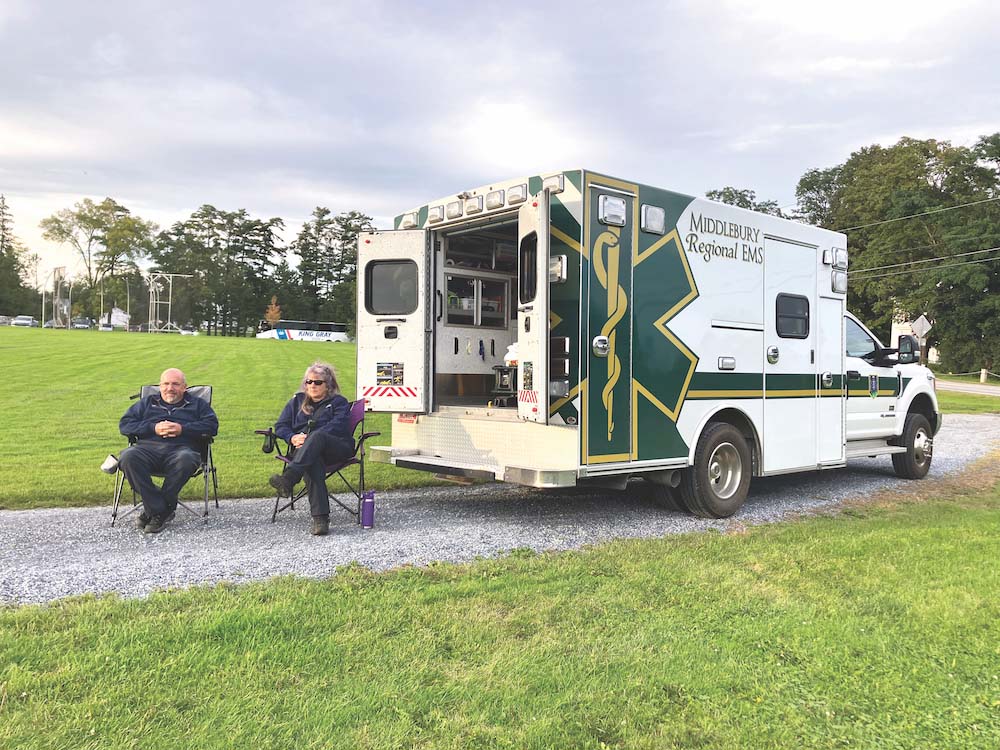 Middlebury Regional Emergency Medical Services wants to eliminate its annual Town Meeting … (read more)
Middlebury police are investigating the death of a Middlebury College junior and say the p … (read more)
Vergennes resident Margaret Clifford offers nearly a century of recollections, from losing … (read more)