COVID-19: Addison County sounds off about coronavirus pandemic
Coronavirus, pandemic, COVID-19, masks — we hear these terms every day. In a time when our nation is divided socially, economically and politically, this pandemic is a collective experience from which no one is immune.
And yet, we are facing the challenge and making progress toward a day when these terms are part of history, not part of our daily lives.
"I feel with the proper precautions, that this is manageable," a member of the Addison County community said in response to a recent online survey. "I don't mind changing my habits to be able to survive this pandemic and keep both myself and others safe. It is a small thing to ask."
Despite the fantastic job Vermont has done combatting and containing the virus, this pandemic has affected us all in some shape or form, whether it be firsthand or through someone we know.
We, students of a Fall 2020 Biochemistry course at Middlebury College, wanted to know more about the coronavirus and the pandemic — not just the technical aspects, but also the impact on our broader community — and we set about learning what the coronavirus is, how it spreads and how it can be treated.
In order to understand how the coronavirus has impacted our community in Addison County, we developed and disseminated an online survey to community members inquiring about their experiences with the virus. Further, we asked about their sentiments on actions designed to combat the virus, the public health regulations put in place by Vermont and the federal government, and the impending vaccine.
In this article, we present the main findings from our survey from which we received 349 responses by the time it wrapped up in mid-November. In addition, we include explanatory pieces to address our main findings and answer some of the questions that community members submitted through the survey.
The majority of towns in Addison County are represented in our data, with the highest response rates coming from the towns of Middlebury (40%), Bristol (19%), and Addison (7%).
To highlight some key findings, 82% of individuals surveyed report their concern level regarding COVID-19 to be between seven and 10 on a scale of one to 10, with one being not concerned and 10 being extremely concerned. Nevertheless, fewer than 60% of individuals in Addison County stated in the November survey that they were sure they would get vaccinated when a COVID-19 vaccine is available. Thirty-two percent stated that they are uncertain, and 10% said they would not receive the vaccine.
Over 95% of individuals surveyed reported at least one major concern they have about a COVID-19 vaccine, including potential side effects (a concern reported by 61% of respondents). One of our respondents specifically asked "how it will it impact my child — I'm pregnant." Another common concern is political influence in vaccine development (reported by 68% of respondents) with one individual stating, "This should be in the hands of scientists not politicians." Access to the vaccine also seems to be a common concern with respondents stating concerns about "universal access to the vaccination" and "inadequate availability of vaccine to marginalized citizens and migrants."
Finally, 57% of respondents are concerned that the vaccine won't end the pandemic because not enough people will take the vaccine. Concerns about a COVID-19 vaccine prompted our class to provide information in this package of stories on the process of vaccine development, and the biological mechanisms of the vaccines certain companies have developed to target the coronavirus.
Addison County residents were also asked to reflect on their trust of COVID-19 data and other information that has been disseminated. Our results find that less than 40% of surveyed individuals completely trust the information about the COVID-19 pandemic that has been reported. One respondent stated, "I find the lack of consistency in tracking the actual incidence of COVID and related deaths to be frustrating. There should be consistency and transparency at all levels." This ambiguity in reported information might inform how community members respond to the regulations put in place by the state and federal governments. About 50% of respondents stated that Vermont's COVID regulations are stricter than necessary.
Nevertheless, one respondent affirmed, "The accuracy of COVID information depends on the source. I trust most VT local and state sources," with another stating, "I am proud how many Vermonters are treating and respecting COVID-19 by wearing masks and social distancing. I feel Governor Scott's administration is doing a great job communicating recommended safety processes and other pertinent information." In fact, our survey revealed that 93% of respondents believe that masks should be required in public spaces such as grocery stores, a regulation the Vermont government instated early on to combat the spread of the virus.
Evidently, reported information about COVID-19 is variable and likely affects how community members view state and federal regulations. In this series, we explain the underlying mechanisms of COVID-19 and just how it impacts the body. Additionally, we provide tips to protect yourself and others, discredit some myths that are commonly reported regarding the virus, and include insight from medical and vaccine experts who we interviewed for this project.
Finally, we want to highlight that this is a collective experience. Some are facing hardships more severe than others for reasons such as systemic racism and differential access to healthcare — two topics that we explore in this package of articles.
However, no one is immune to this pandemic. From our survey, we found that 34% of individuals in the county have had a family member or friend diagnosed with COVID-19, and 10% have had a family member or friend pass away from the virus. Eight percent have lost their job, 5% have been unable to pay bills on time, 50% experienced a switch to online schooling for themselves or a family member, and 52% experienced feelings of loneliness or isolation during this time. Many individuals included other ways the pandemic has affected them, with some of the most common responses being: feelings of fear and anxiety, not being able to visit family members or friends, delayed access to medical services, and challenges regarding childcare.
Many respondents also shared concerns about the future consequences of COVID-19 when asked to choose their top three of eight concerns beyond the end of pandemic. The most common concerns include economic hardship and ongoing health problems for individuals who have recovered from COVID-19, which were reported by 69% and 56% of individuals, respectively. Additionally, the effects on child development (43%), increased distrust in political or public health institutions (47%), high rates of mental health issues (42%), and increased unemployment rates (41%) as a result of the pandemic were also frequently reported.
Several respondents raised unprompted concerns including deepening divisions along political lines and the future of the arts. As one respondent noted, "The arts are a necessary ingredient for mental and social health, though creative arts have always been denigrated in this culture. People need music and theatre and art, and to be able to gather to enjoy them."
While we may feel alone and isolated in this pandemic, it is important to recognize that we are in this together. Our class has composed this collection of articles not only to provide information on the virus itself, but also to emphasize the shared experience that our community and our world is currently facing.
More News
Blasting ledge could begin on Monday in Vergennes as work on the $25 million Vergennes Gra … (read more)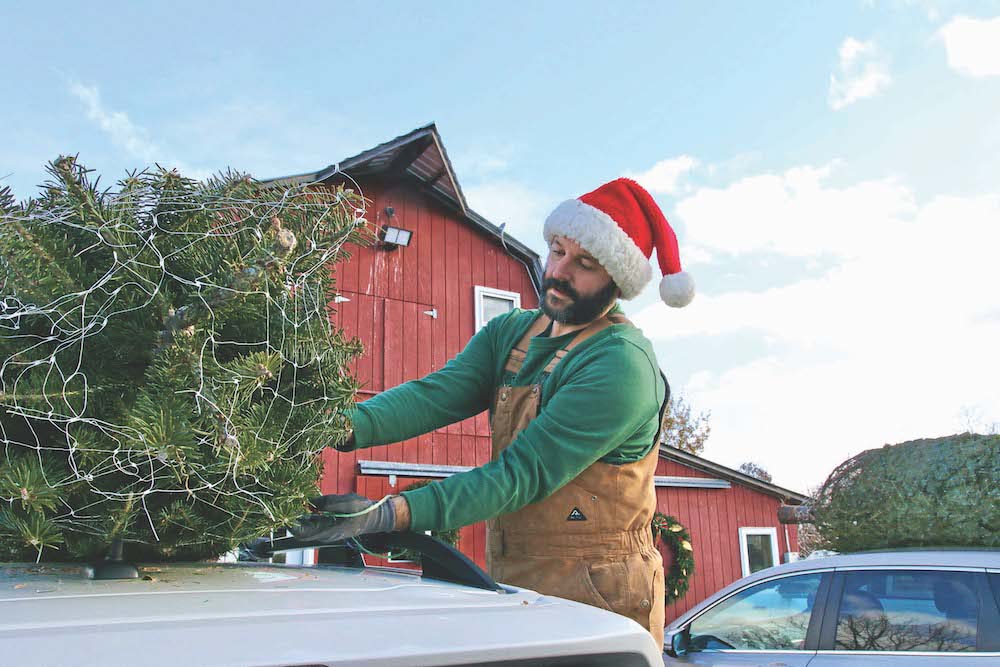 With the holiday season underway, county Christmas tree farms have begun welcoming visitor … (read more)
As the Middlebury Snowbowl prepares for opening day this Saturday, Dec. 9, loyal skiers an … (read more)