Karl Lindholm: What's in a number? Immortality!
The best uniform number in sports is 42, Jackie Robinson's number. It's been retired by Major League Baseball — no MLB player will ever wear it again. That's a high honor, the highest. The Jackie Robinson movie was simply titled "42."
If you reverse 42 you get a pretty great number too — 24, the number of Willie Mays, only the greatest baseball player ever. Basketball fans, no doubt, will cite Kobe Bryant, but he also wore #8 for a while. Ken Griffey Jr., Barry Bonds (Willie Mays's godson), Bill Bradley, Lou Brock, are other notables who wore 24. For me, given my age and New England roots, 24 is Sam Jones, the Boston Celtics great. Manny Ramirez and Dwight Evans wore 24 for the Red Sox.
Hall of Famer Carleton Fisk, our neighbor from Claremont, N.H., wore 27 in his 11 years with the Red Sox, then turned it around and wore 72 in his 14 years for the White Sox. Both numbers have been retired, but he's depicted in a Red Sox hat in his plaque in Cooperstown.
I think the other greatest sports numbers are probably 32 or 44 — Jim Brown, the Willie Mays of football, was 32. Also, O.J. Simpson (he was a really good player), Magic Johnson, and Sandy Koufax.
Jerry West, the icon in the NBA logo, wore 44, as did Home Run King Henry Aaron and the fearsome Willie McCovey.
Quiz: When the decision was made to retire 42 league-wide, those wearing the number were allowed to keep it until they were out of the game. Who was the last MLB player to wear 42? That's easy. Now, who was last Red Sox player to wear that number? It was fitting, as he was a very good player. Answers below.
No New York Yankees player can wear a number between 1-10. They have all been retired — number 8 has been retired twice. It's a good thing that number 2 was available when Derek Jeter first put it on in 1995. It's his forever now. The Yankees have retired a total of 24 numbers.
While certain baseball teams as early as 1907 experimented with uniform numbers, it wasn't until 1929 that the idea took firm hold when the Yankees and the Cleveland Indians wore identifying numbers on their jerseys. For the Yankees, these numbers reflected where the player appeared in the batting order in 1929.
Quiz #2: How many of the Yankee players who wore the retired numbers 1-10 can you name?
You do know, right, that the numbers 6,7,8, and 9 are illegal in basketball at the high school and college level? You won't see them, though pros can have them, as they don't fit on one hand, so game officials cannot signal to the scorer's table who committed an infraction.
Our friend from Craftsbury, Vt., Bill Lee, Red Sox Hall of Famer (also known as "Spaceman"), chose number 37 as homage to two others who wore that number. One of those predecessors played for the Sox, but the other wore the Yankees uniform, an ecumenical choice for Lee, a notorious Yankee-killer (12-5 against the Bombers in his career).
Quiz #3: So who were the two kindred spirits who inspired Spaceman to choose 37?
For Boston sports fans of a certain vintage, like me, there are five numbers that have become iconic (to use the mot de jour): 4 (Bobby Orr), 6 (Bill Russell), 12 (Tom Brady), 33 (Larry Bird), and of course the quintessential Boston sports number, the number 9 of Ted Williams, Teddy Ballgame, the greatest hitter in the long history of the game.
Now, you have read this far, so first of all, thanks, and second, have you noted that all my examples have been of men and their numbers? Is this because female athletes attach less importance to their jersey numbers, perhaps because men's sports go back so far — or is it a gender limitation in this writer's perspective (as my daughters occasionally allege)?
A little research shows that the jersey (#15) of Megan Rapinoe of the U.S. national women's soccer team is the highest selling Nike soccer jersey ever — and University of Oregon's Sabrina Ionescu's Nike jersey (20) sold out within hours after it was made available. She was selected first in the 2020 WNBA draft. 
The experts I consulted — Middlebury College coaches KJ Krasco, Kate (Perine) Livesay, and Katie Ritter all affirmed a keen interest in their own numbers when they were playing, and also among the athletes they coach. Livesay and Ritter were three-sport athletes at Middlebury Union High School and then All-Americans in lacrosse at Middlebury College.
"I would argue that they are equally important to female athletes," Kate Livesay responded. "Every year when we are giving out numbers there is quite a bit of jockeying for the number players had in high school, or their perceived lucky number."
Krasco, the women's basketball coach, wrote that her student-athletes often pick their numbers "because of a WNBA or NBA player, or because that's the number they wore in high school." Katie Ritter added that "sentimental reasons" often apply — for example, "a sibling had that number."
In her own athletic career (soccer, basketball, and softball), Krasco was given number 5 as a freshman and "stuck with it, because there was a connection to my family. I was one of five children and always had in mind that my four younger brothers were some of my best teammates and competitors."
Livesay's favorite was 10: "a nice even number, double digits, but not too massive in size. Maybe I watched enough soccer to know that #10 was the best player on the field, so I aspired to bring that status to my wearing of 10."
She's right, you know: 10 is the number of many of the greatest legends of the pitch — Pele, Maradona, Messi, and others. Soccer custom is somewhat akin to the Yankees of '29: In soccer, the numbers correspond to positions on the field. 10 is the number of an "attacking midfielder." 
And you, faithful reader, are you an athlete, or were you at one time? If so, what was your number and why did you choose it?
I bet there's a story to it.
Quiz Answers: 1. Mariano Rivera of the Yankees was the last player to wear 42; Mo Vaughn was the last Red Sox player to wear that number. 2. Retired Yankee numbers 1-10: Billy Martin (1), Derek Jeter (2), Babe Ruth (3), Lou Gehrig (4), Joe DiMaggio (5), Joe Torre (6) Mickey Mantle (7), Bill Dickey and Yogi Berra (8), Roger Maris (9), and Phil Rizzuto (10). 3. Bill Lee's inspiration in selecting 37 was Jimmy Piersall, whose mental health issues were depicted in the book and movie "Fear Strikes Out," and Casey Stengel, the colorful manager of great Yankee teams.
More News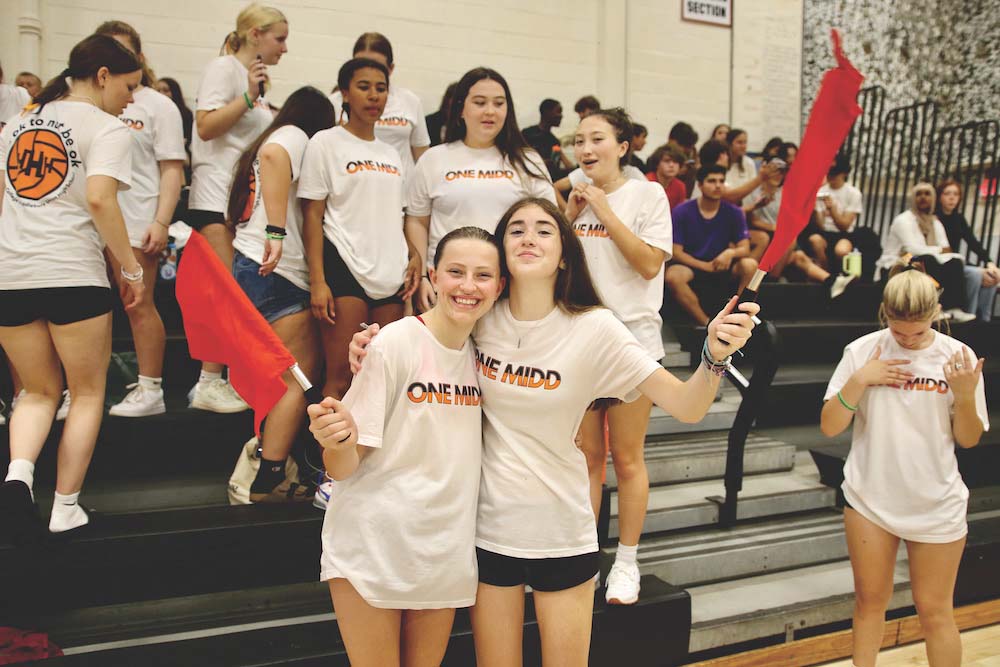 Considering the Middlebury Union High School volleyball team's decidedly successful record … (read more)
In a hard-fought girls' soccer match on this past Saturday, Middlebury outlasted Vergennes … (read more)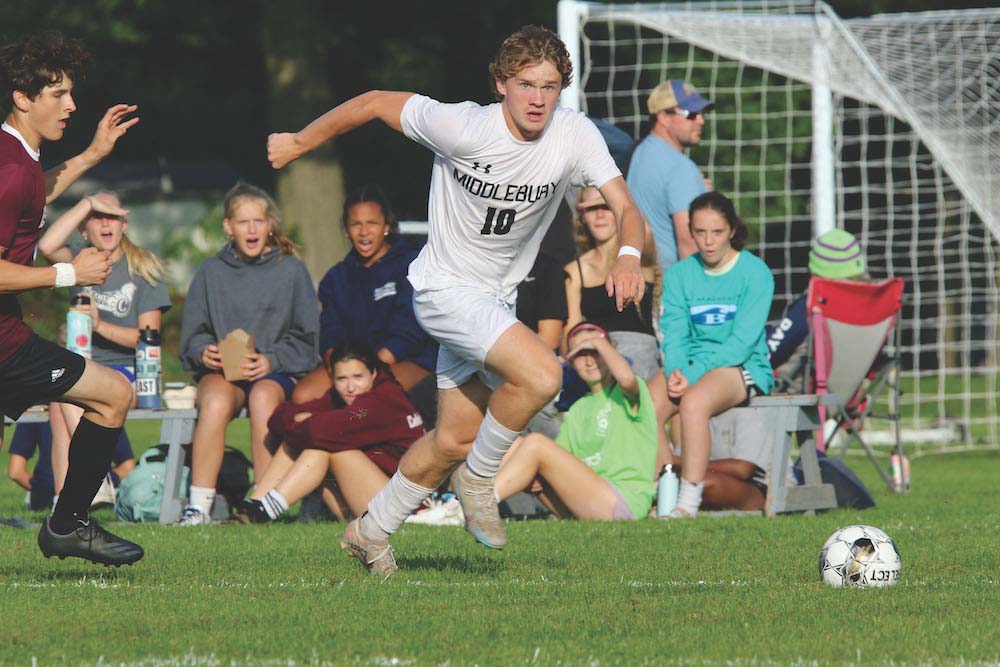 The Middlebury Union High School boys' soccer team survived a scoreless first half in whic … (read more)