Addison County deer hunters shatter rifle season record again this year
ADDISON COUNTY — For the second straight year the region's deer hunters have broken the post-2005 record for most bucks taken during Vermont's 16-day November rifle season.
And this time they smashed the mark for deer weighed in Addison County since Department of Fish and Wildlife officials in 2005 banned shooting young spikehorn bucks in rifle season. 
Hunters brought 424 bucks to the county's seven wildlife reporting stations to be weighed, and according to Fish and Wildlife Deer Project Leader Nick Fortin they also reported 216 more online after shooting them in a county town. 
Taken together, those numbers bring the total to 640, 44 more than the 2019 record of 594. 
The 2018 total had topped a mark that had stood since 2016, when county rifle hunters shot 573 deer. 
In other words, this year's increase of 44 kills more than doubled how much the 2019 record raised the bar. 
County rifle season numbers had ranged between 554 and 594 in the past four years, a big step forward from the previous five years, when the low was 329 and the high reached only 444.
It remains to be seen if 2020 can approach the county's post-2005 overall record of 1,345 of deer taken in all seasons combined, a mark set in 2018. 
The Independent will collect final bow and muzzleloader season numbers after those joint seasons wrap up on Dec. 15. Hunters are reporting seeing plenty of deer. 
Fortin said in the meantime that throughout most of the state that initial numbers showed the rifle season was "a hair down" from the 2019 — without at first realizing the pun, he said Addison County was "bucking the trend."
He noted the county has been "trending up pretty steadily" regardless of results from elsewhere in Vermont. Fortin pointed to its strong dairy base as a factor because the farmland provides food for deer as well as the farm livestock.
"The habitat is just right at this time. I think the farmland helps a lot. I think that's where those deer are coming from," he said. "It's a part of the state where the deer are doing well right now."
The fact that rules changed this year to allow hunters to shoot spikehorn deer — those with two points — in wooded mountain wildlife areas contributed to the take. But that change is not enough to account for all of the uptick: County weigh stations handled just 23 2-point bucks. 
Fortin and other wildlife officials do not believe the COVID-19 pandemic affected the state totals too much either way because many Vermonters travel out of state to hunt, just as many visitors come here for the same reason. 
If anything, Fortin said officials thought they might see a more productive season statewide.
"Our license sales were way up this year," he said.  
The unseasonably warm weather might have suppressed the kill elsewhere in more mountainous Vermont, Fortin said. Deer move less because it is easier to find food and stay warm in balmier temperatures, and the lack of snow means tracking is far more difficult, if not impossible. 
"That is sort of my suspicion," Fortin said. "Really with no antler restriction in those areas I was expecting the kill to be up."
COUNTY DEER
 So far, the largest buck taken in Addison County remains the 262-pound, 10-pointer shot by Chris Hanson on Nov. 18 in Shoreham. Hanson had it weighed at Buxton's Store in Orwell. 
Fortin said the Vermont Big Game Trophy Club maintains hunting records, and the club has a deer taken by Napoleon Verge in 1958 at the top of its list: a 300-pound, 8-point buck shot in Caledonia County.
Hanson's deer is not the largest deer taken in Vermont in 2020, according to Fortin. 
"There was a 263-lb buck shot in Highgate during archery season. It is possible that it's a record for Addison County, though," he said.
As it stands, Hanson's deer now slots in at No. 10 on the Vermont Big Game Trophy Club list, and his buck and the Highgate deer are the two largest taken since 1984.
Hanson's buck was one of 10 tipping the scales at more than 200 pounds weighed at one of Addison County's seven reporting stations: Buxton's, Rack 'N Reel in New Haven, Vermont Field Sports in Middlebury, Green Mountain Trails End in Bristol, C&S Hunting Supplies in East Middlebury, and the Lincoln and West Addison general stores. 
Nine of those trophy bucks were taken in the first five days of the season and were reported here earlier. Louis Hall joined the club later in the season, bringing down a 203-pound, 6-pointer in Orwell and taking it to Buxton's Store. 
Fortin said he was unable to immediately provide a list of hunters who killed deer in Addison County and reported the deer online, although he was able to provide an overall number. If possible, the Independent will provide names later. 
The following hunters weighed bucks at a county station after shooting them during the rifle season. They are listed by name, town of kill, and pounds and points:
VERMONT FIELD SPORTS
Jesse Otis, Middlebury, 191-6; Brian Gero, Cornwall, 190-4; Caleb Goodrich, Ripton, 175-5; Adam Thomann, Addison, 174-8; Paul Crosby, Goshen, 164-7; Thomas Fitzpatrick, Salisbury, 163-8; Jacques Boilard, Hancock, 160-9; Thomas Floody, Ripton, 160-7; Eric Larrow, Cornwall, 157-6; and Aaron Ouellette, Bridport, 155-8.
Also, Lily Pike, Middlebury, 155-6; Scott Heath, Starksboro, 149-6; Tyler Hanson, Cornwall, 145-7; Paul Cousino, New Haven, 145-7; Edgar Butterfield, Middlebury, 144-8; Jeffery Hayes, Tinmouth, 144-7; Michael Betourney, Bridport, 142-7; Kegan Brown, Salisbury, 140-6; and Peter Mackey, Salisbury, 140-8.
Also, Ramsey Bronson, Shoreham, 135-8; Colten Butler, Shoreham, 135-7; Ryan Breen, Goshen, 134-4; Pammy Colby, Cornwall, 122-5; Amanda Pennell, Salisbury, 120-4; Ronald Berthiaume, Salisbury, 117-6; Adam DeWeybridge, Middlebury, 113-2; Brad Lambert, Cornwall, 109-3; and Hank Nop, Salisbury, 100-5.
C&S HUNTING SUPPLIES
Hunter Warner, Middlebury, 132-5; Douglas Brown, Middlebury, 121-5; and Nicholas Williams, Middlebury, 114-2.
BUXTON'S STORE 
Jadynn Pope, Shoreham, 155-8; Allison Straley, Orwell, 175-6; Jack Almeida, Orwell, 175-8; Sam Carpenter, Orwell, 157-6; Abby LaRock, Sudbury, 167-10; Owen Thomas, Sudbury, 167-9; Nolan Blakely, Sudbury, 160-8; Charlie Ladd, Cornwall, 157-4; Mike Stone, Orwell, 126-5; Clint Snyder, Orwell, 126-5; and Brandon Eastman, Orwell, 130-5.
Also, Matt Brush, Pawlet, 145-4; Bob Almeida, Orwell, 145-4; Andrew Cillo, Hubbardton, 132-7; Dave Ketcham, Sudbury, 170-8; Clinton Snyder Sr., Orwell, 166-5; Ryan Fraser, Shoreham, 168-6; Anthony Warren, Shoreham, 182-10; Thomas Swenor, Orwell, 146-8; Mark Reginbald, Orwell, 135-3; and Bryan Waters, Ripton, 185-9.
Also, Riley Babbie, Orwell, 124-3; Kira Kemp, Sudbury, 113-4; Rowan Hendy, Salisbury, 150-8; Louis Hall, Orwell, 203-6; Jennifer Gramling, Shoreham, 170-10; Eric Leno, Whiting, 163-7; and Chip Maynard, Orwell, 135-5.
Also, Caleb Wilson, Orwell, 180-8; Tom Purdy, Orwell, 164-5; Joe Buxton, Orwell, 158-6; John Lowell, Orwell, 161-5; and Kyle James, Orwell, 130-4. 
WEST ADDISON GENERAL STORE 
Mark Torrey, Addison, 195-6; Brent Perkins, New Haven, 150-6; James Payne, Cornwall, 137-7; Gabe LaBerge, Shoreham, 154-8; Horace Richards, Addison, 171-10; Cade DeVries, Addison, 102-4; Justin Hoffman, Panton, 130-6; and Scott Curtis, Monkton, 106-4. 
GREEN MOUNTAIN TRAILS END 
Stanley Bigelow, New Haven, 148-3; Philip Lenz, Buels Gore, 191-7; Derek Whitcomb, Lincoln, 117-2; Mark Bedell, Bristol, 141-7; Robert Bedell, Huntington, 110-2; John Gillette, Monkton, 128-7; Ronald Dusablon, Shelburne, 111-4; Philip Bedell, Huntington, 110-5; and Kirk Jennings, Starksboro, 111-4.
Also, Henry Ramsey, Lincoln, 134-2; David Patterson, Lincoln, 113-4; Martin Landon, Weybridge, 125-3; Matthew Marcelle, Starksboro, 141-4; Griffith Mahoney, Ripton, 119-2; Richard Mason, Huntington, 161-5; Pernell Bedell, Huntington, 150-8; Jonathan Jennings, Starksboro, 102-2; and Dusty Grace, Lincoln, 135-4.
Also, Jeffery Sturtevant, Bristol, 177-7; Brian Ramsey, Lincoln, 105-2; Joshua White, Starksboro, 148-8; Miranda Berry, Bristol, 149-8; Kyle Conner, Monkton, 147-8; Mark Hutchinson, Bristol, 144-4; and David Huizenga, Monkton, 148-5. 
Also, Tim Butler, Bristol, 168-8; Thadeus Sorrell, Charlotte, 161-8; Colin Jennings, New Haven, 137-6; Thomas Lathrop, Starksboro, 180-8; Scott Manning, Huntington, 147-8; Steve Hutchinson, Bristol, 149-4; and Paden Lathrop, Bristol, 157-6.
LINCOLN GENERAL STORE 
Tony Porter, Starksboro, 179-7; Ed Lafayette, Lincoln, 169-10; Mark Cousino, Lincoln, 141-4; Alan Clark, Lincoln, 128-6; Kurt Naser, Lincoln, 89-2; Anthony Miller, Charlotte, 170-9; Lance Desautel, Lincoln, 115-4; Chris Acker, Lincoln, 143-6; and Brett Sargent, Fayston, 130-6.
Also, Ben Shepard, Lincoln, 116-2; Robert Cote, Huntington, 125-4; Jody Brown, Lincoln, 110-6; David Jerome, Bridport, 168-6; Peter Ryan, Lincoln, 112-2; Larry Haskins, Huntington, 163-8 Kenneth Russin, 133-5; Frank Bryan, Lincoln, 101-4; and Richard Anton, 125-5. 
RACK 'N REEL 
Maxwell Flynn, Weybridge, 183-8; Adam Streeter, Ferrisburgh, 135-4; Schuyler Coyle, Ferrisburgh, 113-5; Michael Coyle, Ferrisburgh, 126-4; Ross Brooker, Shelburne, 158-8; Lance Mansfield, Duxbury, 149-8; Chauncy Barrows, Ferrisburgh, 135-4; Richard Tracey, New Haven, 138-4; Randall Stearns, Ferrisburgh, 111-3; Bruce Cassidy, Monkton, 137-8; and Tabitha Vincent, New Haven, 133-6.
Also, Brent Jocelyn, Bristol, 148-8; Brian Hayes, New Haven, 136-4; Cyrus Devine, Weybridge, 174-7; Case Roorda, New Haven, 137-3; Eugene Bradford, Ferrisburgh, 100-4; Adam Paquin, Panton, 172-6; Roger Parker, Monkton, 137-7; Roger Parker, Monkton, 137-7; Chad Perlee, New Haven, 157-4; Greg Tucker, Lincoln, 176-4; and Jon Tayler Vincent, Ferrisburgh, 182-7.
Also, Kevin Haight, New Haven, 137-5; Logan Bessette, New Haven, 152-7; Tyler Linehan, Monkton, 151-8; Eric Preston, Panton, 149-6; James Ball, New Haven, 119-4; Christopher Jerome, Hinesburg, 106-4; Joseph Szarejko, Monkton, 110-6; Lance Perlee, New Haven, 116-5; Daren Muzzy, Ferrisburgh, 144-4; and Connor Peet, Williston 155-7.
Also, Matt Huizenga, Monkton, 163-8; Richard Tracey, New Haven, 172-4; Ross Orvis, Hinesburg, 142-8; Mark Livingston, New Haven, 150-4; Cooper Harvey, Charlotte, 143-8; Xavier DeBlois, Ferrisburgh, 150-7; Paul Wildasin, Waltham, 144-7; Adam Laperle, Ferrisburgh, 143-9; James O'Brien, Ferrisburgh, 175-8; and Travis White, Monkton, 112-4.
Also, Kyle Rouse, Bridport, 126-6; Garrett Davis, Bristol, 115-2; Bonnie Spencer, Brandon, 140-6; Caleb Scrodin, Waltham, 157-8; Nathan Bourgeois, Charlotte, 110-6; Jason Lucia, Lincoln, 148-8; Alexander Newton, Waltham, 112-6; Daniel Euber, New Haven, 138-5; Donald Lathrop, Bristol, 148-7; and Kelly Kayhart, Waltham, 152-8.
Also, Ethan Gevry, Addison, 134-3; Kenneth Lafountain, Starksboro, 185-6; Joshua Audy, Starksboro, 138-4; Robert Clark, Bristol, 152-4; Christopher Hansen, Monkton, 145-6; Tristin Coe, Huntington, 157-8; Jonathan Nielsen, Lincoln, 96-2; Ryan Jennings, Starksboro, 148-6; Bruce Many, Monkton, 166-9; and Peter Norris, New Haven, 156-3.
Also, William Hella, Charlotte, 146-7; Christopher Wilson, New Haven, 155-4; Jessica Ben-Jedi, Monkton, 120-6; Logan Kenyon, Vergennes, 139-6; Joshua Quinn, Pawlet, 129-7; Michael Dragon, Middlebury, 132-5; Andre Palmer, New Haven, 186-6; Amos Higbee, New Haven, 136-4; Erik Carruth, Ferrisburgh, 148-6; and Brian Hill, Bristol, 126-6.
Also, Thomas Walker, Huntington, 136-2; Dewey Barrows, Ferrisburgh, 128-6; David Yandow, New Haven, 148-4; Michael Hurlburt, Monkton, 164-8; Zach Botala, Ferrisburgh, 162-8; Jordan Fleming, Addison, 178-8; George Tucker, Middlebury, 162-8; Lucius Cousino, Bristol, 117-5; John Campbell, Weybridge, 175-8; Bradley Hill, Bristol, 163-7; and Brian Jewell, New Haven, 118-4.  
More News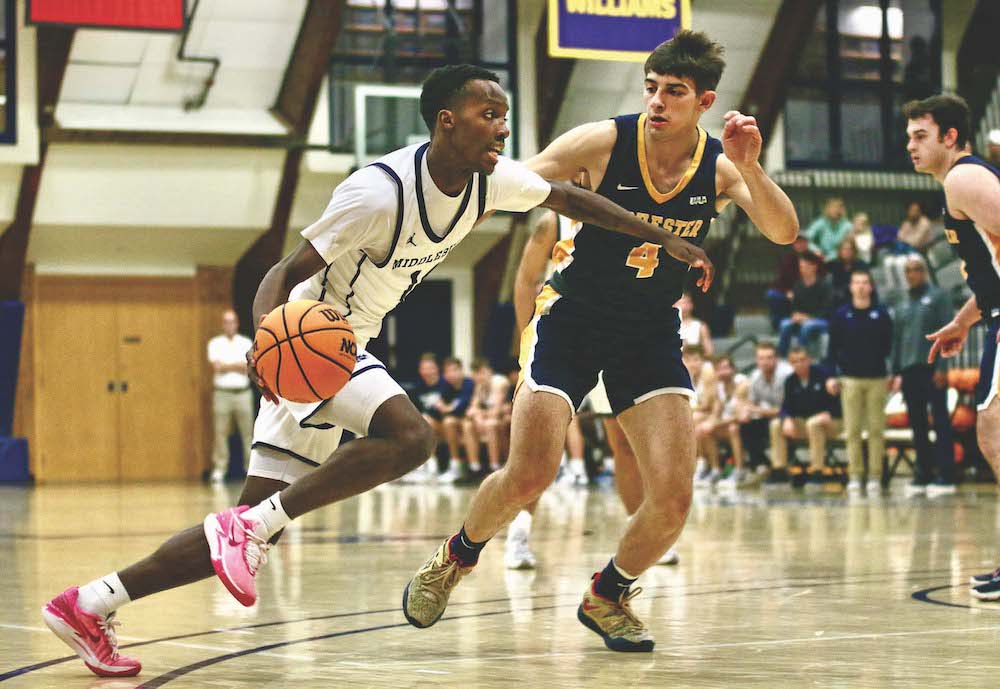 The Middlebury College men's basketball team dropped a pair of home games to teams in the … (read more)
The Middlebury College women's basketball team split a pair of games this past weekend at … (read more)
The Middlebury College women's hockey team lost one game and settled for a tie in another … (read more)