Scott bans multi-family gatherings in Vermont, closes bars and clubs
Vermont Health Commissioner Dr. Mark Levine's recommendations: Quarantine when needed, get tested, wear a mask, remain six feet apart, and answer calls from the health department for contact tracing.
Gov. Phil Scott on Friday said the state is "at a tipping point" with the recent influx of COVID-19 cases. He announced a ban on inter-household gatherings, the closure of bars and social clubs, and the cancellation of recreational sports leagues as the COVID-19 case count rises in Vermont.
The governor said that too many Vermonters have not been following the state's guidance on social distancing and limiting in-person gatherings. He, also indicated that Halloween parties contributed to the current rise in coronavirus cases.
"Given our recent case growth, we have no choice but to restrict social gatherings, whether at a home, a bar or in a parking lot," Scott said. He added "multi-household gatherings, both inside and out, whether in public or private spaces, are prohibited."
He said the restrictions applied to upcoming Thanksgiving celebrations and included not taking a walk with a neighbor.
"I know this is incredibly discouraging," Scott added. "Especially because many of you have worked so hard. And we've had much success for so long. But the fact is, people getting together, not being careful and letting their guard down, is why we're in this position today."
The governor said outbreaks have been traced back to private social gatherings like "baby showers, tailgate parties, deer camps, and other small gatherings like barbecues where multiple households are getting together and not wearing masks or staying physically separated for long periods of time."
College students returning home are required to quarantine for 14 days or seven days after a negative COVID test, he said.
Telework is required whenever possible, the governor said. In-person meetings are discouraged, and only essential workers and the schools can continue in-person work.
Scott added that bars and social clubs must be closed as of 10 p.m. on Saturday. He said restaurants could remain open for in-person service, but only until 10 p.m. (when they can continue take-out service
The governor also announced that recreational sports would be put on hold, apart from those sanctioned by the Vermont Principals' Association.
"Admittedly, this one is hard for me, because our kids are trying so hard, but it continues to be another opportunity for gathering and can spread the virus among multiple counties and multiple schools," Scott said.
"This is different from the beginning. This is about socially isolating, separating in some respects," Scott said, including seeing neighbors or friends outside.
"You shouldn't get together for horseshoes or having a beer or coffee or anything like that, you need to stay away from each other," he said.
Scott said he hadn't seen his own mother in person for a year, nor his daughter, who lives in Rhode Island.
Vermont reported 84 cases of the virus Friday, according to slides at the press conference from Dr. Mark Levine, commisioner of the Department of Health.
Those cases were lower than the previous day's total, revised upward to 116, but remain far higher than the average number of new cases the previous week, according to Department of Health data.
The state also reported 21 people currently hospitalized for the virus, another rise from previous days. Three of those were in the Intensive Care Unit.
Every county reported at least one case, but Washington County reported the most, with 26 cases. It reported 48 cases the day before.
Test positivity remains low at 1.1%, compared to the state's benchmark of 5%, but it is rising. It remained at less than 1% for most of the summer and fall.
A rise in social spread
The state Department of Health tracks any new COVID exposure situation at a central location, like a school, worksite or long-term care facility.
Early this week, there were eight new situations. Then 16. The total now stands above 80, Levine said.
Scott said the Washington County outbreak started at a Montpelier ice rink could be a reason for the high rate of cases among residents there, but that transmission had spread too far to tie it to any one link.
Levine said the state was tracking a total of 17 separate outbreaks, too many to go into in detail. But many could be traced to social events: parties, cookouts, work meetings and get-togethers, he said.
Since Oct. 1, 71% of cases associated with an outbreak came from a private party or social gathering. He asked Vermonters to be careful.
"We need to make these sacrifices now," he said. "The decisions we make now will determine our future."
Levine said that the multiple outbreaks and rising cases could pose a challenge to Vermont's contact tracing team, which is designed to handle a limit of about 90 cases per day. He urged Vermonters to pick up the phone when the department calls and comply with requests to quarantine.
The DOH has brought in their reserve tracing team to help handle the rising cases, and is considering further measures to expand its capacity, he said.
Levine said that Vermont is on a threshold, and the decisions Vermonters make now will have effects through the winter months. His recommendations: Quarantine when needed, get tested, wear a mask, remain six feet apart, and answer calls from the health department for contact tracing.
"Whether it's friends or our own family members, we need to limit any social activities to our own households, to protect all people that we can't even know we put at risk, where we work, where we learn where people live in situations that might make them more vulnerable," Levine said. "And unfortunately, we need to make these sacrifices. Now. The decisions we make now will truly determine our future as we head indoors in these colder months. If we can act at this critical moment in time, our actions will still make a difference.
"Remember our very basic priorities and goals: keep people working, keep kids in school and save lives and hospitalizations by decreasing the number of cases," he said.
 
 
 
 
More News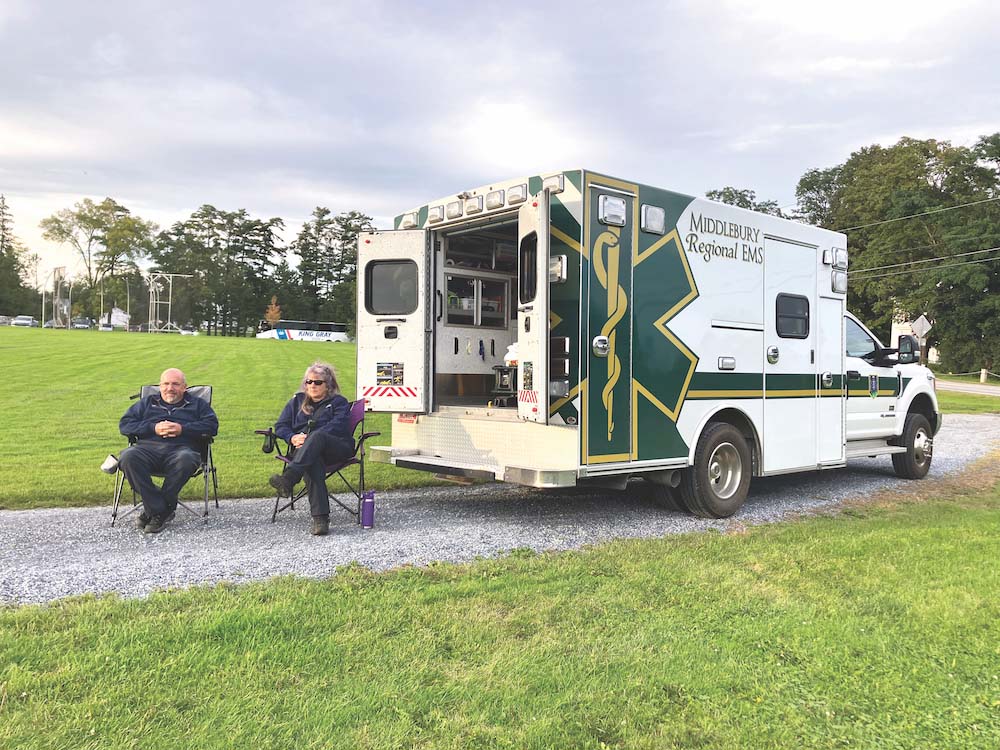 Middlebury Regional Emergency Medical Services wants to eliminate its annual Town Meeting … (read more)
Middlebury police are investigating the death of a Middlebury College junior and say the p … (read more)
In the course of her almost 101 years on Earth, Vergennes resident Margaret Clifford, bett … (read more)