Middlebury man flew combat missions as chopper pilot in Vietnam
My girlfriend wanted me to be a cook or something, so I'd stay on base, but I thought flying a helicopter would be cool.
— Chief Warrant Officer Allan David Hamilton
MIDDLEBURY — U.S. Army helicopter pilot Allan David Hamilton was a light sleeper in Vietnam.
Many nights during his 1967-68 tour, his post on Bien Hoa Air Base, which was located about 16 miles northeast of Saigon, was attacked by rockets or mortar fire.
"The VC (Viet Cong) would come out of the jungle, prop rockets on (improvised crossed) sticks and aim them," recalled Hamilton, a Middlebury resident.
The 68th Assault Helicopter Company he served in — as warrant officer, then chief warrant officer — was tucked away in the "back end" of the base, Hamilton said, so he and his fellow "Top Tigers" suffered fewer direct hits.
Still, he slept so lightly that on nights when surveillance flights detected imminent danger and radioed it in to the base tower, and the guy in the base tower sounded the air-raid siren, "I could hear him hitting the button," he said with a chuckle.
Hamilton enlisted in the U.S. Army in 1966 with the goal of becoming a helicopter pilot.
"My girlfriend wanted me to be a cook or something, so I'd stay on base, but I thought flying a helicopter would be cool," he said.
After basic training at Fort Polk, in Louisiana, Hamilton attended the U.S. Army Primary Helicopter School at Fort Wolters, Texas.
The helicopter he first learned on was so light, even toy-like, that it was affectionately known as the "Mattel Messerschmitt." Its controls were hypersensitive, and like many beginning pilots, Hamilton found hovering to be a bit of a challenge.
"Flying and landing were fine, but hovering … I thought, 'Oh, man, I really am going to end up as a cook,'" he said.
But he eventually mastered it, and after completing his training at Fort Wolters, Hamilton moved on to the Army Aviation School at Fort Rucker, Ala., where he spent 20 weeks learning to fly Hueys. 
He graduated as an aviator on Aug. 29, 1967, was appointed a warrant officer, and shipped off to Vietnam.
Upon arrival at Bien Hoa, Hamilton participated in 53 straight days of combat assaults, piloting one of 10 Huey "slicks," or transport ships. The slicks, escorted by a handful of gunships, inserted troops in jungles, paddy fields or woods.
Sometimes Hamilton and his fellow pilots had to make multiple trips per mission, bringing in reinforcements. Other times, they medevacked the wounded.
During these and subsequent missions, "getting shot at was not unusual," Hamilton said. "There were plenty of holes in my (helicopter) that just missed me."
He recalled one landing zone where the Viet Cong greeted them with the .51-caliber guns known as "copter killers."
The rounds, with intermittent tracers, "looked like basketballs coming at us," he said. "We were flying right into it." One round whizzed past on his left; a few moments later another whizzed by on his right. "Then I wondered where the middle ones had gone."
On another mission Hamilton took off from nearby Tan Son Nhut Air Base, intending to transport a Long Range Patrol (LRP) unit, when he took fire from the ground. Despite the damage to his throttle linkage and the ship's electrical system, he was able to steer clear of their attackers and get back to base safely.
These and other moments impressed upon Hamilton a sense of the randomness of battle.
"Troops got shot right behind me, right behind my seat," he said. "A foot or less to the left and it would've been me."
Some of his fellow pilots, crew chiefs and gunners were also taken too soon.
"A lot of my friends in the company and a lot of my flight school friends are on that wall in Washington," Hamilton said, referring to the Vietnam Veterans Memorial that lists the 58,000 Americans killed in the Southeast Asia conflict.
One was fellow pilot Paul Hill.
After saying his name, Hamilton sat silent for a moment, looking away, his light blue COVID mask partially obscuring an expression of sorrow.
Hill was killed on May 12, 1968, when his helicopter crashed during hostile action, according to 68thahc.com, a website created by company members.
Hamilton wiped his eyes.
"When people were killed in action, you didn't go to their funeral," he said, and left it at that.
Though he had achieved his goal of piloting helicopters, Hamilton didn't experience many of the calm, peaceful moments that are often associated with flying.
Mostly he just suffered from the heat.
"It was hotter than the dickens," he said. "Even flying was incredibly hot."
In addition to flak jackets, ship crew wore ceramic breastplates, which in the sitting position reached from neck to thigh. The plate was so large that Hamilton couldn't fit into his seat with his sidearm holster on.
Hot as it was, though, the gear saved lives.
"One gunner got hit in the breast plate and it shredded the inside of the flak jacket," which prevented the bullet from ricocheting into his body somewhere. The gunner suffered from bruising but got to keep his shattered breastplate as a souvenir.
Just shy of a year in country, after surviving countless flights, the Tet Offensive, and occasional missions to Cambodia, to insert or extract LRPs, Hamilton returned stateside and spent the rest of his enlistment training future pilots at Hunter Army Airfield in Savannah, Ga.
The Army offered to make him a first lieutenant, but he figured that would probably mean going back to Vietnam so he declined.
Now 77 and living in Middlebury, Hamilton doesn't spend a lot of time thinking about his service.
"I had my adventure and I survived," he said.
Occasionally he'll see a Huey and wonder how he ever managed to fly one. Other times he'll ask himself, "How did I get through that?"
His answer: "We were young. I might have been a little older than some of the guys, but I was just a kid."
Between 1965 and 1971 nearly 1,000 personnel served in the 68th Assault Helicopter Company — the Top Tigers and the Mustangs. Thirty-two were killed in action. 
More News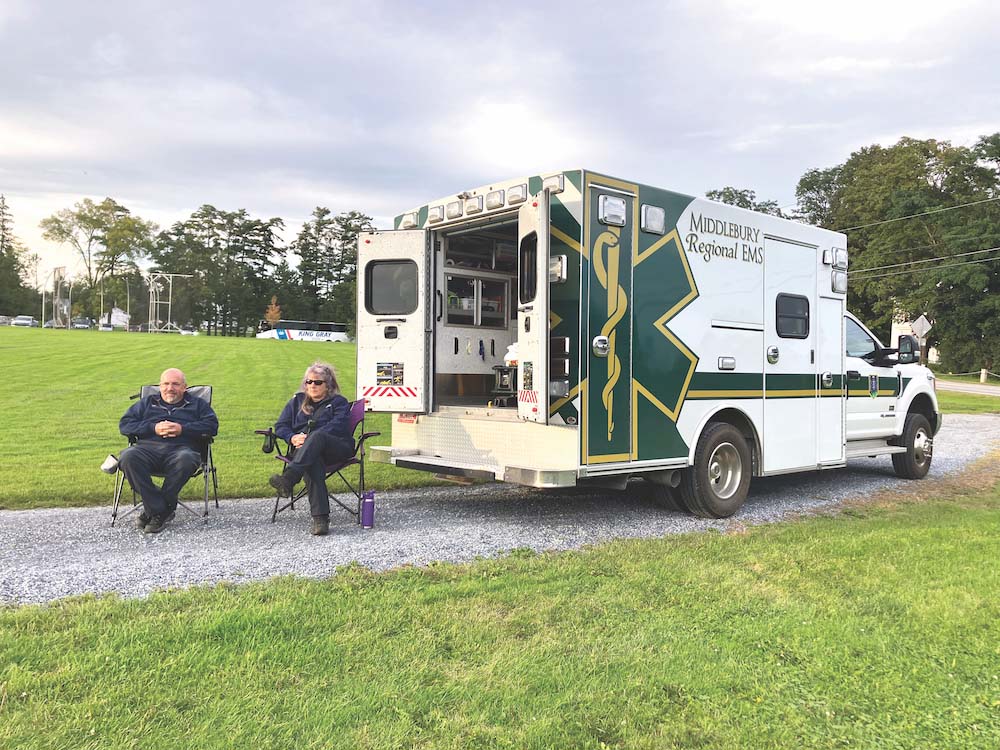 Middlebury Regional Emergency Medical Services wants to eliminate its annual Town Meeting … (read more)
Middlebury police are investigating the death of a Middlebury College junior and say the p … (read more)
In the course of her almost 101 years on Earth, Vergennes resident Margaret Clifford, bett … (read more)