Matthew Dickerson: Muted colors (and expectations)
The rain came rolling in on Thursday with a forecast of three days of precipitation. After a summer both dryer and warmer than average, the state needed rain, so I didn't complain too loudly despite the risk to my fishing plans. By Friday, however, it had become clear that the rain wasn't going to last as long as initially anticipated. When I saw it was supposed to peter out by dawn on Saturday, I messaged Brian Cadoret and we shifted our scheduled outing from "tentative" to "definite."
On Saturday, I pulled into the riverside pull-off and Brian was waiting for me, rigging his rod. A few minutes later, my son Mark joined us. I'd asked him to come along and take some photos for a magazine story I was working on. Although Brian is a professional fly-fishing guide (streamandbrook.com) and has dozens of waders, I didn't think to ask him to bring an extra pair for Mark. I gave Mark a pair of my sandals instead, and suggested that maybe the water wouldn't be terribly cold. 
In my defense, I had my mind on something other than keeping my photographer's feet dry. I was thinking more about finding a really big fish for him to photograph. October can be a tough month for river fishing in Vermont. It is neither the rain nor the colder autumn air that is the issue. It's the frequent gusty wind that makes casting a fly more challenging. Another challenge is the large number of leaves floating in the current. Not only does the fallen foliage swirling down the current — both atop and below the surface — make it more difficult for a hungry fish to see the anglers' offering, but the flies are constantly snagging those leaves rending the flies temporarily ineffective, and creating a constant inconvenience for the angler who must pull them off. 
Despite the unpredictability of late season fishing — fantastic one day, fruitless the next — it is still a wonderful time to fish in Vermont. The setting of a Vermont trout stream flowing through or off of the Green Mountains is especially beautiful this time of year. Even a year like 2020 when many trees, stressed from a dry summer, have cast off their leaves early or transitioned past brighter hues to the more subtle rust or golden brown, there are always those spectacular individual specimens that set the streamside aflame in red and orange.
Also, it's the season when brown trout spawn. Those big hogs that lay low and hidden in deeper water most of the summer are suddenly on the move, looking for good spawning water, and good mates. They can be wonderfully aggressive chasing food or defending territory. It was those big fall brown trout that Brian and I were imagining when we made plans to meet.
Another positive aspect about October fishing is that the rivers tend to have fewer anglers on them. Between cold damp weather, kids back in school, and the lure of hunting season, competition for the good fishing holes is rarer. 
Although, as it would turn out, rarer is not the same as non-existent. From the start of our fishing day, we were aware of another vehicle pulled off beside the river just a hundred yards upstream. The anglers themselves were further upriver, but they were working their way down toward us. And before we left our first location, yet another vehicle would pull in and start fishing a few hundred yards upriver from that. Nonetheless, we rigged our rods, chose flies, and fished our way carefully through a dozen good-looking spots downstream of our vehicle. 
Mark followed along and took photos. He got a lot of good action shots, and even found a tall streamside tree still sporting bright orange leaves that made a great backdrop for one series of photos. What he didn't get any photos of, however, were big fall brown trout on a spawning mission. Not even any little ones. Over two hours, we covered a couple hundred yards of river and I saw only one fish that briefly swirled my fly on two successive casts and then disappeared down into the depths not to be seen again.
Finally, we headed upriver to try a different spot. The terrain was steeper here. Instead of a meandering stream flowing past logs and around undercut banks, here it was tumbling brook dropping in and around boulders from one plunge pool to the next.
Brian was the first to land one: not the hoped-for big brown trout, but a somewhat smaller — though still beautiful — brook trout. Much as I enjoy catching big fish, I am always delighted to find brookies in Vermont water. Even though they are stocked heavily in the state, the brook trout (Salvelinus fontinalis) is native to Vermont. In fact, it is the state fish. Brown trout (Salmo trutta), by contrast, are not native anywhere in North America. They are an import, originally from Europe. The place where Brian landed the brookie is usually dominated by non-native brown trout and rainbow trout. The brookie was a pleasant surprise.
We continued to fish for three hours, working both the longer deeper holes and the smaller plunge pools. Eventually I landed a brown trout — not a big beast, but a modest-sized fish just over a foot long with lovely golden-olive skin decorated by a mix of dark brown spots and softer lighter earthy brown circles. I kept it cold and wet beneath the water until Mark could come over and catch a few photos. 
By the time we called it quits later in the afternoon, we had each landed a second fish, both brook trout. And we had also made plans to get back before the season came to a halt at the end of October. 
More News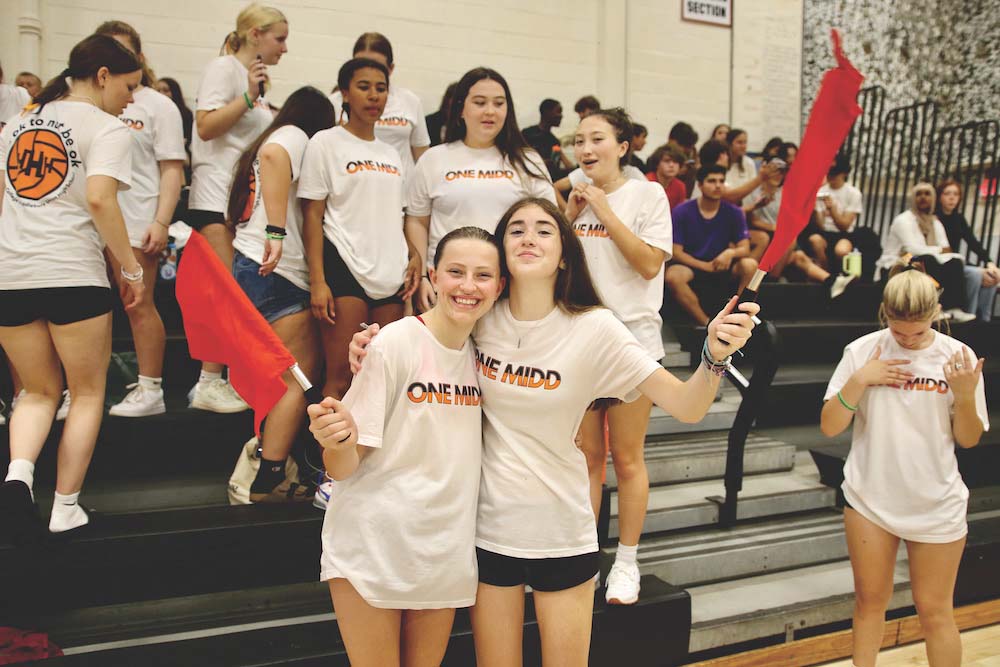 Considering the Middlebury Union High School volleyball team's decidedly successful record … (read more)
In a hard-fought girls' soccer match on this past Saturday, Middlebury outlasted Vergennes … (read more)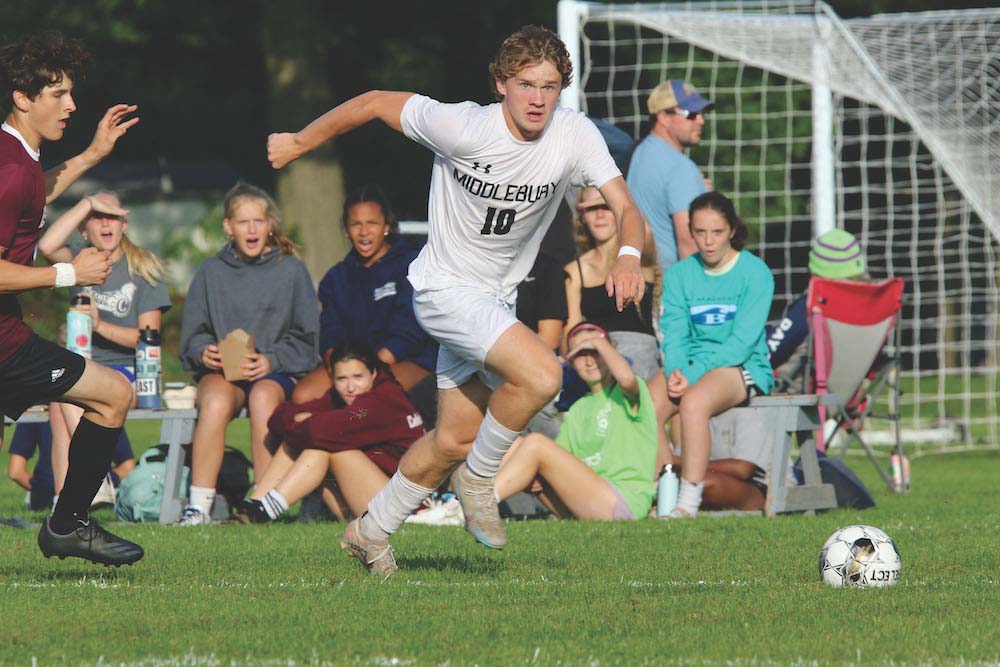 The Middlebury Union High School boys' soccer team survived a scoreless first half in whic … (read more)