Senior Lifestyles: Winter adds new pandemic challenges
Visiting elderly relatives inside with good masks on, opening a window for air circulation and staying 10-12 feet apart, and speaking in a very loud voice, will become a skill that most families are going to have to commit to.
— Joanne Corbett
MIDDLEBURY — If there was one silver lining to the COVID-19 pandemic, it was that arrived at the beginning of spring, when people of all ages could at least congregate outdoors with appropriate face attire and social distancing.
But a Vermont winter is nipping at our collective heels, prompting concerns about how seniors will be able to interact with other people and access diversions when their universe becomes distilled to just a few rooms at home.
"It's not a happy picture," said Joanne Corbett, executive director at Elderly Services Inc., known as ESI.
"We, at ESI, feel like what you're supposed to do for safety to avoid the virus is the polar opposite of what we've advised people over the years to do, in terms of our mission. We've been totally about connections, engagement, touching, affection. And now, the age group that we are serving is being told to stay as distant from people as they can. So we're in a real dilemma."
A dilemma that ESI and seniors are committed to solving with technology, attentiveness and a series of online offerings aimed at warming the hearts of people who might otherwise lapse into a pattern of self isolation.
"People need to figure out now how they're going to have some social connections continue through the next six months," Corbett said. "A lack of social connection is a leader into depression symptoms, but also increasingly, they're saying that if you don't keep up a reasonable level of social engagement, there's a correlation to your memory getting fuzzy — and nobody wants that."
Corbett and other ESI social workers are happy to chat with seniors on the phone and advise them, or their families, on how to organize regular telephone conversations.
"It might sound funny, but we often program daily or twice-daily telephone connections between family members all over the country, splitting up the responsibilities for making contact and having conversations with their parent or grandparent," she said. "Families aren't used to doing such a formal setup, but it can be very helpful."
Staff can also help seniors cultivate friendships that can in turn enhance their support network.
Elders need to set up routines to break up what might be a boring day. That routine might include individualized entertainment options — including uplifting TV programs and exercise regimens — as well as safe ways to talk to other people. ESI workers are also skilled at helping facilitate those things and can refer seniors to possible walking companions for periodic outdoor jaunts
Elderly Services provides one individualized consult for free to anyone in Addison County. The organization can bill Medicare for ongoing consults, according to Corbett.
OUTDOORS AND ONLINE
In the meantime, it's clear people are trying to prolong their outdoor experiences as long as possible, according to Corbett. She noted COVID-19 has generated a run on outdoor heaters, with many stores running out. People are installing the heaters on outdoor patios and decks, thus allowing seniors to enjoy company with the proper social distancing even as frost begins to coat the browning blades of grass.
Also in high demand: Laptop computers that families are buying for seniors living independently. The new devices come with a steep learning curve for some seniors, so the investment might include tech help. Elderly Services tech Geetha Wunnava has been helping seniors learn how to patch into Project Independence programming. Project Independent is an adult daycare program ESI has offered for many years at its headquarters off Middlebury's Exchange Street 
And that diverse programming is currently being Zoomed each weekday to roughly 140 Project Independence clients, who are able to renew acquaintances online while they watch, learn and enjoy.
PI Zoom activities run Monday through Friday. There are four activities offered each weekday, including performances by some of the county's most talented musicians and singers, exercising, devotional services and seminars. Offerings last week included Bridge School students presenting their art projects, "Creating Coloring," and Bingo. And for those whose eyesight is failing but still love local news, "Zosha reads the Addison Independent" is offered on Fridays. 
Folks who want to partake can pay a monthly fee that allows them to participate anywhere from one to five days per week. A menu of activities and other details can be found at the Elderly Services website, elderlyservices.org.
ESI has invested considerable time and expense into making its Project Independence programming virtually accessible.
During a recent Zoom chat, Elderly Services Assistant Director Kristin Bolton and Activities Director Ken Schoen showcased the sophisticated new microphones, performance space, and a rotating webcam that can cover entertainers and class leaders from all angles.
LIVE PERFORMANCES
Schoen said he originally considered Elderly Services' spacious game room as a central location for performances to be conducted for the Zoom audience.
"We realized the way air moves in the building, that might not be the smartest idea," Schoen concluded.
But Elderly Services officials quickly found a more appropriate performance spot, thanks to a penny-whistle enthusiast who serendipitously discovered that his tune carried beautifully in the building's back stairwell. It has a 30-foot-tall ceiling and good ventilation, according to Schoen, 
Schoen drilled holes in the base of the wall to install proper wiring, and — voila — a nice, albeit unorthodox place for small combos or soloists to strike up a tune while wearing face coverings.
"It's now called 'the Cathedral Studio' because it has acoustics like a cathedral," Schoen said with a big smile.
Cathedral Studio is hosting a performance each day that's accessible to PI participants.
"We're still perfecting it, but it's working wonderfully," he said.
Schoen is also pleased with the interactive "creative coloring" feature that's part of the PI offerings. Elderly Services staff drop off coloring supplies and packets to around 20 participants in the county. They create wonderful artwork, and gather regularly on Zoom to brush up on their techniques and showcase their latest work.
"As horrible as everything is that's going on (with COVID-19) … we keep finding ways to get that oxytocin going for folks, so they can stay connected in a wonderful way," Schoen said.
Folks can get regular doses of intellectual stimulation through the "ESI College." 
The ESI College each year gets volunteer instructors, many of them Middlebury retirees and folks with special expertise in a variety of subjects and disciplines. Prior to COVID, these instructors would regularly deliver their seminars on-site to an appreciate crowd at Elderly Services.
But the pandemic has changed the way people interface, so ESI has had to take its program — roughly three classes per week — online. Addison Independent columnist and retired Middlebury College Prof. of Political Science Eric Davis is among the instructors, and his insights are particularly valuable leading up the Nov. 3 General Election.
Whether its John Elder discussing poetry, Richard Wolfson talking solar technology or Doug Richards evoking William Shakespeare's "The Tempest," there's something to appeal to every curious mind.
"It's a non-distracted audience, which can be a rarity," Bolton said.
The cost is $10 per session, which typically lasts 60-90 minutes.
"It's made a big difference for people," Bolton said of ESI.
Bolton marveled at how Elderly Services has been able to pivot so quickly from in-house activities to an online lifeline for scores of seniors throughout Addison County.
"There are other adult day centers that don't have our bench strength, in terms of technical skills and an attitude of innovation and a desire to figure it out," she said. "People who work at adult day centers are good being with people in person. Now, we're having to figure out this technological interface to provide that kind of 'touch.' How do you feel connected when there's this barrier and you have all this people who haven't been comfortable with a computer? I feel we're really lucky to have the staff we have, and a community that's interested in figuring it out with us."
Corbett is also pleased with ESI's efforts, but still stressed the importance of personal contact this winter. 
"Visiting elderly relatives inside with good masks on, opening a window for air circulation and staying 10-12 feet apart, and speaking in a very loud voice, will become a skill that most families are going to have to commit to," she said.
More News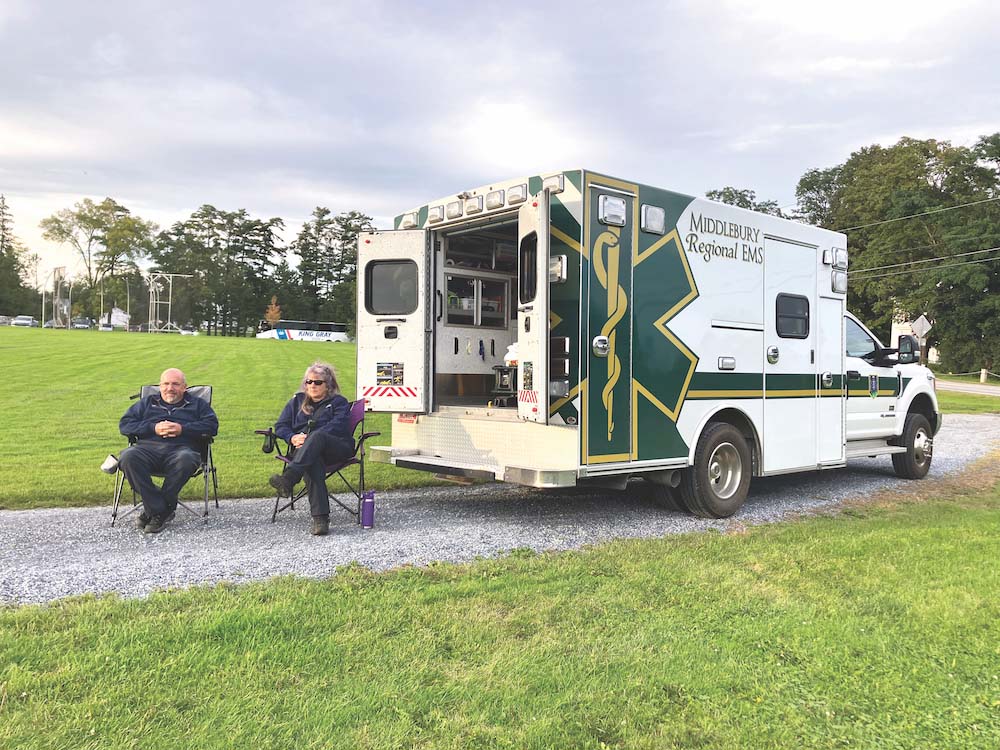 Middlebury Regional Emergency Medical Services wants to eliminate its annual Town Meeting … (read more)
Middlebury police are investigating the death of a Middlebury College junior and say the p … (read more)
In the course of her almost 101 years on Earth, Vergennes resident Margaret Clifford, bett … (read more)