Girls' soccer: VUHS, OV on plus side
ADDISON COUNTY — Wins for Vergennes and Otter Valley highlighted the recent high school girls' soccer slate. Scoring woes left the Mount Abraham and Middlebury teams on the short end of mostly close losses. 
COMMODORES
On Oct. 7 host Milton defeated the Commodores, 1-0, despite three saves from goalie Kate Gosliga. 
On Saturday the VUHS girls won at Springfield, 3-2, as Sydney Weber popped in a pair of goals, and Felicia Poirier contributed a goal and an assist. Goalie Kate Gosliga made one save.
On Wednesday host VUHS (3-1-2) edged Mount Abe, 1-0, when Weber netted the 77th-minute game-winner during a scramble following a corner kick. Gosliga worked a three-save shutout for the Commodores, and keeper Joanna Toy stopped six shots for the 1-4 Eagles.
OTTERS
On Oct. 8 the Otter girls defeated host Woodstock, 3-1, behind strong defense and a pair of Elena Politano first-half goals. Mia Politano set up Elena Politano's first goal, and the second came on a penalty kick. Mia Politano also assisted Bryn Blanchard's strike for OV. 
Coach Tammi Blanchard credited defenders Mallory Lufkin, Brielle Mackie, Lexi Hayes and Aida Polli and goalie Linnea Faulkner. 
On Oct. 9 unbeaten Fair Haven pulled away in the second half for an 8-0 win over the Otters. Slaters Brittney Love, Megan Ezzo and Lily Briggseach scored twice. Both coaches said Faulkner played well for OV. 
On Monday the Otters cruised to a 10-0 win over visiting Mill River. Elena Politano (three goals) and Mia Politano and Blanchard (two apiece) led the attack. Ella Brytowski, Lufkin and Faulkner (getting a chance to play the field) added a goal apiece. Emily Peduto contributed three assists as OV improved to 3-1.
TIGERS
On Saturday host Spaulding tipped the Tigers, 1-0, on Paige Allen's late first-half goal. Tide keeper Rebecca McKelvy made six saves, and Audrey Schnoor stopped 14 shots for MUHS. 
On Tuesday visiting Milton topped the Tigers, 1-0, on an Avril Desautels score. The Tigers forced goalie Sara Ambrose to make 10 saves for the 3-2 Yellowjackets, while Schnoor made a dozen.
On Wednesday the Tigers (0-4-1) fell at Rice, 4-0, despite a combined 13 saves from Schnoor (10) and Julia Bartlett (three). 
EAGLES
On Saturday visiting Milton edged the Eagles, 1-0, on Ana Dykeman's second-half strike. Milton goalie Ambrose made two saves, and Toy made seven.
On Monday the Eagles dropped another 1-0 home game, this time to Division I Rutland. Camryn Kinsman scored for the Raiders late in the first half, and RHS goalie Kathryn Moore stopped five shots. The Eagles lost despite Toy's five saves.
More News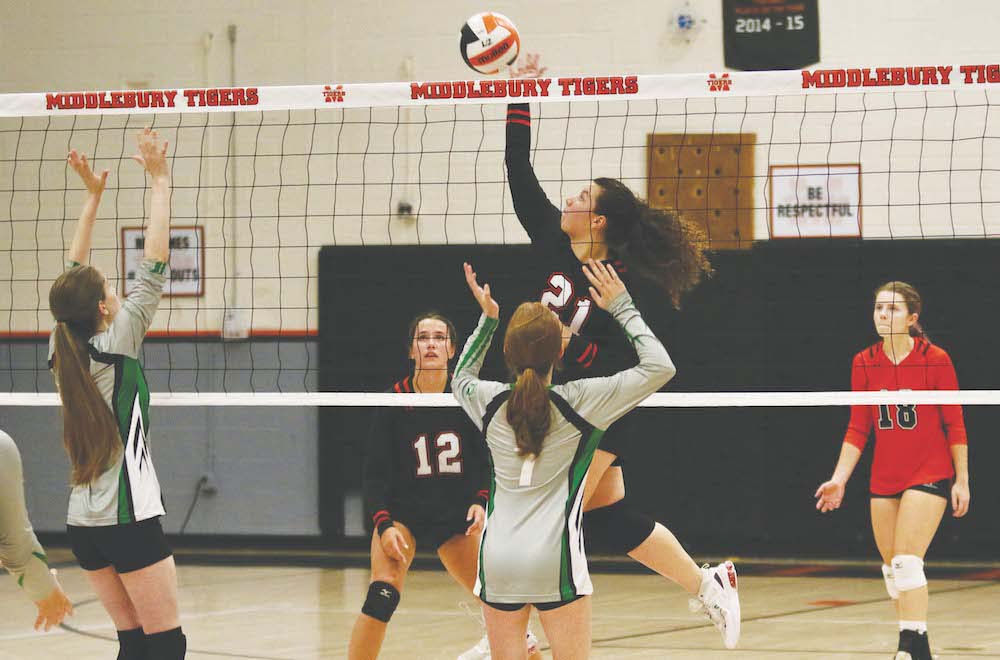 The first-year Middlebury Union High School girls' varsity volleyball team continued its r … (read more)
Soggy conditions didn't slow down Middlebury runners noticeably at a cross-country meet ho … (read more)
I gave Bill Lee a call last week, hoping he was at his home in Craftsbury and we might arr … (read more)