Bristol board to consider town mask resolution
"I've talked with people in the medical field. They're wearing masks. I work with the Health Department — they're all wearing masks wherever they go."
— selectboard member Darla Senecal
BRISTOL — After a downtown store owner raised concerns about employees being accosted by customers who don't want to wear required face masks, the Bristol selectboard is considering a resolution that would express support for local businesses that require masks.
"Yesterday afternoon two teenagers were working on their own in the store when a customer came in and refused to wear a mask," wrote Simon Says owner Maura Donnelly in a July 12 email to the board. "When she was told she had to wear a mask, she said it made her 'uncomfortable' and that she 'didn't agree with wearing a mask.'"
The customer was "rude" and "somewhat confrontational with my employees," Donnelly continued, "and also made an unfortunate remark to them concerning the (Black Lives Matter) in our store window."
Her employees are not alone, she wrote.
"On more than one occasion I have witnessed people reading a sign requiring masks and disregarding it by entering a store without one or complaining loudly at the (Village) Creemee Stand about the mask requirement. It's one thing for store owners to step up and enforce a mask requirement in their business and possibly lose business because of it. It is another for the young people in our community who are working, many in their first job, to have to be in the uncomfortable and unsafe position of enforcing a mask requirement with a potentially confrontational adult.
Following up with the selectboard at its regularly scheduled Zoom meeting on July 13, Donnelly added that she had seen similar behavior at the Maplefields gas station and convenience store on West Street.
She suggested that a mandate or resolution from the selectboard would give local businesses more confidence in enforcing their store requirements.
"'We're keeping everybody safe' is how I frame it," she said. "It's not something I've just dreamed up. We're keeping everybody safe and (the customer is) being a good neighbor by doing this."
SHOWING SUPPORT
The selectboard immediately signaled that it was unlikely to consider imposing a mandate on local businesses.
"I agree that we should be wearing masks when we go into these places, and I don't have a problem with that," said selectboard member Peeker Heffernan. "(But) I don't want to mandate or pass a resolution that tells people they have to."
Board Chair Michelle Perlee and selectboard member Joel Bouvier expressed doubts about the effectiveness of the resolutions passed in Middlebury last month and Vergennes the month before, pointing out that requiring masks in retail stores, municipal buildings and other public places was impossible to enforce.
Still, all five board members did agree that that an official statement of support for Bristol businesses who require masks — which by selectboard member Ian Albinson's count included every single store downtown — was worth exploring, and they will take a look at draft language at their next meeting, on July 27.
Part of the problem that Bristol and other towns are facing, Heffernan suggested, is that many people don't understand that face coverings are less about protecting the wearer and more about protecting everyone else.
"(People saying) 'I don't care. I'm not wearing a mask because I don't care if I get it.' Well, that's not the idea — that you're going to get it. The idea is that I don't want to get it from you, and out of respect for me you should wear a mask," he said. "We should all wear them when we're in that environment — I wholeheartedly agree with that. But I don't know how to say it in a manner that isn't going to be offensive (to some people)."
GROWING MOVEMENT
The number of retailers across the U.S. that require or will soon require their customers to wear facemasks is steadily growing.
On July 15 the national chain stores Starbucks, Best Buy and Panera Bread began requiring their customers to wear face coverings.
The largest retailer in the country, Walmart, and the third-largest, Kroger, will begin imposing that requirement on July 20. Walmart plans to revive its "store greeter" position and to provide extra employee training related to the new requirements.
The Independent spoke with a number of Bristol business owners, all of whom require their customers to wear face coverings. None reported any incidents like the ones that occurred at Simon Says, the Village Creemee Stand or Maplefields.
"Everyone's been cool about (wearing masks)," said Randy Hill, who co-owns the Scentsations gift shop on Main Street.
Vermont Marketplace, also on Main Street, keeps a ready supply of masks inside the door.
"We do require masks and have a supply we offer to anyone who comes in without one," said co-owner Carol Wells. "When we offer a mask to customers who enter without one, the most common response is 'Oh, I have one in the car. Do you want me to go get it?' We offer them a free one to keep as an extra. They usually look a bit sheepish and thank us as they put on the mask. No one, to date, has refused or given us a hard time about it."
Across the street, Vermont Honeylights co-owner Shawna Sherwin, who wears a mask all day, every day, said she has not had any pushback from customers either.
But the selectboard might as well pass a resolution, she said, especially if it could increase mask usage.
TRUSTING EXPERTS
Sherwin pointed to recent statements by U.S. Centers for Disease Control and Prevention Director Robert Redfield, who during a July 14 interview with the Journal of the American Medical Association said that "if we can get everyone to wear masks right now, we can bring this (COVID-19) pandemic under control within four, six, eight weeks."
At Monday night's meeting, Bristol selectboard members cited similar advice from local sources.
"I've talked with people in the medical field," said selectboard member Darla Senecal. "They're wearing masks. I work with the (Vermont) Health Department — they're all wearing masks wherever they go. I talked to the head of pediatrics at UVM the other day (and) he supports wearing masks all the time. If we're not going to listen to our doctors and our scientists, that's a choice you can make for yourself, but if you're looking for advice that's where I'm going to go."
Bouvier asked his wife, who works at Mountain Health in Bristol, what she thought of the matter.
"She said absolutely," he recalled. "Ought to be wearing masks."
Reach Christopher Ross at [email protected].
More News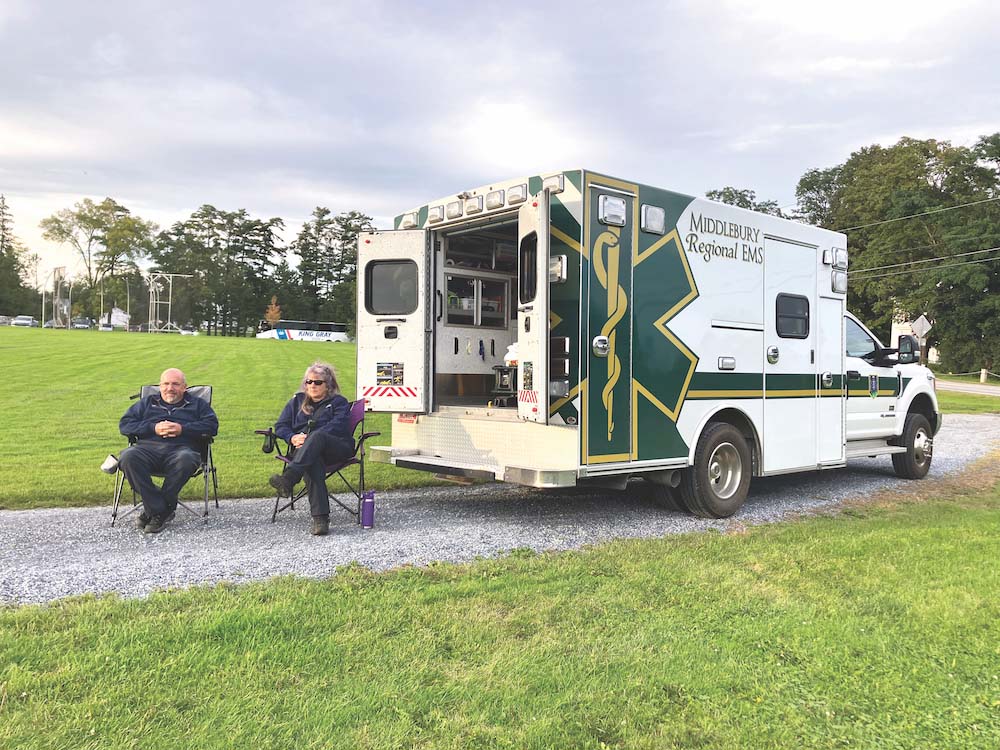 Middlebury Regional Emergency Medical Services wants to eliminate its annual Town Meeting … (read more)
Middlebury police are investigating the death of a Middlebury College junior and say the p … (read more)
In the course of her almost 101 years on Earth, Vergennes resident Margaret Clifford, bett … (read more)