Karl Lindholm: Rearranging the deck chairs on the Titanic
A week or so ago, I met Mike, and he asked me (behind his mask) what I thought of the most recent plan to begin the Major League Baseball season.
"I haven't given it much thought," I told him. "I don't really care."
He was taken aback. After all, with the Addy Indy's help, I have somewhat fashioned myself as "Doctor Baseball," knowing more about baseball than the average bear, teaching classes at Middlebury College on baseball, and its literature, history, and cultural meaning, finding a home in the study of baseball's Negro leagues. 
I had to apologize to Mike for being so brusque. It was an obvious question. Warm small talk. Friendly. It just isn't what occupies my mind in these days.
When the games recommence at the professional level one way or another, soon enough, no doubt I will watch them on TV, but I don't think I will get too worked up. It just seems to me we have bigger fish to fry. 
The endpoint of this pandemic, which circumscribes all our lives, seems to recede every day. We are living in an apparently endless and dangerous uncertainty. Everything we do now, both at a personal level and in larger spheres, is a calculation, a calculation between caution and risk, what's appropriate caution or risk, and what's excessive. 
Maybe yes. Maybe no. Who knows?
No one should be surprised if these pro sports games don't come off in full, or at all. As Dr. Fauci said a while back, and has repeated ever since — we can plan all we want but "the virus is in charge," and the virus recently has shown little inclination to abate, to loose its hold on our collective lives and consciousness, in the U.S. anyway.
So what's going on in sports world? Here are the plans to this point in a nutshell. 
•  MLB: Training camps are open, despite a number of players testing positive for the virus. Games will begin the end of July and will largely be played on a divisional basis (lots of Sox-Yanks) to reduce travel, a total of 60 regular season games per team. Playoffs in October as usual.
•  NBA: 22 teams (450 players) will live in a "bubble" at Disney World in Orlando, Fla., in order to finish their 2020 season. All the games in one place. Teams will play eight games starting July 31 to determine seedings for a full schedule of playoff games, ending no later than Oct. 12. 
•  NHL: The plan is to run a full 24-team postseason tournament, all games being played in two "hub" cities, yet to be announced. Training camps have opened; games will begin in August.
•  NFL: Training camps will open in July, a shortened exhibition schedule will be played in August, first real game on Sept. 10. 
That's the outline anyway. No fans: all games will be played in empty stadiums and arenas, of course — only a fool would put lots of fans in close proximity in one place, especially indoors, right?
So maybe a better response is for me to say if the pro leagues begin play or finish their seasons, I'll likely be watching. 
Players in these sports will get sick, inevitably, are already sick. How much sickness will be tolerated? Players have been frank in expressing their misgivings about playing, their safety, despite the money involved. Milwaukee pitcher Brett Anderson asked last week, "What happens when we all get it?"
Like I said, we'll see.
And what will happen when schools reopen in the fall. How can school teams play sports like football, soccer, and field hockey, where the physical contact is so intimate? Can that possibly be safe? Dr. Fauci said last week: "It would be very hard to see how football is able to be played this fall." 
I am more concerned with the resumption of sports locally than I am nationally. I believe, as Tip O'Neill said of politics, all sports are local. I get through the dark Vermont winter by going to basketball games at the college.
Maybe Trump's right. It's all an exaggeration, the "China flu." We are over-reacting. We should just get back to work and play and worship, and live with the consequences, widespread illness and death merely collateral damage, just as we live with traffic fatalities and deaths from gun violence. Law of averages: most people will not get it, the fatal virus, and those who do, will get over it,
. . . unless of course they are old (like me). 
On top of this unprecedented health crisis now, we have protests and violence in the streets in America, the result of the murder by police of unarmed black citizens. Talk of "Race War" trips off the tongues of some people. The social fabric has frayed, perhaps beyond repair (if it were ever fully intact). 
From 2008-2016, we had an African-American President, a black family in the White House. We were preparing for our first female President.
Now we have this leadership in the country, and these crises. It would be a blessing if that leadership were merely inept. 
And, oh yes, the Arctic is on fire, the permafrost melting.
I know that in times of crisis in the past, sports were regarded as a much-needed diversion. In his famous "green light" letter in 1942 after Pearl Harbor, President Roosevelt wrote, "I honestly feel it would be best to keep baseball going."
But this is different from a war overseas. This is intimate, everywhere, in the streets, in our homes, in our smallest gesture to our most fundamental existential concerns. Now, a handshake, an embrace, a kiss are dangerous, even life-threatening — or certainly perceived to be and thus avoided.
So, tell me, how can I worry deeply about the Red Sox pitching, or speculate how Gronk and Tom will do in Tampa Bay? At this point, do I care whether MLB plays 50, 60, or 100 games? 
In this cultural environment and moment, this annus horribilus, to be intensely concerned with sports, in all of its minute detail, seems to me like rearranging the deckchairs on the Titanic. 
More News
Tiger boys' cross-country team held off runners from Burr & Burton, VUHS and Mount Abe in … (read more)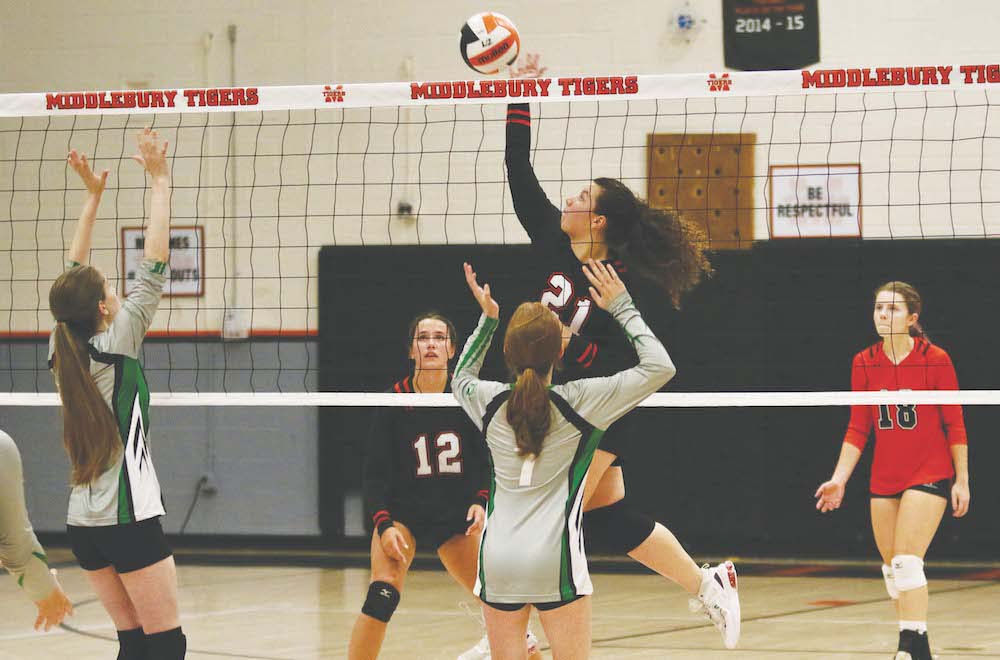 The first-year Middlebury Union High School girls' varsity volleyball team continued its r … (read more)
I gave Bill Lee a call last week, hoping he was at his home in Craftsbury and we might arr … (read more)