Karl Lindholm: Meet the fastest woman in Middlebury sports history
In the new (2015) field house at Middlebury College, against the north wall (nearest the main entrance), down on the actual playing surface, large boards behind glass list the individual record holders in track and field — men and women, indoors and outdoors.
It's hard not to take special note of the first name among the women's outdoor records, right at the top: the record-holder in the 100 meter dash — "Tracey Thompson, 11.9, 1979."
That's a record that has stood for over 40 years, and withstood the challenge of hundreds and hundreds of runners in this exciting event that often culminates a track meet: the fastest runners going the shortest distance — a line of lithe athletes, tightly bunched, exploding down a straightaway.
Who is this "Tracey Thompson," officially Middlebury College's fastest woman ever? 
In the words of Middlebury track coach at the time, Peter Sundheim, she was "a Division I talent as a sprinter, a great competitor who worked hard in a difficult environment. The Vermont weather, a cinder track, made it hard to compete at the highest level, but she did. Look at her times!
"More than that, she was humble, hard-working, confident, just a great person to be around, liked and respected by all she came in contact with."
Terry Aldrich, Middlebury's Hall of Fame ski and cross-country coach, was the youthful coach of the runners on those teams. Of Tracey, he said, "She was a very gifted natural athlete, incredibly fast."
Tracey's record-setting race provided great drama. The competition was the Vermont State Meet held at UVM's Archie Post Field on Saturday, April 30, 1979. Don Fillion of the Burlington Free Press wrote the next day:
"Individual performances stole the spotlight … Ten records fell in the nearly six-hour meet, two each by Middlebury's Karin Von Berg and Tracey Thompson. Thompson twice whipped UVM's Winsome Jackson in the sprints, setting a blistering pace of 11.0 in the 100-yard dash and 25.8 in the 220. The times broke field and state marks.
"Thompson was named the outstanding runner in balloting by the coaches."
There are unavoidable questions about Tracey's 100-meter record, as her record-setting time was actually converted from a 100 yard race and timed by hand (stopwatch), as electronic timing was not universally available. 
These factors were hardly of Tracey's doing — she just showed up at a race and blew away the field. She ran some races at 100 meters and others at 100 yards. She had the misfortune of competing just as the U.S. track and field establishment was joining the rest of the world in using metric standards. 
According to Martin Beatty, Middlebury track coach since 1989, the "standard conversion" from yards to meters brings her time in that record setting race to 11.9, the current record. "Tracey's time is so significant and exemplary," he contends, "it deserves to be up there. I am happy to make that decision. Tracey was amazingly fast and is the fastest woman we have ever had at Middlebury."
Even when "converted" further to electronic timing, the 12.14 would still be the school record, and as Beatty added, "that time would also make her the NESCAC champion most years."
She was no one-race wonder, though she did only run at Middlebury as a sophomore and a senior. She didn't compete as a freshman, "because there was no team," she says, "so I ran with the boys!" She was joined in her sophomore year by a first-year distance runner, Karin Von Berg, and together, they wreaked havoc on the track in 1977 and '79.
Von Berg became one of the top distance runners in the country, winning the National AAU 10K Championship in 1979. She was inducted into the Middlebury Athletic Hall of Fame in 2015. 
Tracey grew up in Red Bank, N.J., the second of three daughters. She started running early. "I had a very good coach at home," she says, and she means literally "at home": her dad, Stafford Thompson, was himself "a runner of some note, who had run for the Pioneer Track Club of New York, and trained with a number of Olympians." 
In the summers, Tracey ran in highly competitive AAU track events: "Track in New Jersey! … It was great competition."
"Not particularly challenged" in school in New Jersey, Tracey spent grades 10-12 at the Putney School (in southeastern Vermont). "It was a small school, only 200 students, on a farm — I loved it there." Middlebury was the only college she applied to. "Vermont," she had concluded, "is where I belong."
A Spanish major at Middlebury, Tracey spent her junior year abroad in Madrid and she did the best she could to train while there. "I was quite a curiosity," she wrote recently. "I ran from the apartment where I was living with a Spanish family to the University some blocks away and ran on their track. Women just didn't do that."
Karin Von Berg Noyes reminisced recently about her teammate: "Tracey was a Zen master, humble, with a quiet confidence. I remember the joy of competing with her. She exploded ahead of everyone right out of the blocks, increasing her lead until the finish line."
The week following her triumph in the State Meet, Tracey competed in the NESCAC Track Meet (organized at that time for individual rather than team competition — team scores were not totaled) and she "easily won her two events, finishing first in the 100 meters in a time of 12.5 and in the 200 meters in 25.8," the Middlebury Campus reported. Von Berg won the 800 and 1,500. 
The next week, she and Karin climbed in a rental car with Terry Aldrich and competed in the Open New England Championships in Springfield, Mass. Tracey took a third in the 100m (12.5) and fourth in the 200m (26.2). Four of the top six runners in both events were DI athletes.  
Terry recalls those days: "They were truly Division I athletes at a Division III school. My job was to get them to the meet, make sure they had a number, and get out of their way — and let them run fast."
Tracey Thompson is now Tracey Turner and has been for 35 years. Paul Turner, Midd '78, was a terrific football player on Mickey Heinecken's outstanding teams in the mid-'70s (19-4 in Paul's years).
After graduating in '79, Tracey worked for three years in the Middlebury Admissions Office. She recalls "three wonderful years. I really loved living in the town of Middlebury as a regular resident, not a student. Martin Beatty was one of my best recruits!"
She and Paul have lived in New Hampshire for all of their post-Middlebury lives. Professionally, Tracey has worked in allied medical areas (health care, managed care, insurance). At present she is a Human Relations Technology Consultant: "I solve problems for people."
Able to work remotely, she now spends her winters in South Carolina, so she can indulge her present competitive passion, an equestrian event called "Combined Driving," a carriage driving competition in three phases. 
She was "smitten early with the whole horse thing," and except for her time at Middlebury, she has always enjoyed horses and equestrian competition. In this sport, she has been competing seriously for five to 10 years.
"I can be super-competitive at my age (63). My idols, men and women, are in their 70s!"
Tracey Thompson Turner — Middlebury College's fastest woman.
More News
The Middlebury College football team scored first the outlasted visiting Bowdoin on Saturd … (read more)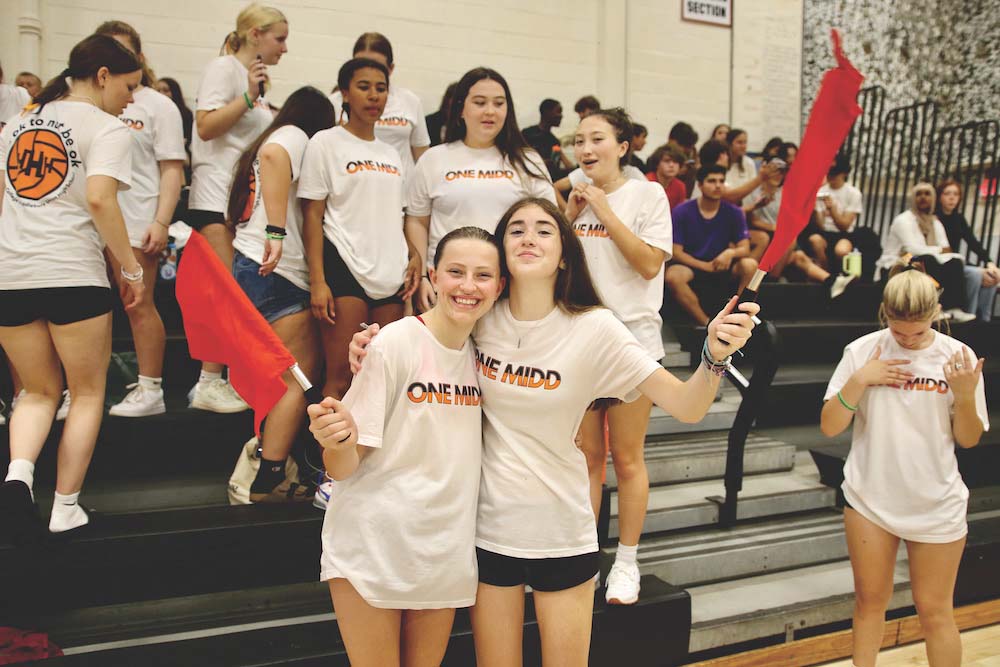 Considering the Middlebury Union High School volleyball team's decidedly successful record … (read more)
In a hard-fought girls' soccer match on this past Saturday, Middlebury outlasted Vergennes … (read more)