Retailers allowed to reopen on Monday
Vermont retailers, closed for seven weeks to halt the spread of coronavirus, will begin a "gradual reopening" starting Monday, Gov. Phil Scott announced this week.
Scott said that all employees at retail outlets will need to wear face covering and maintain a distance of 6 feet, according to VTDigger.org. Stores will also be required to stay under 25% of their maximum legal capacity, and to conduct health and safety training on following state guidelines if they have more than 10 employees.
Round Robin, the Middlebury resale shop that raises money for Porter Medical Center, on Friday said it would be open on Monday. Masks will be available, customers must wear a mask when shopping and practice social distancing.
Addison County Chamber of Commerce has published re-opening guidelines on their website, Middlebury Emergency Management Director Tom Hanley reported in is town bulleting. With respect to customers, businesses may require masks as a pre-requisite for patronage, but this is not a mandate. The following are some of the mandates (to see the entire list go to accd.vermont.gov/news/update-new-work-safe-additions-stay-home-stay-safe-order).
• Employees shall not report to, or be allowed to remain at, work or job site if sick or symptomatic (fever, cough, shortness of breath or difficulty breathing, chills, repeated shaking with chills, muscle pain, sore throat, new loss of taste or smell).
• Employees must observe strict social distancing of 6 feet while on the job. Businesses and non-profit or government entities shall ensure customers observe strict social distancing of 6 feet while on location, to the extent possible.
• Employees must wear face coverings over their nose and mouth when in the presence of others. In the case of retail cashiers, a translucent shield or "sneeze guard" is acceptable in lieu of a mask. Businesses and non-profit and government entities may require customers or clients to wear masks.
• Employees must have easy and frequent access to soap and water or hand sanitizer during duration of work, and handwashing or hand sanitization is required frequently, including before entering, and leaving, job sites.
• All common spaces (when open) and equipment, including bathrooms, frequently touched surfaces and doors, tools and equipment, and vehicles must be cleaned regularly and, when possible, prior to transfer from one person to another, in accordance with  CDC guidance.
• Prior to the commencement of each work shift, pre-screening and health survey shall be required to verify each employee has no symptoms of respiratory illness.
As Hanley says, "The bottom line is, don't be a facilitator of disease spread, and don't expose yourself. Let that be your guide."
HOW MANY IN AT ONE TIME?
The guideline for occupancy is 25% of capacity. Any commercial building or building for public gathering should have had the occupancy determined. There are a number of variables in determining occupancy and any certificate of occupancy or a state fire marshal's inspection should have this clearly stated. If not, go back to the basics for COVID-19 safety — if the occupancy is such that there is an unreasonable risk of disease transmission, then there's too many people in the building.
If people aren't masking, that number gets quite a bit lower; if they are masking — a bit higher. People should be, on their own, able to keep 6 feet or so apart. The risk of disease transmission goes up exponentially the longer you are within that six-foot zone and the closer you are.
 
More News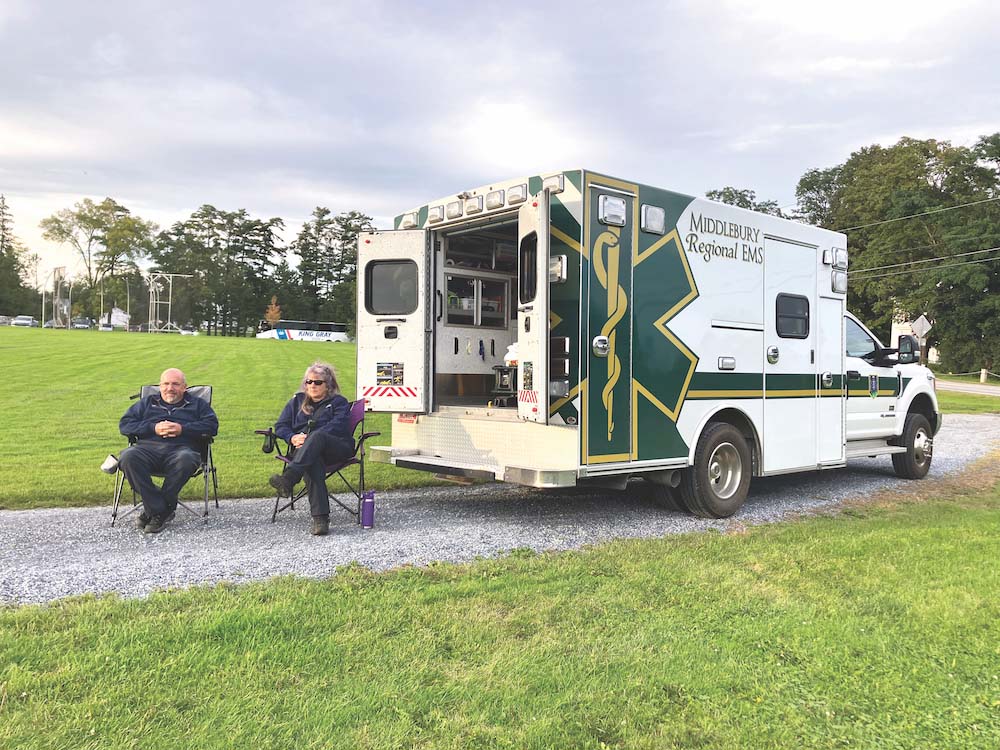 Middlebury Regional Emergency Medical Services wants to eliminate its annual Town Meeting … (read more)
Middlebury police are investigating the death of a Middlebury College junior and say the p … (read more)
Vergennes resident Margaret Clifford offers nearly a century of recollections, from losing … (read more)