There is no shortage; farmers are dumping milk
Restaurants play a large role in moving dairy products, and the complete shutdown of restaurants has created huge supplies.
— Jon Rooney, Monument Farms
WEYBRIDGE — Even as some grocery stores continue to limit the amount of milk that customers are allowed to purchase, Vermont's dairy farmers have dumped hundreds of thousands of gallons of milk before processing, according to data collected by the Vermont Agency of Agriculture, Food and Markets (VAAFM) as of March 31.
"It's tragic that this is happening," said Diane Bothfeld, director of Administrative Services and Dairy Policy for VAAFM. "We're aware of it and we're working with the Vermont Retail Grocers Association to reach out to their members to take (purchase-limit) signs down."
VAAFM is also sending out a letter directly to retailers this week, she said.
"There is no milk shortage," Bothfeld said. "Signs like this give the wrong impression."
A staff member at VAAFM contacted the corporate offices of Price Chopper, Hannaford and Shaw's supermarkets about taking the signs down, but they were told "there are no signs," Bothfeld said.
But Vermont dairy farmers, upset that their milk isn't getting to consumers, have flooded VAAFM with photos of those signs.
The Independent reached out to Erin Sigrist, president of the Vermont Retail & Grocers Association, for this story, but she did not reply.
Last week, the Independent spoke with several local grocers. Only one, Shaw's, was limiting the amount of milk that customers were allowed to buy.
The problem, which has been brought on in part by coronavirus panic-buying, is extraordinarily complicated, Bothfeld said, and it's not confined to Vermont.
"On a national call last week I heard stories from all over," she said. "Stores are short of employees, so they're stocking the dairy section less often. Sometimes it's just easier to post a sign so the milk doesn't sell out as fast."
Another contributing factor is a pandemic-related decline in the number of truck drivers, which makes adjusting delivery schedules even more difficult.
The size and scope of any solutions, no matter how local, are "massive," Bothfeld. But VAAFM is working on it.
The last week of March, Monument Farms in Weybridge was dumping three out of every 14 milkings, said Plant Manager Jon Rooney.
"Restaurants play a large role in moving dairy products, and the complete shutdown of restaurants has created huge supplies," Rooney said.
Monument Farms supplied Middlebury College dining services with all of its milk, and also had big contracts with the Northlands Job Corps in Vergennes and the University of Vermont. With those institutions all but shut down, the market for things like cream has evaporated.
"Cows don't turn off," Rooney said. "The milk has to go somewhere, so we're dumping it."
This week Rooney's colleague Dan James had slightly better news.
Monument Farms dumped some milk this past weekend, anticipating a repeat of last week, but then orders picked up and now it looks like they're done dumping — for now.
"We're playing catch-up right now, but if you call back in a couple of days, it could be completely different," he said.
As word has gotten out about Monument Farms' excess milk they've received a lot of phone calls from well-meaning customers offering suggestions for curbside pickup or home delivery services.
"But we're short-staffed as it is," James said. "We don't have anyone to cover curbside services — and we definitely don't have staff to do deliveries."
There's simply no way to implement such services without losing money right now, he said.
As if this all weren't enough, milk futures continue to look bleak.
VAAFM estimates that Vermont's dairy farmers across the industry are losing $182,000 a month in farm income because of the decline in milk prices, and the next four months are expected to get worse.
Such losses could accelerate the closure of more Vermont dairy farms, VAAFM officials said.
Reach Christopher Ross at [email protected].
More News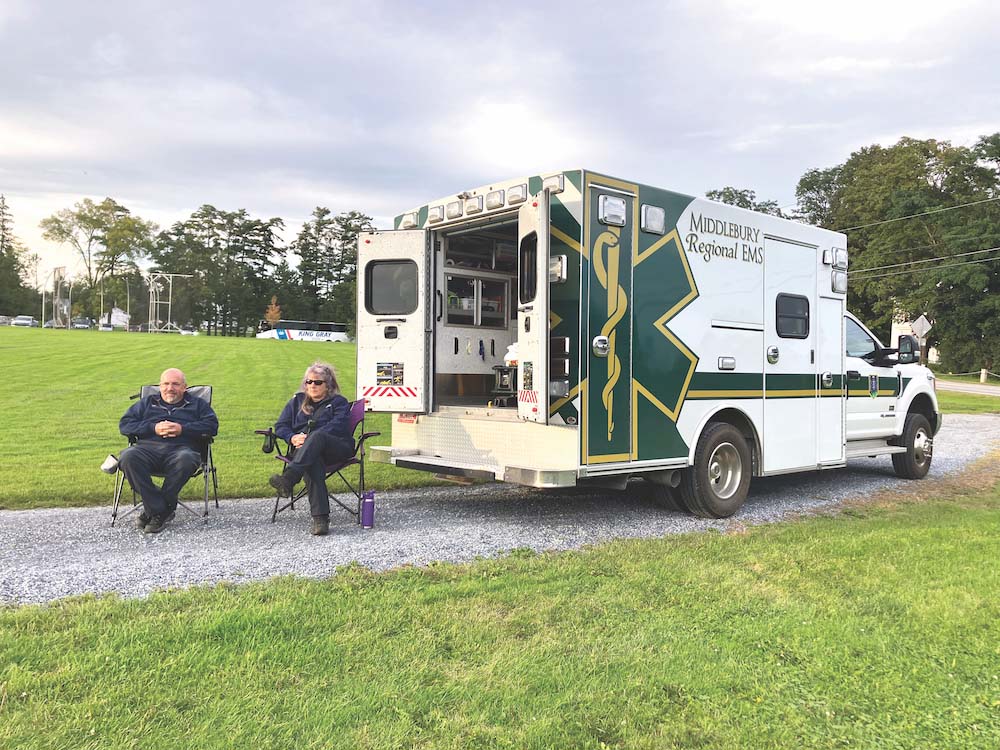 Middlebury Regional Emergency Medical Services wants to eliminate its annual Town Meeting … (read more)
Middlebury police are investigating the death of a Middlebury College junior and say the p … (read more)
In the course of her almost 101 years on Earth, Vergennes resident Margaret Clifford, bett … (read more)