Lunches keep kids connected to their schools
I think (the brown bag meals) serve as a connection, beyond the physical need of nutrition. (Kids) know we're still thinking about them, that they can look out their window and see that someone is still coming; somebody still cares.
— Brittany Gilman
MIDDLEBURY — During the past few weeks Middlebury Union High School hasn't been serving up as much nourishment for the mind as it typically does; the coronavirus has temporarily put a stop to that.
But the MUHS kitchen continues to serve up nourishment for the body — and indeed the soul — during an international pandemic that has kept students ensconced in their homes.
The Addison Central School District, and other public education hubs throughout the county, are making sure no child goes hungry. As in Addison Northwest, Mount Abraham and Otter Valley school districts, dedicated Addison Central School District employees, assisted by community volunteers, are rolling up their sleeves at the crack of dawn each weekday morning to assemble hundreds of breakfasts and lunches for kids who might otherwise go without.
And they're doing it in spite of potential exposure to a virus that as of this writing had afflicted around 300 Vermonters and claimed at least 13 lives in the Green Mountain State.
"You play roulette every day," a stoic Bill Waller said on Tuesday at around 7:30 a.m. as he and a handful of others in the MUHS cafeteria organized a mountain of brown bags, each containing breakfast and lunch staples. At 8 a.m. — a time during which hoards of students are typically streaming from buses into MUHS classes — Waller and others are now loading those same 19 buses with food that will be dropped off at stops in the ACSD-member towns of Bridport, Cornwall, Middlebury, Ripton, Salisbury, Shoreham and Weybridge.
This is the new reality under COVID-19.
It's tough to swallow, but the efforts of many are making it a little easier to digest.
Waller, an ACSD financial officer, can usually be found at the central office pouring over spreadsheets. But these are strange times. Waller and district Business Manager Brittany Gilman must temporarily swap their calculators for aprons on many weekday mornings as they coordinate the massive transport of food to scholastic shut-ins.
A lot of the meals-helpers are ACSD staff, including Eliana Canas-Parra and Nick Cantrick, both paraeducators at Cornwall's Bingham Memorial School.
"We are getting paid (as ACSD employees), but we can't force anyone to do this," Waller noted.
HUNDREDS OF LUNCH BAGS
Every family is being affected in some way by the coronavirus, so it makes sense that the bagged food is available to every district child — including homeschoolers — ages 2 through 18. The ACSD has 488 students who qualify for school lunch subsidies. But the demand for this coronavirus-driven wave of free meals is much higher during this period of self-isolation, layoffs, furloughs and business closures. The ACSD delivers a whopping 850 meals to bus stops throughout the district, and Waller expects that number to rise to 900 by the end of this week.
Food recipients usually leave a cooler or other safe receptacle at the bus stop, sometimes affixed to their mailbox. Respecting social distancing, they retrieve the food once the bus pulls away.
A company called the Abbey Group delivers food service to the three schools in Middlebury — MUHS, Middlebury Union Middle School and Mary Hogan Elementary. Abbey Group staff, supplemented by food workers from the rural ACSD schools, gather each weekday in the MUHS cafeteria to prepare the to-go meals.
The breakfast-lunch combo bags typically include two cartons of milk and an assortment of fruit, vegetable (when available), muffin, instant oatmeal, breakfast sandwich, a chicken patty or pizza slice, and perhaps a bag of craisins.
Reinhart Food Service out of Boston sources food for the district and searches for as many local ingredients as possible, according to Waller.
Five people are asked each morning to count the meals, to make sure they are routed to the right buses.
"We try to put two people on each bus to deliver the meals, but to be perfectly honest, the volunteer numbers have for obvious reasons been shrinking," Waller said of health concerns. "Some of the buses only have one (volunteer)."
Waller praised the dedication of the food service volunteers, which have included parents, community members and ACSD board members. On this particular Tuesday, board member Mary Gill turned out sporting a mask and plastic gloves for the safety of herself and others. Board Chair Mary Cullinane recently participated in deliveries, and Amy McGlashan is slated to take a turn in the near future.
Volunteers step up as often as they can.
Cullinane said that as she rode one of the bus routes recently, delivering food to families, she reflected on how so many of the systems within education are built with "place" in mind. 
"Our buildings act as a point of reference for services provided," she told the Independent. "Having to provide these services without a 'place' to go is a daunting challenge. What this district has done to quickly alter how we deliver the most fundamental resources to our community has been remarkable."
She greatly appreciated the patience and understanding of the community through this unprecedented challenge.
KIDS WAVING
Folks riding the food delivery buses are given constant reminders of how appreciated they are.
"I've had lot of people doing these deliveries tell me it's so nice to see the kids at the window waving," Gilman said. "You get to see (the children) from a distance, and that's really positive. I've had a lot of people send me pictures of their kids excited to see (the food bus). It's like mail; kids love mail, and this is a similar thing. We had a couple of handmade cards that came early on."
Food can be consumed quickly. Goodwill is timeless.
"I think it serves as a connection, beyond the physical need of nutrition," Gilman said of the food bus service. "They know we're still thinking about them, that they can look out their window and see that someone is still coming; somebody still cares. There's an important emotional or relational aspect to that, beyond the obvious physical needs that are being met."
Waller is thrilled to be able to help.
"It's very rewarding," he said. "You know these children need to eat. You know their parents are in tough financial straits; some families that haven't qualified for free or reduced lunches now have two parents who have lost their jobs. So there's a sense of helping your community."
It also gives him an important excuse to get out of the house.
"We're all told to be inside, and for someone like me and others who work here, this is really our only contact with other people," Waller said.
Canas-Parra has been helping with the food deliveries since they began on March 19.
"It's such important work," she said, while lining up the army of brown bags. "I want to help."
Cantrick echoed Canas-Parra's sentiments.
"It feels really good just to be a part of a needed service," Cantrick said. "It feels good to have a purpose in this time."
An abundance of info about the ACSD's food delivery program, including sign-up for meals and volunteer opportunities, can be found here. Questions should be directed to Gilman at [email protected].
Reporter John Flowers is at [email protected].
More News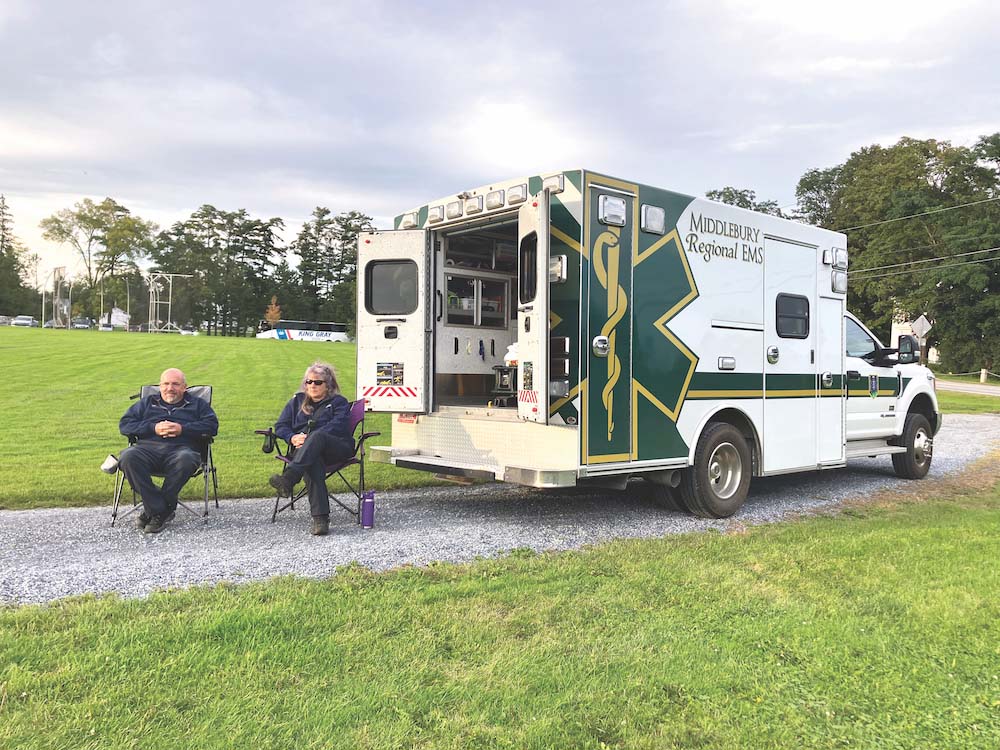 Middlebury Regional Emergency Medical Services wants to eliminate its annual Town Meeting … (read more)
Middlebury police are investigating the death of a Middlebury College junior and say the p … (read more)
Vergennes resident Margaret Clifford offers nearly a century of recollections, from losing … (read more)