Lobbyists call for reusable bag ban; though science doesn't support it
ADDISON COUNTY — A growing number of grocery stores and other food retailers, including some in Addison County, have banned reusable shopping bags from their stores, hoping it will slow the spread of coronavirus. Health officials and lawmakers are saying that such bans are not warranted.
One store that has instituted a ban is the Middlebury Natural Foods Co-op (MNFC).
"In an effort to promote community health, we have made the decision to follow the recommendations of the Vermont Retail & Grocers Association to temporarily suspend the use of reusable bags and containers," wrote MNFC officials in a March 24 email to its members.
The ban, according to Marketing, Education and Membership Manager Karin Mott, applies to all types of bags and containers from home.
"Basically, just bring yourself, your shopping list and your method of payment," Mott told the Independent in an email on Thursday.
The Vermont Retail & Grocers Association (VRGA), the trade group issuing this guidance, wants them banned altogether, at least for now.
"We have asked (Gov. Phil Scott) to ban the use of reusable bags during this pandemic due to various requests from members as well as the public," said the VRGA on its website. "Various studies show that it may be prudent to cease the use of these bags for now."
UNNECESSARY
But Sen. Chris Bray, D-Bristol, who chairs the Senate Natural Resources Committee and who authored Act 69, which will ban single-use plastic shopping bags in Vermont starting July 1, says such a move is unnecessary.
"I have spoken with the (Vermont) Department of Health, and they're not recommending any changes with the use of reusable bags — at all," Bray told the Independent Thursday. "It's right for people to be cautious, but we don't need to be banning reusable bags."
Reusable shopping bags have become more popular in recent years, especially as cities and states institute bans on single-use plastic bags.
The plastics industry vigorously fought these bans.
Now, as the fears about the coronavirus multiply, the Plastics Industry Association has begun lobbying around the country to undo existing or forthcoming plastic bag bans, according to a recent report in The New York Times.
In New England it has already begun to work.
Maine has delayed its plastic bag ban until next year, Massachusetts temporarily banned the use of reusable shopping bags and New Hampshire issued an emergency health order requiring stores to use single-use paper or plastic shopping bags, "to prevent new infections," reported the Times.
Bray called these developments "an illogical runaway train" of misinformation.
"I find it particularly immoral to take a national health crisis and use it as an opportunity to market your product," Bray said.
Judith Enck, a former regional administrator with the Environmental Protection Agency, agrees.
"The plastics industry is shamelessly trying to exploit this health crisis," Enck told the Times, adding that "in terms of overturning or delaying laws, I see no independent data that supports that move."
'STUDIES'
The plastics industry says otherwise, and often cites "studies" as evidence.
One, conducted by the University of Arizona and the Loma Linda University School of Public Health and published in "Food Protection Trends" in 2011, was funded in part by the American Chemistry Council, which has spent millions of dollars fighting single-use plastic bag bans.
The study, "Assessment of the Potential for Cross-contamination of Food Products by Reusable Shopping Bags," looked at 84 reusable shopping bags, and focused on pretty much what the title suggests.
The word "virus" never once appears in the article.
On Thursday the Independent spoke by phone with a lead author of that report, Charles Gerba, who is a professor of microbiology at the University of Arizona.
There were two main recommendations from that study, Gerber said:
• Do not mix raw meats with produce in shopping bags (Gerber recommends dedicating one bag for meat).
• Reusable shopping bags should be washed regularly.
Later in the conversation Gerber added that reusable grocery bags should be used for groceries only, not for gym clothes or shoes or anything else.
But he did not suggest that they should be banned because of the coronavirus, and he did not suggest that his study provides any evidence to that effect.
Another study cited by the plastics industry involved spraying plastic reusable shopping bags with a "norovirus surrogate" and tracking its spread throughout a store.
Norovirus causes food poisoning and stomach bugs.
Bray questioned, among other things the methodology of spraying, and said he wasn't convinced that the 2018 study's results provided any support for the idea that reusable bags were somehow a major vector for coronavirus.
New Haven resident Maggie Eaton, an outspoken opponent of single-use plastics, has made a study of all the claims made by the plastics industry since San Francisco launched the nation's first ban-the-bag campaign nearly 15 years ago.
"The argument that reusable shopping bags were unsanitary has been one of those arguments from the beginning, but with less than credible evidence," Eaton told the Independent in an email. "This renewed claim by the industry is just the same as it always been — an attempt to keep sales and revenue up."
According to Eaton the message should be, "Wash your hands, wash your bags, don't handle food products except to put them in your cart, don't go to the store if you have symptoms or have been exposed to someone who does…. Adhering to these practices can do far more to protect people (from coronavirus) than clawing back the single use plastic bag restrictions."
JUST IN CASE?
"(The VRGA has) had several members as well as more than a dozen members of the public call us asking why there is no ban on the usage of reusable bags during this pandemic," said VRGA President Erin Sigrist. More than half of those concerned members she characterized as locally owned, and many of those had voluntarily instituted their own bans.
But in VRGA's guidance to state retailers, Sigrist cites the above studies.
"I'm sure there's some doubt about the relevance of the studies we've cited, which is typical in politics," she said. "There are always at least two sides in every situation and when a request threatens one side's agenda they're absolutely going to push back."
But when asked if she had consulted with the Vermont Department of Health before making her recommendations, Sigrist acknowledged that she had not.
In fact, a response she received from the Vermont Department of Environmental Conservation echoes the information received by Senator Bray:
"The Vermont Departments of Health and Environmental Conservation believe that reusable bags do not pose a hazard."
Still, Sigrist suggested that officials should be erring on the side of public health.
"Do we know definitively that these bags are safe or not?" she said. "No."
But neither are carts, baskets, door handles, shelves or credit card machines, Bray pointed out.
"There are risks inherent at the grocery store just as there are with other things," he said. "Nothing in a grocery store is sterile. Single-use plastic bags are not sterile. This is a manageable risk being exploited for commercial purposes."
Siegrist insisted that she was not in this to play politics.
"VRGA worked hard to support the plastic bag ban in 2019. I'm not asking for an all-out ban or repeal of Act 69 — simply a temporary halt."
Such a move, she said, would be in the best interest of frontline workers at grocery stores, who are risking their health every day.
LOCAL GROCERS
The county's two largest grocers are split.
Shaw's Supermarkets has banned reusable shopping bags from all of its stores, according to an employee at the Bristol store.
Hannaford supermarkets still allows them for now, but that could change, said an employee at the Middlebury store.
Greg's Market says customers may bring their own shopping bags as long as they do their own packing.
"We can't handle them," an employee said on the phone.
Champlain Discount Foods in Vergennes also allows them, as does Union Grocery in Brandon, but an employee at the latter told the Independent she thought "the state was not encouraging them."
The Middlebury Co-op will continue to sell things like reusable glass containers for immediate use, but they cannot be reused once they leave the store, until further notice, store officials said.
"We want to stress that this is a temporary measure and we will continue to reassess the situation."
Reach Christopher Ross at [email protected].
More News
Blasting ledge could begin on Monday in Vergennes as work on the $25 million Vergennes Gra … (read more)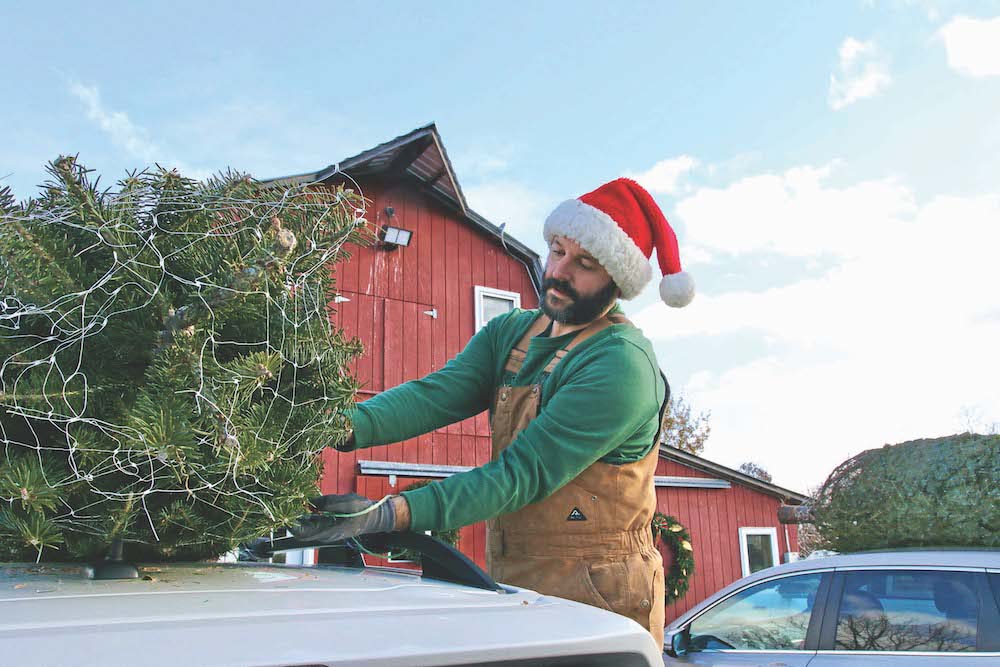 With the holiday season underway, county Christmas tree farms have begun welcoming visitor … (read more)
As the Middlebury Snowbowl prepares for opening day this Saturday, Dec. 9, loyal skiers an … (read more)