Sen. Hardy updates Addison County on state's COVID-19 efforts
Editor's note: Addison County State Sen. Ruth Hardy posted this on Wednesday evening.
As you likely know, the Governor issued a "Stay Safe, Stay Home" order that took effect today at 5:00pm. The order requires businesses and non-profit organizations that are not critical to the public health and safety, as well as economic and national security, to suspend in-person business operations. Individuals are directed to stay at home, leaving only for essential reasons such as personal safety; groceries or medicine; curbside pick-up of goods, meals or beverages; medical care; exercise; care of others; and work. We are all required to restrict normal activities outside of our homes, consistent with CDC guidance, to help stop the spread of the virus (see the actual order linked above for more details).
If you have questions about whether your business or place of employment is allowed to stay open for normal, in-person operations, the Agency of Commerce and Community Development has created a Stay Safe Stay Home FAQs for Businesses resource page with a link to a "yes or no critical" list of most types of businesses. The Agency is updating these resources as questions come to them. If your business can fully operate remotely, without in-person operations, you can remain open. The order is to restrict in-person operations to slow the spread of the virus. Otherwise, if you are not on the list of approved businesses, you should close to protect the health and safety of our state. Finally, if you have lost your job due to the COVID-19 crisis, you can file for unemployment benefits online here.
The most comprehensive place to stay up-to-date with the situation in Vermont remains the Vermont Department of Health website. Visit the Porter Medical Center website for information about local medical services. Of note, Porter Medical Center is not accepting donations of hand-sewn masks. However, if you do wood-working or other activities that require N95 masks or reuseable respirators, the hospital is seeking those items. For example, the Lake Champlain Maritime Museum boat-building team donated their boxed, unused supply of this critical personal protective equipment. You can direct questions about donations, or messages of encouragement and gratitude for all that PMC and its staff ia doing, to Amy Barr, Porter Medical Center Development Director, at [email protected].
Work of the Vermont Senate
The Vermont Senate met yesterday at the State House to pass legislation critical to ensure our state's robust response to the COVID-19 crisis. Seventeeen of the 30 senators, including me, were on hand to ensure we could space ourselves safely around the senate chamber and complete our business on behalf of the state. We were careful to keep our distance from each other, while passing legislation to: permit local governments to do their work remotely; enable elections to proceed safely in 2020; expand telemedicine options for healthcare providers; permit hospitals operational and financial flexibility during this crisis; allow retired and out-of-state health care providers to practice in Vermont; enable Vermonters to access vital prescription medication during this crisis; expand unemployment insurance eligiblity; provide support for childcare providers; and allow the remote witnessing of wills.
The House met today, and after some procedural complexities, passed most of this legislation and forwarded it on to the Governor for signature. Senate committees will continue to meet remotely indefinitely. You can find information about agendas, call-in information, and a link to YouTube recordings of most of our meetings on the legislative website.  While we've quickly adapted to meeting remotely, it has not been without some bumps in the road. Listen to this VPR audio postcard of what our meetings can sometimes sound like. Like all of you, we're doing our best to adjust to this new, hopefully short-term, reality!
Additional Resources
I've been hearing from advocates in the Vermont disability community with concerns that people with disabilities, including children and students, are particularly vulnerable during this crisis. Green Mountain Self-Advocates prepared this Plain Language COVID-19 Information By and For People with Disabilities and the Agency of Education has provided this guidance for providing services for students with disabilities during the COVID-19 school closures. Vermont Legal Aid has a useful website with a variety of resources for people seeking legal and benefits guidance during this crisis. New Americans in Vermont has posted a variety of COVID-19 resources translated into multiple languages. Finally, Counseling Services of Addison County continues to provide services, including crisis support, remotely. Call 388-6751 during business hours or 388-7641 after hours. Isolation and crisis can trigger or exacerbate mental health concerns, so please don't hesitate to call!
U.S. Census
2020 is a year when the U.S. Census Bureau is scheduled to complete a decennial census, counting every resident of the United States. Ensuring that we count everyone in Vermont is crucial for our small state because federal aid is often distrubuted based on population counts. The COVID-19 crisis complicates this work because Census workers are not be able to canvass people face-to-face. Please do your part by responding to the Census online or by mail. The U.S. Congress will be providing emergency COVID-19 aid to states, based on population, so we need to be sure that everyone is counted so we get our fair share of emergency aid and support. 
The Middlebury College Campus newspaper is launching a "remote long-term storytelling project" and is asking people to fill out an online form to tell their story in order to maintain community while students are dispersed off-campus: "The editors of The Middlebury Campus believe that an essential part of maintaining this community, which has changed so much in such a short time, will be telling and listening to each others' stories as this situation continues to develop. Whatever your relationship to Middlebury — whether you're a student, college employee, alumnus, or resident of Middlebury — (they) want to hear your stories." You can tell your story to the Campus editors using this form.
I know we're all missing a sense of normalcy and togetherness. My daughter misses playing violin and fiddle with her friends, so I was happy to find these examples of major orchestras in Toronto, Canada and Rotterdam, Netherlands playing beautiful together despite being apart. Take a listen or strike up your own band to fill your heart with beautiful music during these difficult times. Take care, stay home, and be in touch.  We are all in this together.
In solidarity,
Ruth Hardy
State Senator, Addison District
P.S. You can find my earlier COVID-19 updates on my website.
More News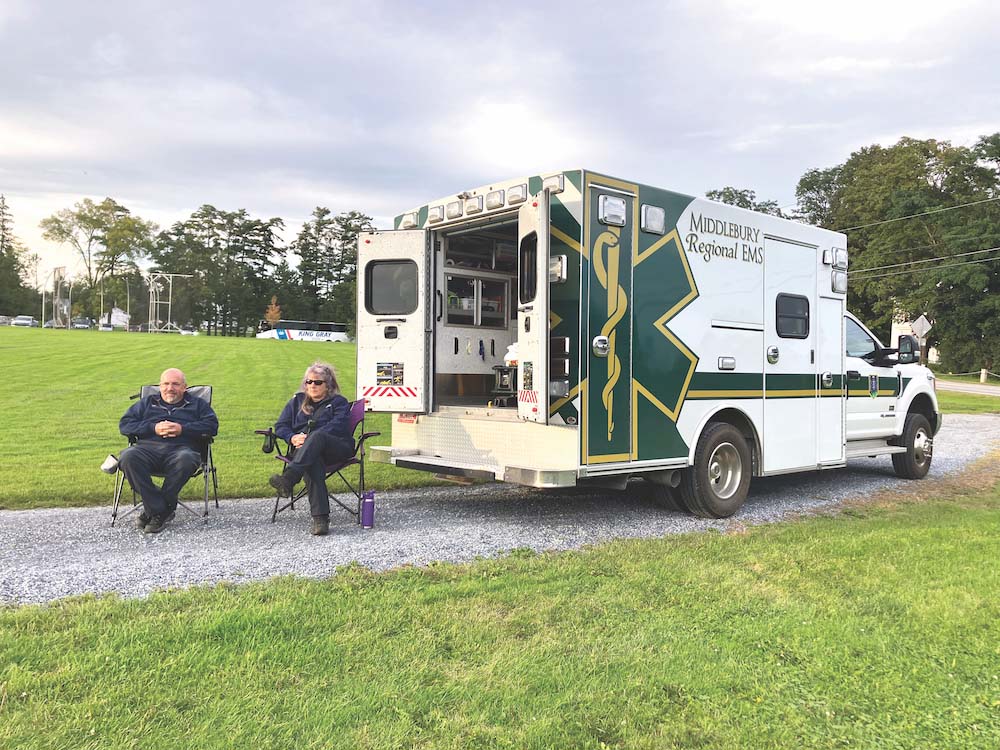 Middlebury Regional Emergency Medical Services wants to eliminate its annual Town Meeting … (read more)
Middlebury police are investigating the death of a Middlebury College junior and say the p … (read more)
In the course of her almost 101 years on Earth, Vergennes resident Margaret Clifford, bett … (read more)