Sheldon Museum to offer history talks
MIDDLEBURY — Do you know what a nineteenth-century glass ballot box and Vermont's Civil War monuments have in common? Answer — the Henry Sheldon Museum in Middlebury.
This March, the Sheldon will present a series of engaging talks titled "Did You Know?" that will touch upon these subjects and others. The speakers are leaders in their fields. Attendees are guaranteed to learn something fascinating at each talk. The talks take place at the Sheldon Museum at noon.
The first talk is on Wednesday, March 18, when Ellery Foutch, assistant professor in the American Studies Department at Middlebury College and Sheldon Museum trustee will present a talk entitled "The Glass Ballot Box and Political Transparency." Foutch will discuss the moment when the way to save democracy seemed as clear as glass, focusing on a glass ballot box, designed, patented and manufactured in New York in the 1850s. Just as the hanging chad, the butterfly ballot, and the Diebold voting machine came to exemplify fears and anxieties about voting, democracy, and representation at the turn of the twenty-first century, Samuel Jollie's glass ballot box is a compelling embodiment of nineteenth- and twentieth-century election concerns, of both anxieties and aspirations for American democracy.
In the second talk, on Friday, March 20, Kevin Thornton, a writer who specializes in and publishes on the nineteenth-century history of the United States, will present "Public Art and Politics: The Messages of Vermont's Civil War Monuments." Thornton will discuss how public monuments express the values of the people who built them. Such was the case with Vermont's Civil War monuments. Largely ignored today, they still have much to teach us about memory. Thornton wrote, directed, and produced "Death in the Wilderness: A Love Story," a documentary about Civil War Vermont that became Vermont PBS's highest-ever rated Vermont-made film.
Robert Black, architect, artist, teacher, facilitator and Sheldon Museum trustee will present "At Home in the World … Is Anybody Home?" on Wednesday, March 25. this is a time when many people are truly concerned about the future of life on Earth. The sense of Home, be it local or global, is shifting radically. Extinction of animals, deforestation, contamination of the water we drink and the air we breathe upsets people's comfort, safety and well-being. These are all essential aspects of what humans call home. Millions are now faced with the prospect of being homeless. Black's talk presents a personal perspective on this timely topic and invites all to think and feel more deeply about what it means to be at home in the world.
In the final talk, award-winning sculptor, painter, printmaker, performance artist and author Fran Bull presents "Hiding in Plain Sight: The Not So Hidden Secret of Greek and Roman Sculpture" on Friday, March 27. Classical marble sculpture has long been admired, conserved, and displayed worldwide as emblematic of Greek and Roman cultural values, beliefs, and philosophy. When archaeologists brought to light the startling discovery that Greek and Roman sculpture was, in fact, brightly painted and gilded, scholars and curators were skeptical and unwilling to admit evidence provided by science. So entrenched was the idea that these works were examples of pristine "whiteness" that even now there is a reluctance to correct the history. Bull will speak on the implications of this phenomenon, and as an artist, she will provide some examples from her own oeuvre inspired by her research.
All talks at noon. The cost is $20 for the general public, $10 for Sheldon members, and can be paid at the door. No reservations are required. Proceeds from the series will benefit the Sheldon Museum's education programs. For more information about the Did You Know? series visit henrysheldonmuseum.org or call 802-388-2117.
More News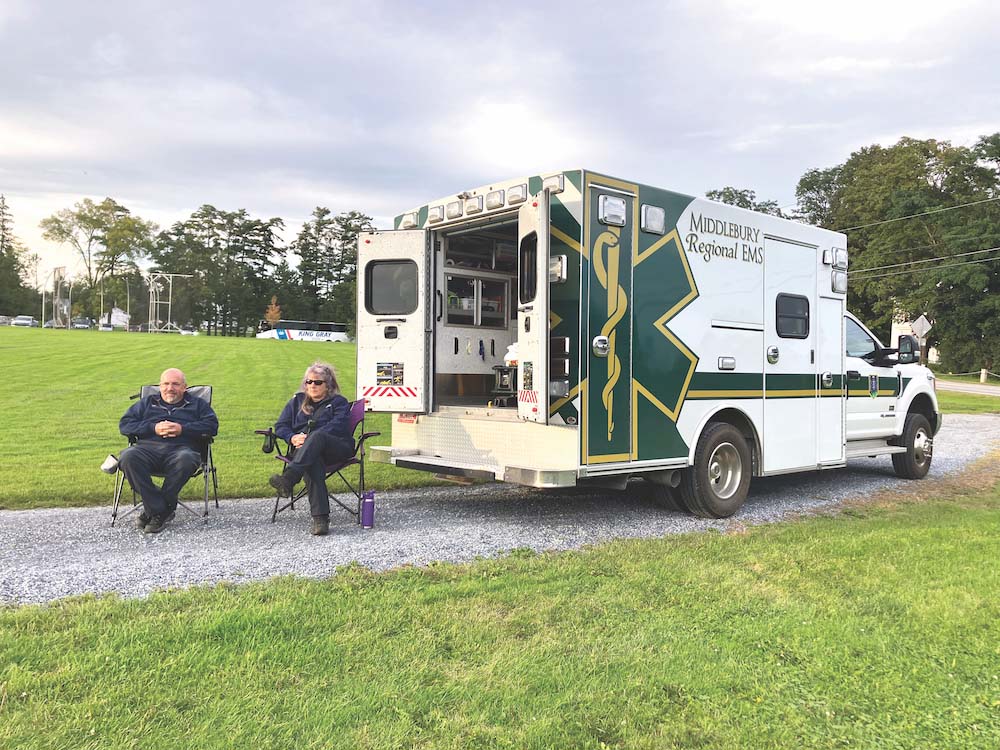 Middlebury Regional Emergency Medical Services wants to eliminate its annual Town Meeting … (read more)
Middlebury police are investigating the death of a Middlebury College junior and say the p … (read more)
In the course of her almost 101 years on Earth, Vergennes resident Margaret Clifford, bett … (read more)