VUHS fares well at state wrestling meet
BENNINGTON — The Vergennes Union High School wrestling team took fifth place and placed three wrestlers in the top three in their weight classes to submit the best performance among local teams at this past weekend's state championship meet at Mount Anthony.
Host MAU (278 points) topped Essex (254) and Spaulding (201) for the Patriots' 32nd straight Vermont title.
VUHS was fifth with 116 points, Mount Abraham took eighth with 82, and Otter Valley was ninth among 21 scoring teams with 80. Middlebury did not place a wrestler on the podium and scored seven points, good for 18th.
Commodore Aiden Gebo earned the best finish among local wrestlers by taking second at 126 pounds.
Five wrestlers from area teams took thirds and also qualified for the New England championships in Methuen, Mass., this weekend: Commodore Taylor Stearns at 132, Otter Levi Cram at 145, Eagle Nate Lavoie at 160, Commodore Barret Barrows at 182, and Otter Sam Martin at 195.
Several other VUHS wrestlers also earned top-six podium finishes as the Commodores posted the highest finish among schools that normally compete in Division II or III. Eli Brace was fifth at 106, Caden Howell took sixth at 160, Gabe Kadric (a first-year wrestler) finished sixth at 170, and Gabe Payne-Vinick earned fifth at 195.
Possibly because the Commodores punched above their weight, the tournament's coaches voted VUHS Coach Eugene Stearns the Vermont Wrestling Coach of the Year.
Stearns credited the Commodores' attitude and work ethic.
"From the onset of the season these kids were training hard, the energy in the room was high, and they never let off the pedal," Stearns said. "They showed up to the state championships ready to compete and compete they did. The guys put it on the line each and every match. I am extremely proud of these kids."
The Commodores are also young, and Stearns is already thinking ahead.
"As the season finally calms down I find myself already looking forward to next winter as the entire team will be back. We also have some promising recruits for the '20-'21 season," he said.
Mount Abe Coach Nick Mayer, a former coach of the year honoree, praised Stearns and the Commodores.
"Coach Eugene Stearns has done a really phenomenal job of building up his program over the last couple of years and his dedication and hard work really showed," Mayer said. "His wrestlers were super tough across the board all season, and I speak for the whole Mount Abe team when I say that we are happy for him for his 2020 Coach of the Year Award."
Mayer was also pleased about his own rebuilding team's efforts.
He cited Lavoie, a junior who will enter the New England tournament with 99 wins.
"He is the symbol of second wind and determination on the team," Mayer said. "He always seems to come back in the third period and beat his opponent in the last minute of the match because he has such top-level endurance and tenacity."
Senior John Bent did not place, but won twice, including his 100th match.
"It has been a pleasure coaching him over the last six years," Mayer said. "He has been a fantastic leader and the backbone of this team. He is as dedicated as they come."
Also reaching the podium for the Eagles were Matt Conant, fourth at 120; Devan Hemingway, fifth at 126; senior co-captain Parker Gero, sixth at 145; and senior Matt Cleaves, fourth at 285 by upsetting two higher seeds, including pinning the No. 3 seed. "We were screaming and jumping with euphoria like kids when the whistle blew signaling the pin," Mayer said of that match.
OV also placed two other wrestlers on the podium: David Williams, fourth at 152, and Jared Denis, sixth at 285.
Middlebury sent just four of their young wrestlers, and they failed to win a match.
The full results of all the wrestlers from the four local teams were:
•  106 pounds: 5. Eli Brace, VUHS, (4-2); also Izzy Emmons, Mt. Abe (1-2) and Layne Chant, MUHS (0-2)
•  113: Maddie Donaldson, Mt. Abe (0-2)
•  120: 4. Matt Conant, Mt. Abe, (2-2); also Austin Cormany, OV, 1-2.
•  126: 2. Aidan Gebo, VUHS, (2-1) and 5. Devan Hemingway, Mt. Abe, (2-2); also Tucker Babcock, OV (2-2).
•  132: 3. Taylor Stearns, VUHS, (3-1); also Dawson Phillips, Mt. Abe, and Matt Alford, OV, both 0-2.)
•  138: Caleb Whitney, OV (1-2), and Milo Gordon, MUHS (0-2).
•  145: 3. Levi Cram, OV, (4-1), and 6. Parker Gero, Mt. Abe (3-2); also Jack Chaput, VUHS, 1-2, and Brian Whitley, MUHS, 0-2.
•  152: 4. David Williams, OV, (2-2); also John Bent, Mt. Abe (2-2), and Tucker Kennett, MUHS, and Zach Botala, VUHS, both 0-2.
•  160: 3. Nate Lavoie, Mt. Abe, (3-1), and 6. Caden Howell, VUHS (2-3); also Parker Swain, OV (0-2).
•  170: 6. Gabe Kadric, VUHS, (2-2); also Dom Davis, OV (0-2).
•  182: 3. Barret Barrows, VUHS, (4-1); also, Keevon Parks, OV (1-2), and Colby Pierro, Mt. Abe (0-2).
•  195: 3. Sam Martin, OV, (3-1), and 5. Gabe Payne-Vinick, VUHS, (2-2); also Justice Green, Mt. Abe (0-2).
•  220: Keaton Rayborn, Mt. Abe (0-2)
•  285: 4. Matt Cleaves, Mt. Abe, (2-2), and 6. Jared Denis, OV, (1-3).
More News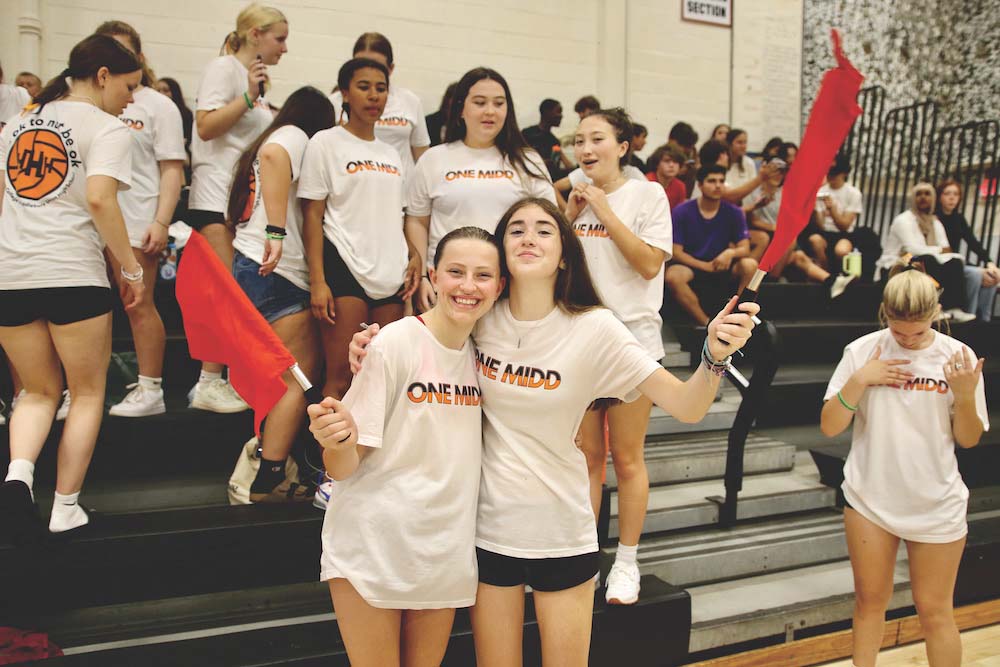 Considering the Middlebury Union High School volleyball team's decidedly successful record … (read more)
In a hard-fought girls' soccer match on this past Saturday, Middlebury outlasted Vergennes … (read more)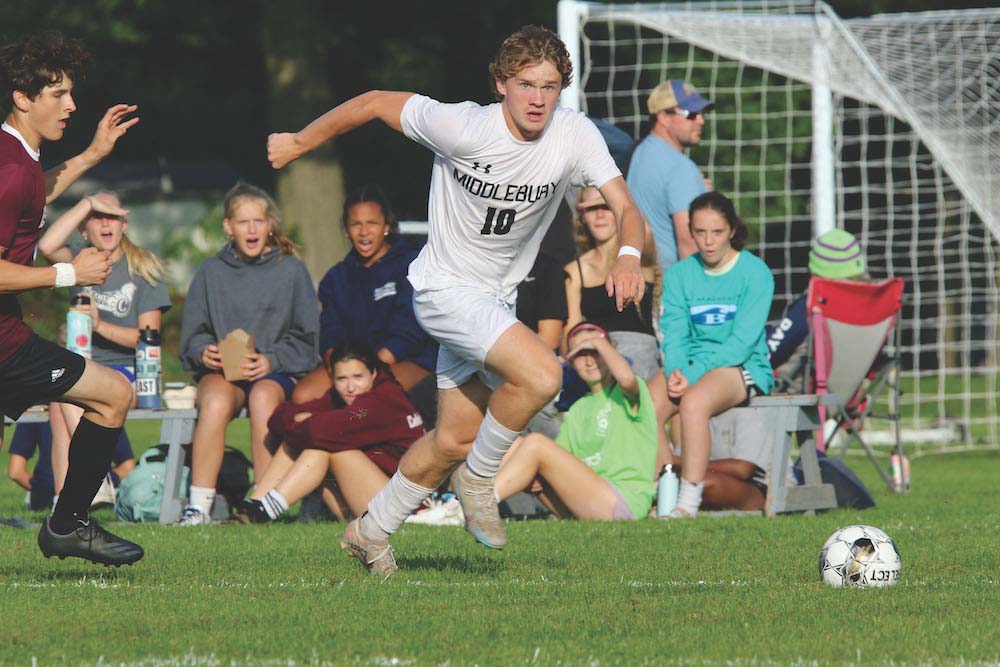 The Middlebury Union High School boys' soccer team survived a scoreless first half in whic … (read more)