Connor Homes closes its Middlebury shop
MIDDLEBURY — Silver Maple Construction is moving into around 20,000 square feet of manufacturing space that's being vacated by Connor Mill Built Homes (CMBH) at 227 Pond Lane, in Middlebury's industrial park.
Silver Maple, a growing construction company based in New Haven, is also purchasing CMBH's manufacturing equipment.
Mike Connor, founder of CMBH, confirmed the news through a press release issued following repeated inquiries by the Addison Independent.
"After a 50-year run it was a difficult decision, but one that (my wife) Linda and I had been looking into and contemplating since last summer," Connor said through an email responding to the Independent's follow-up questions. "The company took new directions under new management and Linda and I were looking to find a way we could get back to our roots and to what we love, which is the design of historic architecture. We proposed the idea of our operating in an independent consulting company to the (CMBH) management last summer, and felt the typical slower winter months was a good time for us to execute that plan."
Good Point Recycling will continue its status as a tenant at 227 Pond Lane. The building is owned by North by East Property LLC, which in turn is owned by Gregor Kent.
It was last summer that investors representing CMBH purchased the property for $1,840,000.
Connor said 11 CMBH workers were laid off as a result of the company's exodus. But Silver Maple co-owner Sean Flynn confirmed plans to employ at least some of those who lost their jobs.
"In general, we are not wholesale hiring the entirety of CMBH, but we are hiring who we can to fit our mission," Flynn said during a phone interview. "We're interviewing quite a few of them and are in the process of hiring who we can."
CMBH was Mike Connor's re-boot of his once-booming "Connor Homes," which in 2017 closed its doors at 1741 Route 7 South due to financial reasons. Like its predecessor, CMBH specialized in the design and manufacture of colonial reproduction "kit" homes.
Connor said CMBH will complete work on "a number" of existing projects in the next month before completely ceasing manufacturing operations.
Looking ahead, Mike and Linda Connor will work alone out of their home, though they aren't closing the door to bringing on help at some point. They will subcontract mill work to former employees, according to Mike Connor.
Silver Maple has signed a one-year lease for he 227 Pond Lane space, though Flynn said he might ask for an extension depending on the company's future needs.
In the short-term, the 20,000 square feet will come in very handy, Flynn noted. Silver Maple recently took on an ambitious project involving construction of a large residence for an out-of-state client.
"It requires the ability to panelize the entire project here in Vermont," he said. "We have to pre-build the walls. So we were looking for a facility anyway, and the timing was right for us to be able to lease this space that Gregor has."
It was far more convenient for Silver Maple and its workers to labor under cover at 227 Pond Lane than having to travel out of state and work in the elements.
"For us, it's more about being able to build with the people that we know are our crew, here, and not sending them a long distance to another job," Flynn said. "We will continue using it in the warm months, staging this big job."
It was indeed a serendipitous confluence of events that resulted in Silver Maple connecting with North by East Property and executing a deal that will fill an important industrial park vacancy and minimize local job losses.
"It's great," Flynn said. "I think it's a win for those guys, too."
Reporter John Flowers is at [email protected].
More News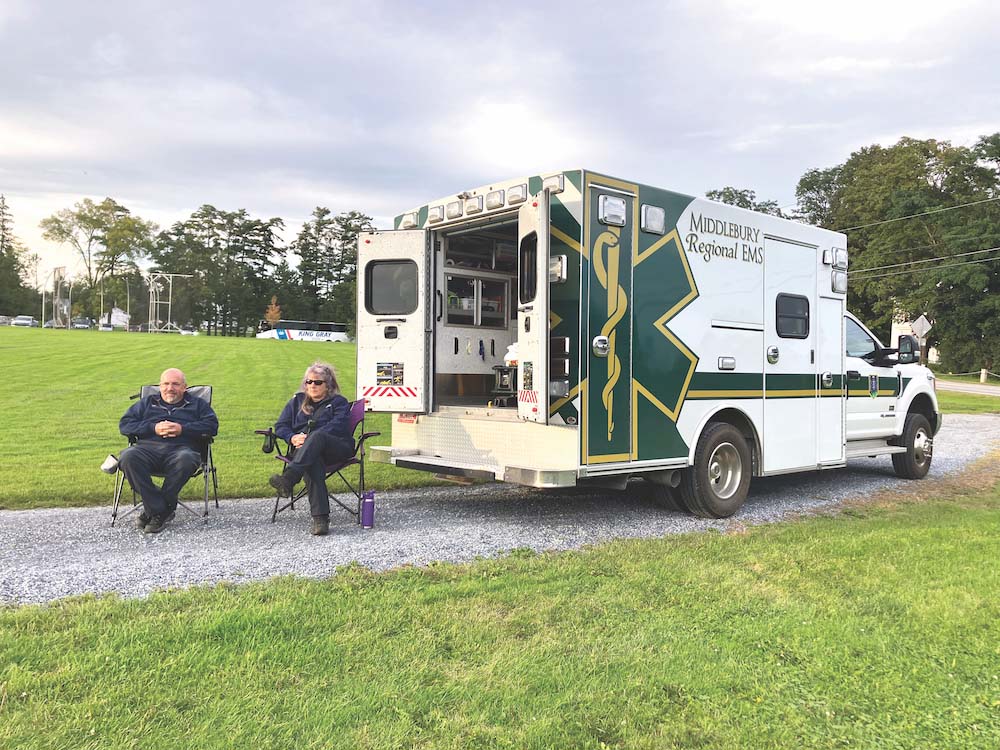 Middlebury Regional Emergency Medical Services wants to eliminate its annual Town Meeting … (read more)
Middlebury police are investigating the death of a Middlebury College junior and say the p … (read more)
Vergennes resident Margaret Clifford offers nearly a century of recollections, from losing … (read more)