ANWSD school board chair harassed by phone
I know that issues in the school district have produced some lively discussions, but this kind of behavior is completely unacceptable, no matter which side of the lane you're on. And it will not be tolerated.
— Police Chief George Merkel
VERGENNES — The tone and quality of disagreement about Addison Northwest School District business have taken a significant turn for the worst.
On the afternoon of Jan. 16, ANWSD Board Chair Sue Rakowski called the Vergennes Police Department to report a message that had been left on her phone.
The caller, who police believe was a male, had said to Rakowski, "Don't let the power go to your head," according to Vergennes Police Chief George Merkel.
The statement was followed by "derogatory language I am unwilling to repeat," Merkel told the Independent.
"I'll leave that out," he said. "It was extremely inappropriate language that should never be used by anyone for any reason."
In a follow-up email, Merkel characterized the message as "harassing with a concerning overtone. Very vulgar."
The chief said that while police have not identified the caller, they have traced the phone number to a Vergennes account registered to a female resident.
A Vergennes police officer called the number and left a voicemail message forbidding future contact with Rakowski, and asking the owner of the phone to contact police, in case the number showing on Rakowski's Caller I.D. had been hacked, Merkel said. As of last Thursday, no one had returned the Vergennes police's call, he added.
Rakowski declined to comment for this story.
The school district has for the last six months struggled to find solutions acceptable to the public to rising education costs, coupled with declining enrollment.
In November voters in Addison and Ferrisburgh rejected the district's plan to close Addison Central School and Ferrisburgh Central School on June 30, 2020, a plan that ANWSD officials said would save the district money on "fixed costs" and help it avoid making significant program cuts.
Earlier this month the ANWSD board approved a Fiscal Year 2021 budget that will close Addison Central School as an elementary school and repurpose it for alternative education programming, then approved a policy change that would require Addison children to attend Vergennes Union Elementary School, which sparked a public outcry from opponents of school closure in the district.
The board also rejected, on legal grounds, two petitions calling for Town Meeting Day ballot articles seeking to abolish the board's authority to close or repurpose schools without voter approval.
At last Wednesday's school board meeting, which Rakowski did not attend, ANSWD board Vice-Chair Tom Borchert said that he was deeply troubled by the phone message, "as I think we all should be."
Merkel said he does not believe the Vergennes Police Department has received any similar complaints from ANWSD officials.
Reading from a prepared statement Wednesday night, Borchert suggested that the phone message was connected to recent events, which have provoked some contentious public conversations.
Merkel also connected the two.
"I know that issues in the school district have produced some lively discussions, but this kind of behavior is completely unacceptable, no matter which side of the lane you're on," the police chief said. "And it will not be tolerated."
The Independent reached out to the superintendents and board chairs of the Addison Central School District and the Mount Abraham Unified School District. None had experienced or been informed of any similar incidents in their districts, they said.
COMMUNITY SUPPORT
Members of the ANWSD community, including those who have been critical of the school closure process over the past few months, were distressed to learn of Rakowski's experience.
"I find it appalling that Sue found herself on the receiving end of a harassing phone call," said Addison resident Caetlin Harwood. "Nobody should ever have to concern themselves with questions of safety and well-being as a result of differing opinions. I don't care what the subject matter is, threatening actions and language are inexcusable, and I hope Sue knows that we are all a connected community here, and that she is supported."
Vergennes resident Jena Santa Maria is a candidate for the school board.
"I am saddened by the fact that someone would personally harass a school board member," Santa Maria said. "While we all may have differences in opinions, there is no excuse for this behavior. I hope our community conversations, moving forward, remain respectful as we work together to solve the challenges our community faces."
Ferrisburgh resident Matt Vogel expressed similar support.
"I'm appalled to learn that someone would personally harass a member of our community because of differences in perspectives," he said. "Sue and the board have incredibly hard roles and they deserve the personal respect that comes with their selfless public service."
Rakowski announced last week that she would not be seeking reelection to the school board in March.
Christopher Ross is at [email protected].
More News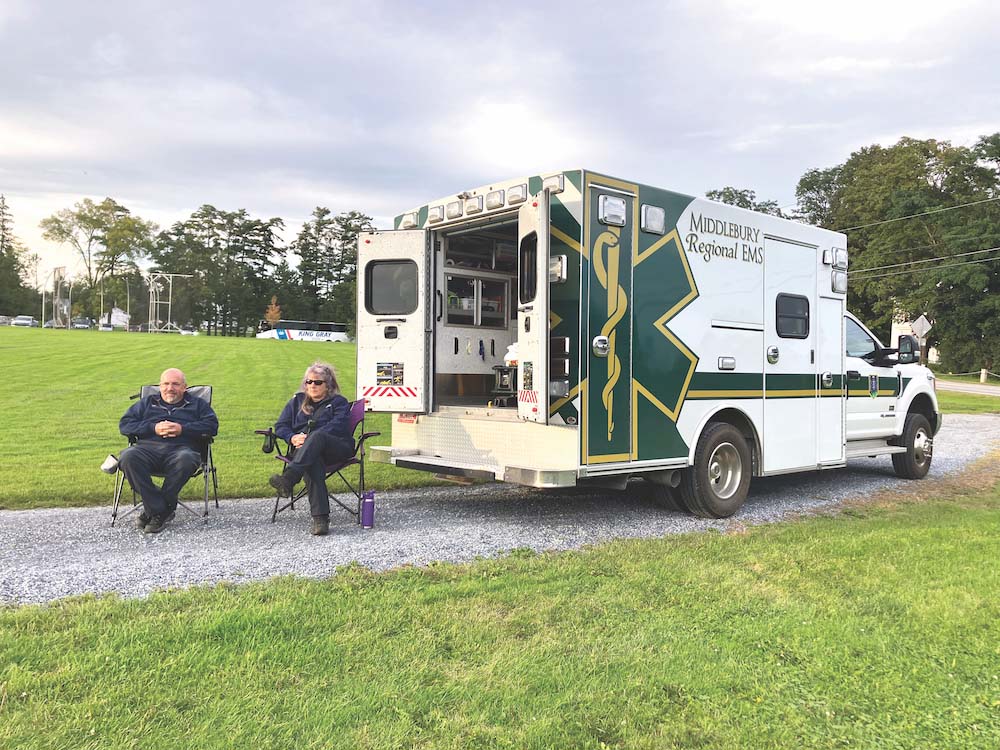 Middlebury Regional Emergency Medical Services wants to eliminate its annual Town Meeting … (read more)
Middlebury police are investigating the death of a Middlebury College junior and say the p … (read more)
Vergennes resident Margaret Clifford offers nearly a century of recollections, from losing … (read more)