Andy Kirkaldy: This crystal ball needed a recall
If nothing else, here at the Independent Sports Desk we believe in accountability above all else.
Well, second to spelling high school athletes' names right, anyway — here's to you, Name Hall of Famer Sean Grzyb. You will never be forgotten.
Back on task: In September I wrote a column assessing the state of the four main Boston sports teams and predicting how they might fare this fall and beyond.
Rather than ignore my gaze into the crystal ball, it seemed only fair to see what predictions were playable, and which were regrettable swings and misses. Excerpts from that piece and self-evaluations follow.
The Sept. 26 column started with a look at the New England Patriots:
"Does anyone believe the Pats will score less than 24 to 27 points a game … ?
I didn't think so.
Meanwhile the Patriot defense has not allowed a touchdown in four games. Yes, I know, the Jets and Dolphins might not beat Burr & Burton. But the list of opponents also includes the Pittsburgh Steelers, who scored three points vs. the Patriots and then 46 points total in their other two games, and the Los Angeles Rams, who have put up a total of 77 points in three games this season.
No one can predict the Patriots will win the Super Bowl. But I might go out on a limb and say if they don't the Kansas City Chiefs will. 
But a small wager on the Patriots might be in order."
Well, I hope no one took that advice. After New England's disgraceful effort vs. Miami on Sunday, I'll give myself a C-. I considered a D, but at they did win 12 games.
The Boston Red Sox were up next back in September. They were in the middle of being mediocre, and nothing changed. It was before GM Dave Dombrowski was fired and the Sox brought young new GM Chaim Bloom aboard to replace him.
This comment from the column addresses Dombrowski's last move before he got the axe.
"It doesn't work wonders for your team confidence and chemistry if your pitching stinks, plus your front office does nothing to address it before the trading deadline except add Andrew Cashner."
Since then the Sox have announced they will cut payroll and might even trade Mookie Betts, and Bloom has signed Martin Perez and José Peraza (even if a Sox fanatic like me had to google his first name to double-check).
I'll give myself an A- for my negative take back then on the Sox.
Next out of the chute in September were the Boston Bruins. I was skeptical. 
"Well, only the Penguins in 2016 and 2017 have repeated as champions in the past two decades, so that doesn't bode well. And the Bruins core is getting no younger — Chara, Bergeron, Krecji, Rask and even Marchand are all at least 30. And they are coming off a seven-game Stanley Cup final that ended on June 7.
The Bruins have drafted good defenders, such as Carlo and McAvoy, and found undrafted blue-line gems Torey Krug and Kevan Millar. But other than drafting David Pastrnak they have failed to address offensive shortcomings."
The Bruins started fast, and I hoped I was wrong, but through Sunday they were 24-7-9, with that 9 being overtime losses. Through Sunday they were 4-2-4 in their past 10, with the second 4 again being overtime losses, reversing a 2-4-4 slide.
In other words the Bruins have won four times in their past 10 outings, and their real record is 24-16. Not bad, really, but not great.
But tellingly, the Bruins have scored 136 goals, and their top line of David Pastrnak, Brad Marchand and Patrice Bergeron has accounted for 65 — or about 47 percent — of them. They still have no offensive depth. And there's a certain lack of grit — they let Pastrnak get cheap-shotted by the Capitals last week and meekly did nothing.
I'll mostly score one for prophecy here. Hard to see a Bruins' Duck Boat parade, so a B for my take on the Bs.
Then we came to the Celtics. Here is what I wrote:
And mediocre No. 3, the Celtics. The Cs subtracted Marcus Morris, Al Horford and Kyrie Irving, even he is an idiot, and added Kemba Walker, Enes Kanter, Vincent Poirier and a few rookies.
They're not going to be better, especially if you consider the lackluster performance of the USA national team that had four Cs on it and couldn't figure out how to play together even with Spurs Coach Gregg Popovich in charge.
I couldn't be more pleased to be wrong here, even considering the poor effort vs. the Raptors on Saturday. Walker's positive attitude and quick decision-making have energized the team, Jaylen Brown is playing like an all-star. Jason Tatum, even though frustrating at times when forcing shots, has become a force on the boards and on defense, and the team plays well with him in the lineup (the Celtics' plus-minus rating with him in the line-up is off the charts).
The rookies and role players look solid, the team keeps winning even when key players like Marcus Smart and Gordon Hayward get hurt, and the Celtics' chemistry makes them fun to watch.
I've never been happier to earn a D.
More News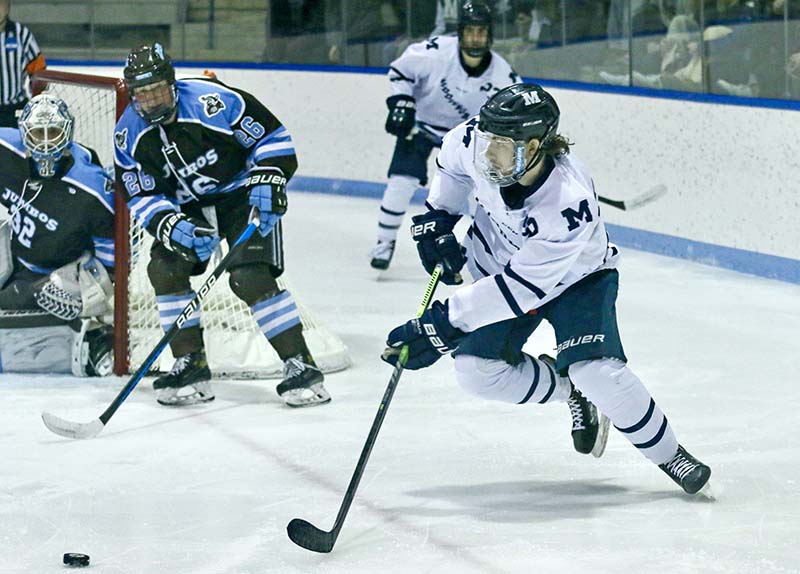 Middlebury College men's hockey surged passed Conn College before falling to Tufts this pa … (read more)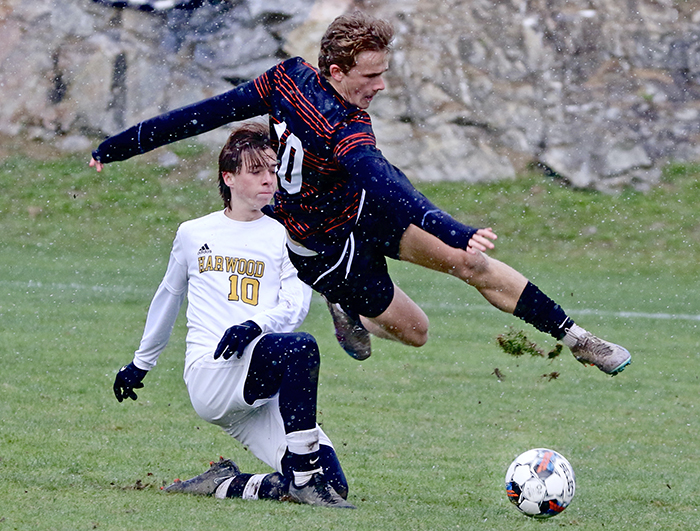 Seven local high school boys' soccer players were named to the Division II or III All-Stat … (read more)
Five area high school girls' soccer players were named either Division I or D-II All-State … (read more)